Talk about fun. Imagine being able to walk around the room at the Techstars launch party and ask "So, what do you do?" Many of the Techstars mentors stopped by to celebreate the kickoff of Techstars, and they've done some pretty amazing things. It was fun to listen in. "I helped write WordPress." "I'm a founder at PhotoBucket.", "We just sold our company to Google." "I've made about 50 angel investments so far." It was almost surreal how much talent and experience was at the launch party. I was honestly blown away. Here are a few snaps from the launch party on Thursday night in Boulder.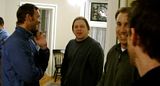 Alex King, Kevin Cawley, and Darren Crystal.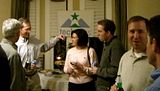 Alex King, Dan King, Scott King (wow, 3 kings in one shot) Andrew Currie, and me.
And of course, a couple of the entrepreneurs in attendance made off with the leftover cheesecake! Nice work Kevin and Danny.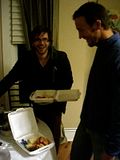 Thanks to everyone who attended the launch party and helped us kick things off in style.