About Techstars Sustainability Paris
At the beginning of 2022 a new chapter of Techstars was launched in Paris, with an investment thesis focused on Sustainability - vertical and tech-agnostic. From that moment onwards, our goal has been investing in 24 impact-oriented companies per year and supporting them to accelerate their business.
The revamp of our accelerator program in France and the decision to rename it Techstars Sustainability Paris has come at a particular point in time. France's appealing framework of policy guidelines and regulations governing non-financial disclosure reporting requirements, the French government's push to promote Greentech, Agtech, and Deep tech companies, the maturity of the European market, the growing number of European VCs investing in climate tech, as well as the French government's push to promote Greentech, Agtech, and Deep tech companies, have created a fertile ground to make startups operating in this space live a positive and exciting momentum.
As sustainability is for us an encompassing term including all technological solutions having the ambition to tackle climate change, our willingness to contribute to the decarbonization of every sector of the economy translates into 24 portfolio companies willing to tackle the effects of the most polluting human activities.
Emissions by Industry in Europe
In its quarterly report on greenhouse gas emissions in the EU, Eurostat, the statistical office of the European Union, records that at the end of 2022, EU economy GHG emissions totalled 854 million tonnes of CO2-equivalents, a 2 % increase compared with the same quarter of 2021.
Even though this increase can be largely explained by the effect of the economic rebound following the sharp decrease in activity caused by the COVID-19 crisis, when looking at emissions by economic activity, it's interesting to remark on the most carbon-emitting industries.  Manufacturing (23%), electricity and gas supply (21%), households and agriculture (both 14%), and transportation and storage (13%) were the economic sectors responsible for the majority of greenhouse gas emissions.
Analysing trends
In Europe, from a regulatory perspective, government policies, which can take the form of financial incentives such as funding and tax credits, as well as regulations such as carbon emissions restrictions, are having a significant impact on the development of the sustainability space and climate tech industry. Besides the EU's Sustainable Finance Disclosure Regulation (SFDR) which went into effect last year, the EC's commitment to climate change under the leadership of Ursula von der Leyen can be mentioned. Furthermore, the ongoing conflict in Ukraine has spurred European governments to accelerate their adoption of energy-efficient and renewable energy technologies. 
When analyzing the Sustainability and Climate Tech space from a funding-related perspective, 2022 saw $70.1B of VC investment pour into the category globally, a y/y rise of 89%. As of January 2023, there were 83 Climate Tech companies valued at $1B+ around the world, which are collectively valued at over $180B.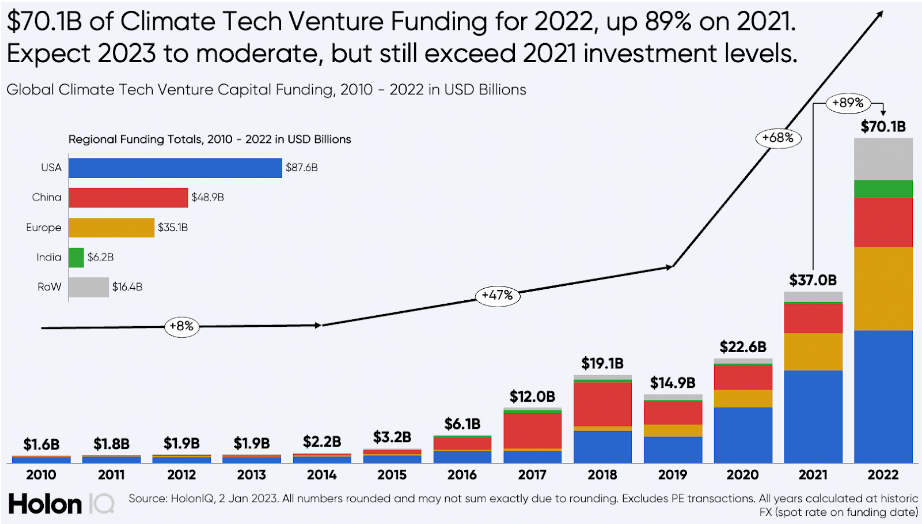 According to HolonIQ analysis, even if the US invested more in Climate Tech VC in 2022 than it did in the entire 2006-2011 Clean Tech 1.0 Boom. Europe's venture funding into Climate Tech more than doubled in 2022, out-investing China for the first time.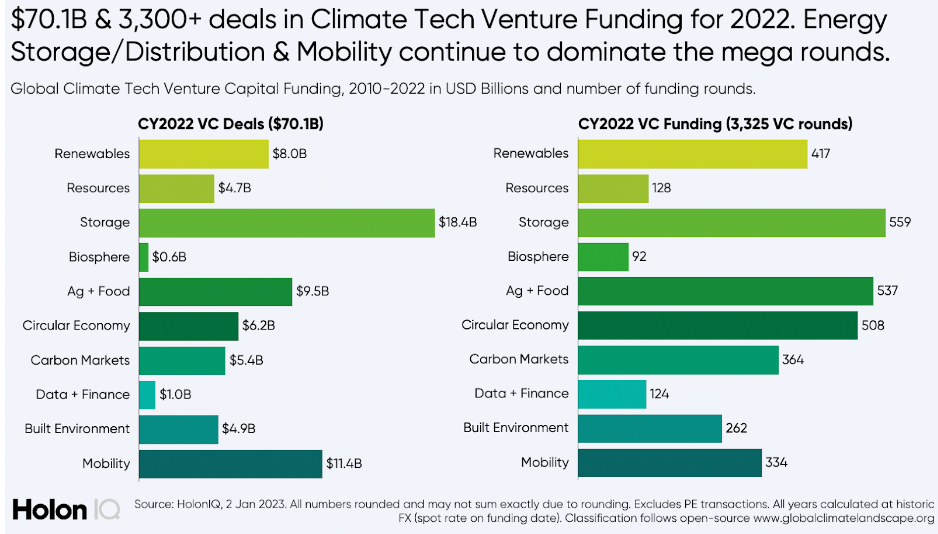 Amongst the most funded sectors,  energy storage/distribution and mobility continue to skyrocket in 2022.
About our portfolios at Techstars Sustainability Paris:  Climate emergency and opportunities
At Techstars Sustainability Paris, we are convinced  that:
the need to decarbonize the most carbon-emissive sectors of our economy;

the opportunity to leverage the regulatory environment as an advantageous tailwind;

the rising investors' interest in the sustainability space;
have the potential to make startups operating in this space live a positive and exciting momentum.
In the below paragraphs, expect to read about companies encompassing a wide variety of technologies and business models and tackling different sectors. Our portfolio companies develop different commercial solutions to decarbonize society, being enablers or change-makers in the most urgent of today's societal challenges: climate change. 
The following categories are grouped into three top-level buckets: Climate Tech, Blue Economy and Climate Management.
CLIMATE TECH*
ENERGY
The energy sector is a key contributor to climate change, accounting for more than two-thirds of global greenhouse gas emissions. At present, many developed countries are still heavily reliant on fossil fuels in almost every area of life, including domestic heating, food production, manufacturing and travel.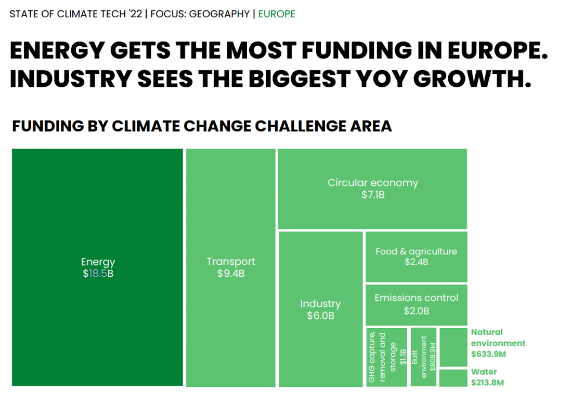 Over the last year, the Energy sector skyrocketed. Solutions in this space registered the highest funding in Europe - EVs, Hydrogen and Batteries resulted being the most funded technologies.

To be remarked amongst our portfolio companies operating in the energy-related field:
RENEWABLE ENERGY
HelioRec (France) is building floating solar power plants for near-shore locations to provide a clean, affordable energy source to people worldwide
ENERGY STORAGE
BioEsol (Mexico), is developing an energy intelligence software and a revolutionary battery through an Energy as a Service model to prove that companies can rely on their operations with a Renewable Energy Solution.
BATTERIES
BiB Batteries (France) unlocks the full potential of lithium batteries, thanks to data analytics to help electric fleets operate their batteries (EVs, Buses, bikes, scooters) and certify their residual value for a second life.
MINING
LISUS (US) is a high-tech mineral exploration company,  leveraging satellite data and AI capabilities, to source dynamic minerals for the energy transition.
BLUE HYDROGEN
Gammanics (UK) is developing a solution to generate Green hydrogen from nuclear waste recycling.
AGRICULTURE, LAND USE AND LANDFILLS
The problems related to livestock and dairy production are widely known. As the global population grows and the demand for food increases, this industry becomes increasingly unsustainable. 
Amongst our portfolio companies having the ambition to tackle the challenges in this economic sector we can name:
SOCIAL AGRICULTURE
Mavuno.tech (Germany) empowers African smallholder farmers with a satellite imagery and machine learning-driven subscription for pre-financed farm inputs and services, doubling their yield. 
AGRICULTURE WITHOUT PESTICIDE
Beesage (Latvia)  provides a beehive monitoring system that boosts productivity and honey yield to benefit the Earth through data-driven beekeeping. 
REFORESTATION 
Iroko Analytics (Spain) develops high-quality carbon and biodiversity offset projects in Africa's rainforest for ESG funds and corporations committed to net zero.
WASTE, CIRCULAR AND SHARING ECONOMY 
Waste is a significant contributor to global emissions. In the case of food related waste, methane, a potent greenhouse gas, is released from decomposing organic waste in landfill sites. However, it's the overall production, transportation, and disposal of waste that require significant energy, which often comes from fossil fuels, further adding to emissions. This explains why a circular economy-oriented approach has to be adopted to foster waste reduction, reuse, and recycling.
In the circular economy space, recycling, waste management and sharing economy solutions attracted the most capital in 2022 according to Net Zero Insights' State of Climate Tech reports.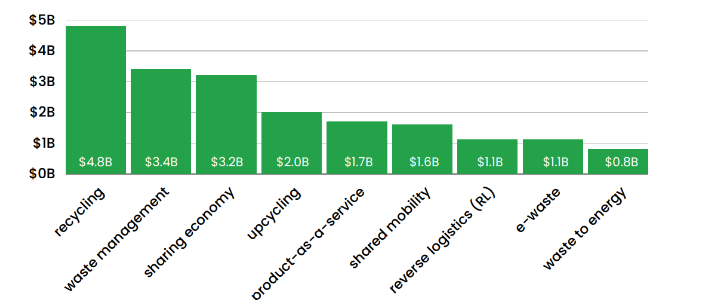 Amongst our companies tackling waste:
FOOD WASTE
WINIM (Argentina) is a mobile app that was born to combat the inefficiency in the food value chain by selling surplus products from big food companies at a discount price favoring underserved consumers in poor neighborhoods.
UPCYCLING
FINDS (FINDS) is an upcycling B2B tool for the fashion & textile industries which monetizes dormant garment stocks by turning them into valuable resources. 
CIRCULAR ECONOMY
Kudoti (France) is building a digital infrastructure for circular supply chains, allowing waste converters, manufacturers and brands to efficiently create and manage their supply chains.
BIOMATERIAL
Nyungu Afrika (Kenya) has the ambition to bridge the period poverty gap in Kenya by providing access to safe and eco-friendly period products using underutilized agricultural waste of pineapple leaves and corn husk fibers which are normally left to rot or burn .
BIOMATERIAL
Outlander Materials (Netherlands) turns food industry streams, waste and by-products, into high performance non-plastic materials, like UnPlastic. 
In the sharing economy space, while cloud technology plays a significant role in contributing to carbon emissions, it has also the potential to reduce them. By allowing users to access shared resources and scale up or down as needed, cloud computing reduces the need for organizations to maintain their own energy-intensive data centers.
Amongst our portfolios, Vallai offers an interesting solution:
CLOUD TECH
Vallai (France) offers a collaborative platform for Data & AI projects providing secure workspaces dedicated to sharing, analysis, exploration and manipulation of data in real-time. 
MOBILITY
Based on Pwc's State of Climate Tech 2021 report, the transportation sector has become one of the quickest expanding sources of global emissions, having experienced a 71% increase since 1990. This sector is now responsible for 16.2% of all global emissions.
In our portfolio, Wikimove offers an interesting solution in the mobility sector.
Mobility as a Service (MaaS) 
Wikimove (Germany) has developed a solution to speed up the transition from private vehicle ownership towards Mobility as a Service (MaaS) to foster collaboration, communication and coordination amongst the various stakeholders of MaaS.
BLUE ECONOMY
In a recent publication, Sifted claimed that by 2050, it is predicted that over half (52%) of the world's projected population of 9.7 billion will reside in areas where water demand will surpass the available supply. 
In 2022, European  VCs invested $300 million in water technology startups, up from $150 million in 2021, demonstrating a growing trend of investment in this area of climate tech.
Pushed by this increasing threat of water scarcity, amongst our investments in the water technology -related space we can recall:
WATER PRODUCTION
Kumulus (Tunisia) is a water service start-up which aims to provide potable water in an economical and sustainable way. ​
WATER MONITORING
Hydroquo+ (Bangladesh) is a data company combining sensor technologies, seamless software and innovative analytics that helps national agencies, public and private organizations in solving water, energy and infrastructure challenges. 
ESG and Carbon - Control, reporting and financing
Finally, we believe that the initial step towards lowering carbon emissions involves measurement, which can be accomplished by utilizing carbon accounting softwares and ESG measurements tools. Using these softwares is key for organizations to gauge their carbon emissions and establish yearly reduction objectives.
Amongst our portfolio of companies in the space:
Accounting platform 
ESG and Carbon Accounting platform
SustainSoft  (France)is a SaaS software that helps companies measure, monitor and communicate their CSR strategy. 
Management platform
Carbon and Energy Management platform
Trilleco (Germany) is a SaaS platform managing 3D IoT data to help companies become sustainable more easily and profitably thanks to carbon footprint and energy management. 
Green Fintech
The finance sector is a significant contributor of global emissions as it often provides fundings for industries emitting greenhouse gasses. The financial sector has, however, the potential to drive the transition to a low-carbon economy by directing investments towards sustainable businesses and projects. By adopting sustainable finance practices, the sector can indeed  be a strong lever for decarbonization.
Amongst Techstars Sustainability Paris portfolio companies:
Web 3 impact measurement
Raz Finance (Tel Aviv) is a web3 company introducing a decentralized, trustless and transparent, impact verification solution for the impact and sustainable investing market.
Web3 crowdfunding platform for renewable energy
Energy Shift (UK) is a web based, blockchain powered platform enabling citizens to jointly invest in and co-own solar parks, thus democratising the energy sector and enabling citizens to actively participate in the energy transition to renewable energy.
Carbon Management and crypto assets
eGreen (Chile), by digitalizing Voluntary Carbon Credits, simplifies transactions and transforms them into an investable asset, democratizing access and increasing demand for impact investment in a closed market mostly controlled by traders. 
Impact Banking
canB (France) launched the first impact bank account letting people choose the cause they care about, among different topics such as environment, health or education.
Why applying at Techstars?
With 3,340 startups in its portfolio, a cumulative market cap of $97.9B, and over 50 accelerator programs worldwide, Techstars is today one of the most powerful early-stage investors globally.
At Techstars Sustainability Paris, we look for impact-driven founders willing to build a better future thanks to technology. By becoming one of our portfolio companies, founders become part of a global network made of investors, mentors and alumni. By investing up to $120KUSD and providing a three-month mentorship-driven accelerator program, we enhance our companies to grow and scale at international level.
Our applications for September 2023 are now open. If you are an impact driven founder building a sustainable venture or you know an entrepreneur in your network that could be suited for this program,  visit our page and apply for our program.
*In this article, when referring to "Climate tech", we will refer to an all-encompassing term including the various technologies and innovations utilized to tackle greenhouse gas emissions, as well as the diverse industries they are employed in.
Sources