At Techstars, we believe entrepreneurs can change the world. We believe collaboration drives innovation. We believe great ideas can come from anywhere — and, perhaps more pertinent here, from anyone. We also believe that diversity, equity, and inclusion should be reflected in our global network. And, quite frankly, that's an area where we need to improve. 
Since the company's beginnings in 2006, we put in place initiatives to promote diversity, equity, and inclusion in our hiring, practices, and company culture, at a corporate level as well as in our accelerator and community programs. It's core to our values and our mission to help all entrepreneurs succeed. 
Yet the data in this report clearly reveals the results of that work aren't yet there. We are committed to improving it. 
We recently announced seven commitments focused on improving diversity, equity, and inclusion across the Techstars organization and network. One of those commitments is focused on honestly and transparently reporting our diversity numbers on a regular basis. We will be starting with our staff and will soon report on accelerator and community programs. 
Approach
We will be publishing our diversity stats twice each year, in July and January. These reports, always available on this website, will attempt to clearly include definitions and, as we improve our data collection  processes, we will look to track and address diversity among portfolio companies and participants at community events, like Startup Week and Startup Weekend. 
Where We Are Today
Overall, our diversity numbers reflect a mix of both successes and failures. As of June 25, 2020, the overall global headcount for Techstars stands at 303 employees. This includes full-time employees, our global accelerator programs and our largely remote staff all over the world. This does not include employees at our portfolio companies, volunteers in our community organizations or mentors. 
Sex Assigned at Birth at Techstars
Of our 303 employees, nearly 50% identify as male, 48% as female while 2% do not specify. These numbers reflect a concerted effort to actively recruit and retain more women in an industry that still skews male.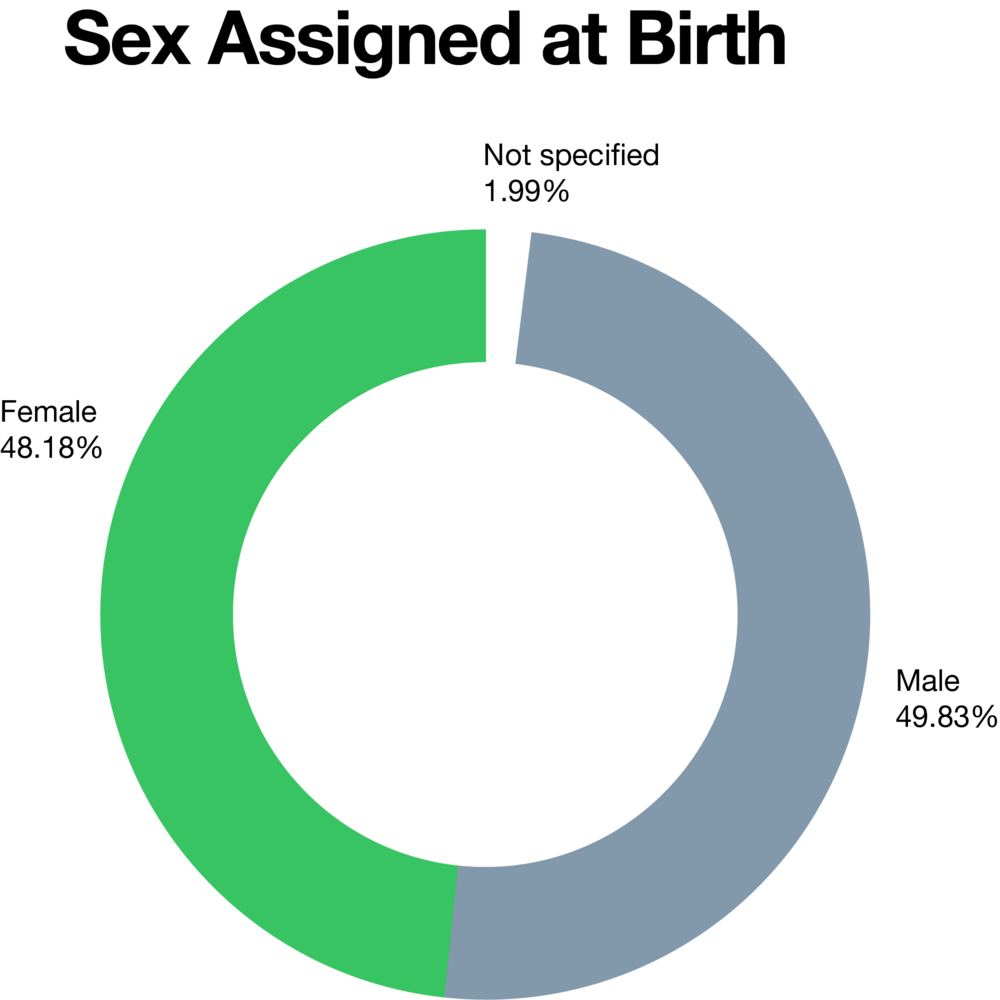 We looked at sex among 64 managers at Techstars. Defined as any employee who oversees at least one other employee, managers identify as 53% female, 45% male with 2% not specifying. This too reflects an effort to empower more women to take leadership roles at Techstars.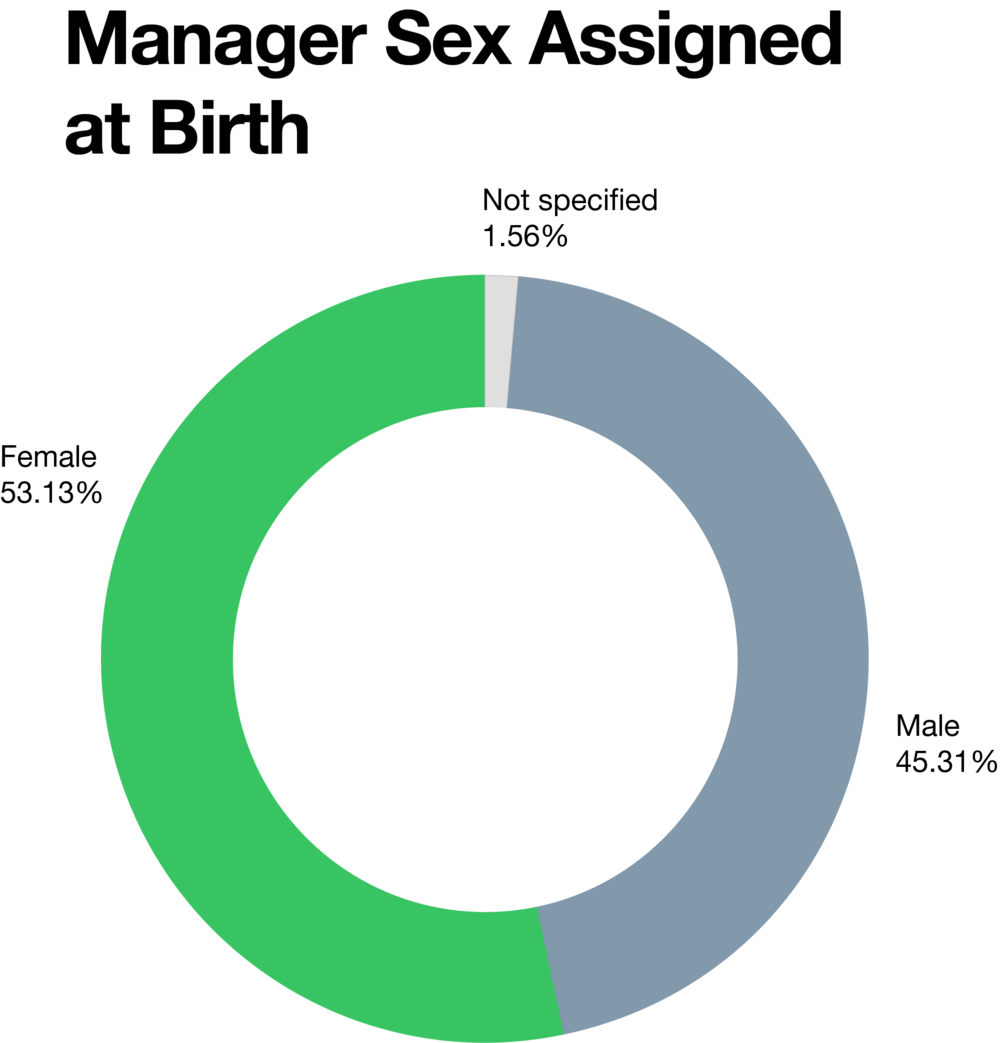 Finally, we looked at sex at our accelerator programs. Our mentorship-based accelerator programs are the lifeblood of our company, and, since 2006, we have worked with more than 2,200 portfolio companies. Their impact on young companies can not be overstated. 
Among 45 managing directors, 82% identify as male, 16% as female, and 2% did not specify. 
The numbers were nearly reversed among 46 program managers with 67% identifying as female and 33% identifying as male. 
While we're heartened by such a strong female contingent of program managers, the predominantly male makeup of managing directors remains an area of focus. Evolved recruiting, sourcing, and interviewing practices are already set in place and we fully expect to make inroads in 2021.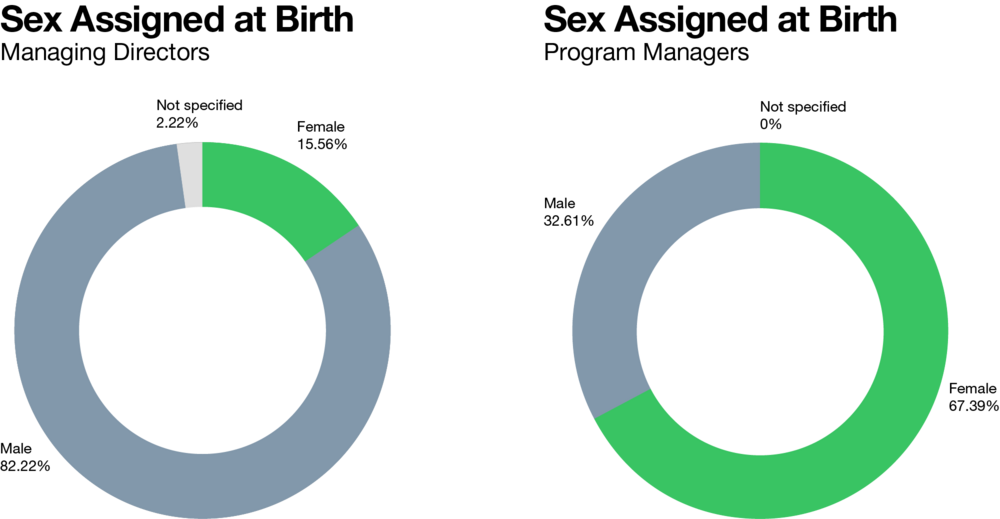 Race & Ethnicity at Techstars in the U.S. 
The race and ethnicity numbers in the United States are more concerning. Among our 228 U.S.-based employees, 79% identify as White, 5.7% Prefer Not to Disclose, 4.8% identify as Hispanic or Latino, 4.8% as Asian, 3.1% as Two or More Races, and 2% as Black or African American. 

Among our U.S.-based accelerator programs, 83% of our Managing Directors identify as White, 7% as Black or African American, 3% as Asian, 3% as Hispanic or Latino, and 3% as Two or More Races. 

The mix is largely the same among Program Managers. Among U.S.-based Program Managers, 81% identify as White, 10% Prefer Not to Disclose, 3% as Asian, and 3% as Hispanic or Latino. While we have made some progress in recruiting more women as PMs, we have not made much progress in diversifying among race and ethnicity. This remains an area of focus.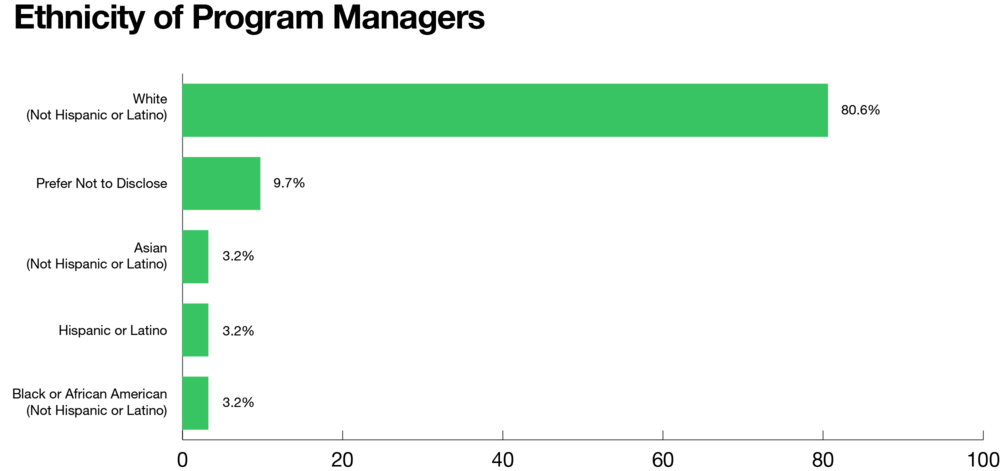 Since Race and Ethnicity are informed by cultural definitions, we purposely do not include global numbers as part of this analysis. 
A Note on our Source and Next Steps
All data was sourced from Namely, the People Operations platform employed by Techstars. Moving forward, we will supplement this data with a larger company initiative to get a deeper understanding of the companies in our portfolio programs, Techstars mentors, and of participants in community events like Startup Week and Startup Weekend.