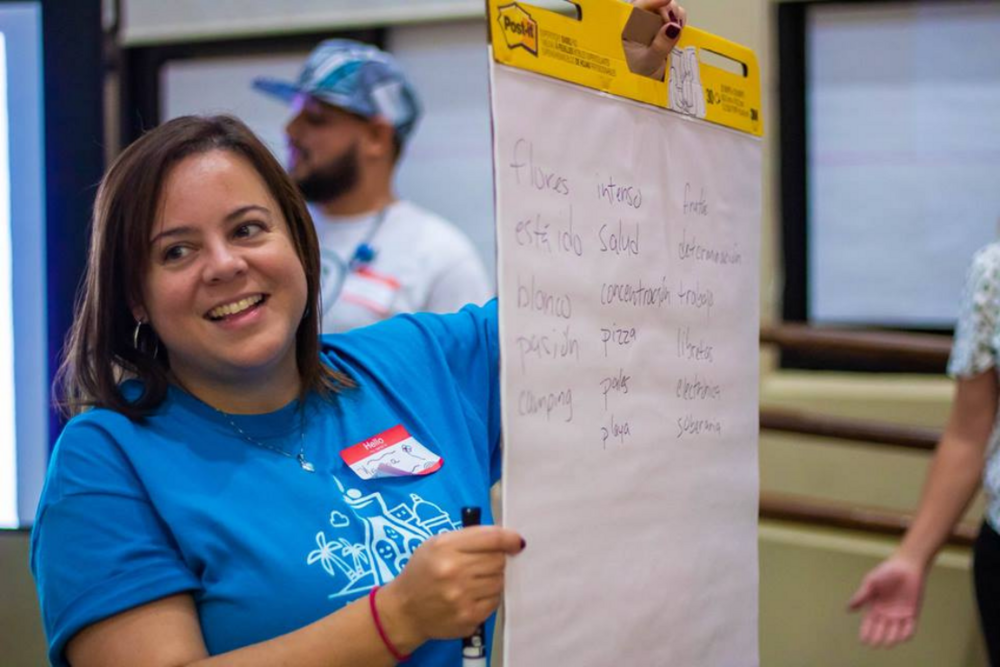 Nerma Albertorio has more than 18 years of experience in the development and execution of programs for the development of entrepreneurs. Her experience includes the identification of business opportunities as well as the development and creation of business and marketing plans for various industries and nonprofit organizations. 
She is a professor at the Universidad del Sagrado Corazón. She worked for four years at the Women Business Institute as a business consultant and is part of the advisory board of the Echar Pa 'lante and Colmena 66. She designed the pre-acceleration program of Startup.pr, the Boys and Girls Club entrepreneurship pillar, and Startup Experience for young people. She is an I-Corps instructor and facilitator in Puerto Rico for Techstars Startup Weekends.
Nerma holds a bachelor's degree in marketing from the University of Puerto Rico, Mayagüez Campus, a master's degree in Nonprofit Organization Administration from Universidad del Sagrado Corazón, and a Certificate in Communication Management from the European Forum in Spain. She was a Babson Entrepreneurship Fellow in 2008. In 2015, she was recognized as Mentor of the Year at the H3 Conference, and she is Cordes s Fellow, Aspen Fellow, and Pilar del Empresarismo de Puerto Rico 2018. She is the founder of the Center for Entrepreneurs and 100 Ventures. 
Back in 2012, I organized my first event when the startup community in Puerto Rico was starting to emerge. I was working closely with the tech community here and one of them asked me to help them organize this event. So I was in the background, supporting the event back in 2011 and the group here in PR asked me if I would keep organizing this event in Puerto Rico because they just wanted to code. Since I am more a business person and a hustler, I thought that it would be easy for me to do it.  And in fact, it was super cool. So in 2012, I organized the first Startup Weekend student edition in PR. A lot of people didn't believe in the project...  but it was an awesome experience. So then I organized again in 2013, and then I submitted a proposal that allowed us to organize four events in 2014 and have a support program for the participants. We won the proposal, and that was the beginning of getting Startup Weekend to occupy an important place in the Puerto Rico entrepreneurial ecosystem.
02. How have Techstars Startup Weekends impacted your life?
The part that most impacted my life is how we can impact other lives with this event.  Being able to be there when someone understands that to go from the idea to action is all you need to start something. Being able to help people get out of the paralysis of the analysis is the part that I love most. We have created a community here in Puerto Rico and we are part of a community in the world. Being able to organize the America's Summit — which never took place because of Hurricanes Irma and Maria — was one of my biggest achievements, even though it was cancelled. Being able to stand in Torino and share how we use Startup Weekends to spark entrepreneurship again in Puerto Rico after the hurricanes was a very profound experience for me as a leader.
03. Why are you passionate about entrepreneurship?
Because you can transform lives through entrepreneurship.  Entrepreneurship is the tool that lets a person be bigger than their circumstances and move out from a cycle of poverty and become prosperous (this does not only include money). It is a way for a person to live the life they want. I think that it is the most powerful tool that you can give to a person.
04. How else are you involved in your community's startup ecosystem?
I am the founder and executive director of Centro para Emprendedores, a local 501c3 organization that exists to transform lives through entrepreneurship. Also I am the cofounder of 100 Ventures, a firm that provides support services to established businesses. I am also part of a few boards of directors, and I am very active in our ecosystem, being very vocal about entrepreneurship, the importance of a support system for entrepreneurs, and entrepreneurial education in schools and universities.
05. What's next for your community's entrepreneurship ecosystem?
There is a lot of work to be done. We need to increase our pipeline of startups, therefore inspire more people to start something. Puerto Rico is on the verge of a very delicate economic situation, we have been experiencing a profound economic depression since 2007. A profound transformation needs to take place from the government, private, and the third sector in order to be able to flourish again.  I think that this is happening and we are being part of the solution.