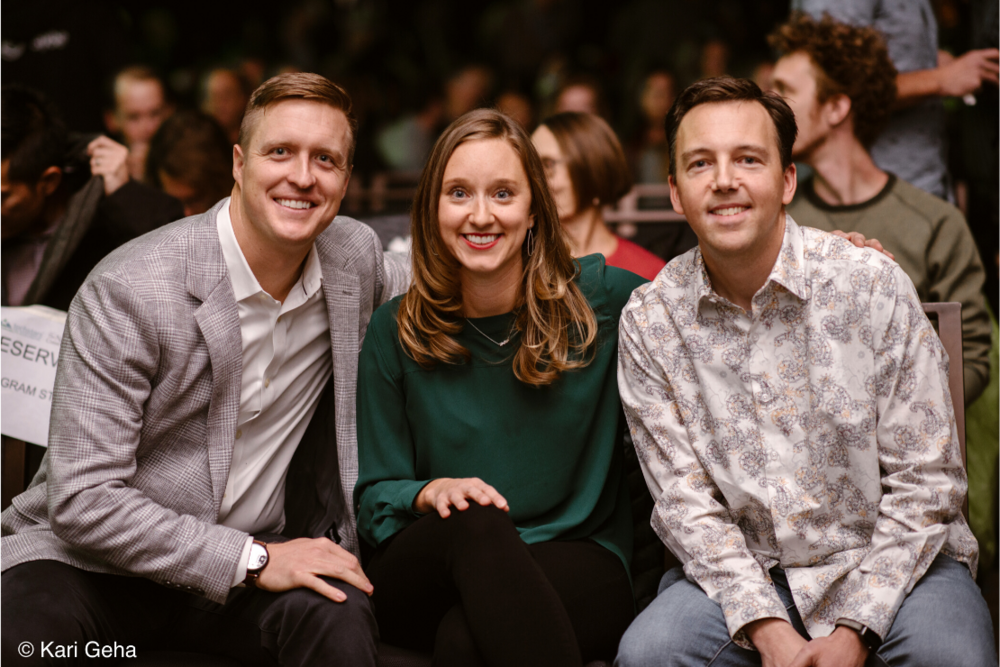 August Ritter, Hannah Davis, and Zach Nies
5-min read
Zach Nies was previously the VP of Education and a Managing Director for the Boulder accelerator at Techstars while being a member of the faculty at the University of Colorado. Before Techstars he was a founder and a technology executive responsible for products earning hundreds of millions in annual revenue.
Before joining Techstars, Hannah Davis was the Program Director at MergeLane, a business accelerator and fund for women-led startups. Before that she was an integral force at the Impact Hub Boulder, a co-working space for community and socially-focused businesses. She helped grow both these organizations from nothing to 100s of community members.
We are looking for companies that can make a material contribution to building a world where people and nature thrive. We support purpose-driven, for-profit entrepreneurs who are excited to tackle some of the greatest challenges facing humanity, in these five main categories: tackling climate change, providing food and water sustainably, building healthy cities, protecting land and water, and making use of cross-cutting technologies that bring people and nature together.
02. What are some of the biggest learnings from your career and entrepreneurial journey that you bring to being a Techstars MD?
Zach: For me, building successful companies from nothing has been extremely rewarding, profoundly difficult, full of amazing people and punctuated with moments of intense isolation. At Techstars I'm so grateful I get to work with entrepreneurs who have the courage, energy, and skills to create something new in the world. I think the true opportunity of company building is to create an environment where those doing the work experience personal growth and fulfillment, while the customers and society experience a fundamental improvement.
Hannah: My biggest learnings were not about how to build the best company, but how to be the best human I can. When I was at MergeLane, a fund that invests in startups with at least one female in leadership, I was exposed to the work of "Leadership Camp." This training wildly increased my self-awareness, communication, and personal growth to provide more capacity to be a leader, have empathy, be more curious, and get out of my own way. I learned that I didn't have to be the smartest person in the room to add value, I just had to be me. Since then, I have deepened my personal work through the philosophies and practice of Buddhism, which has deepened my ability to stay curious, loving, and present—three skills that have been extremely useful as a Program Director.
03. What does our partner, The Nature Conservancy, bring to the accelerator?
The Nature Conservancy brings almost 70 years of deep expertise, connections, and resources in the conservation space to this program. They are heavily involved in supporting our startups, and they bring in subject matter experts from around the world to work with our founders. Given that they are in over 70 countries and all 50 states, they have potential resources for startups from around the world. The Nature Conservancy looks at our climate challenges from not only a tech perspective, but policy, conservation, science, partnerships, and more, which gives our program diverse perspectives and resources.
04. Why is supporting entrepreneurship and innovation around sustainability important to you?
Zach: When we build companies, it can seem like success comes out of nowhere, all of a sudden. In reality, it's a bunch of small actions that compound over a long period of time, and one doubling catapults the company from obscurity to prominence. This is how exponential growth surprises us. The same dynamic has been happening to our planet. Over a long period of time, negative actions have been compounding. Entrepreneurs know how to create value that grows exponentially. It's an honor to work with entrepreneurs that are bringing this exponential mindset to saving our environment.
Hannah: In my perspective, there is nothing more important than working on our climate challenges to ensure we, and future generations, have a safe and habitable place to live. And this challenge isn't 100s of years out, I'm talking about challenges many face today. We need to tackle those challenges from all angles including tech, finance, policy, science, grassroots, and more. I have chosen to dedicate my time to supporting entrepreneurs tackling these big challenges, like how we reduce climate change, provide sustainable food and water, protect our land and water, and green our cities. In what can be a depressing sector, they give me hope. These entrepreneurs are not only building companies that allow humans and nature to thrive together, but they are building sustainable, scalable, and fundable companies that will bring in new investors to the impact space and inspire more entrepreneurs to tackle these big challenges. Climate is a challenge that will impact every single one of us, and we need new innovations that can move quickly and scale. And behind these innovations are incredible people that dedicate their lives to making a difference for us all and I'm so grateful to learn alongside them and work towards something that I am deeply passionate about.
05. If you could have coffee with any entrepreneur who would it be and why?
Zach: I would have coffee with Taiichi Ohno, the creator of the Toyota Production System which inspired Lean Manufacturing and ultimately the Lean Startup practices that are now common in entrepreneurship. His work was guided by respect for people and continuous improvement. Over coffee, I'd value his insights on those core values.
Hannah: This feels cliche but it would be Yvon Chouinard, the founder of Patagonia. Patagonia has done an incredible job of living their values and beliefs. Patagonia has always been an environmentally driven organization and set a high standard for other brands to follow. Over coffee I would want to ask him about the tensions between business, culture, and values and the environment. I would also want to hear what he thinks we need to do as a society to create a world where humans and nature can both thrive.
---
Learn more about the Techstars Sustainability Accelerator in Partnership with The Nature Conservancy here.
Learn more about Techstars accelerators and see which ones are accepting applications now.