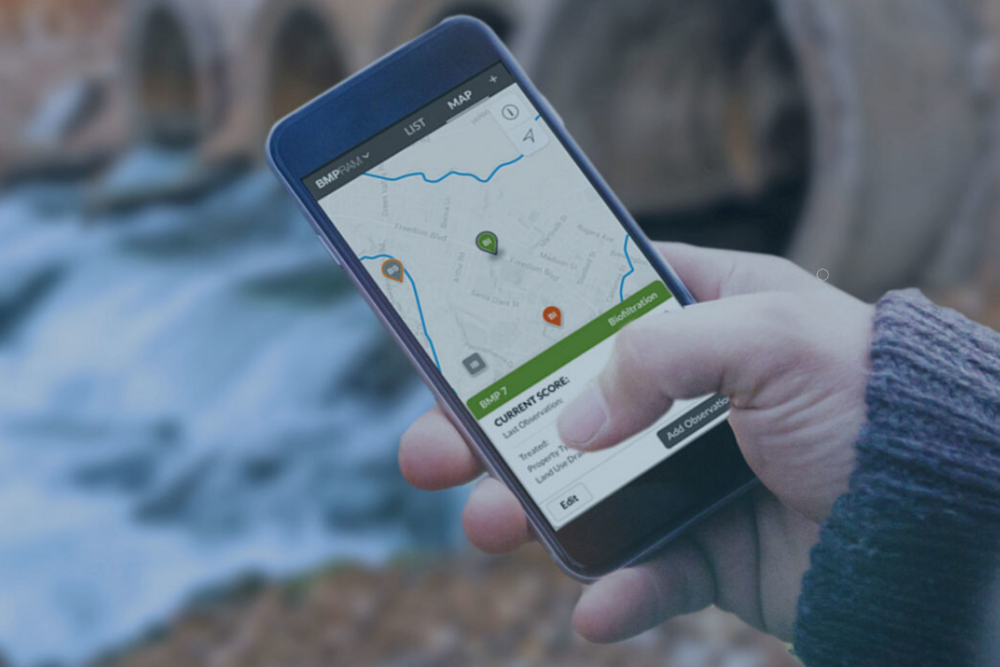 Image courtesy of 2NDNATURE.
2NDNATURE | Techstars Sustainability Accelerator in Partnership with The Nature Conservancy 2019
2NDNATURE's cloud-based platform is helping city governments curb their stormwater pollution with technology that shows the effectiveness of their pollution mitigation efforts, saving taxpayer dollars and collecting crucial data. Founded by Nicole Beck, 2NDNATURE completed the 2019 Techstars Sustainability Accelerator in Partnership with The Nature Conservancy, and its software is now used in seven states. 
Urban stormwater pollution is America's fastest growing source of water pollution. When rainwater in cities flows from gutters, it travels straight into lakes, rivers, and oceans, carrying litter and other harmful pollutants right along with it. For decades, cities have been measuring their pollution mitigation efforts  — such as street sweeping, green infrastructure development, and trash-reduction programs — with paper-and-pencil processes and non-standardized data collection methods. This old-school process makes it challenging to iterate on best practices and to know what's working and what isn't. 
---
Is your startup fighting climate change? Check out the Techstars Sustainability Challenge!
---
"Municipal stormwater programs have struggled with demonstrating how their programs are, in fact, cleaning our urban waterways. It is a classic case of using an academic approach on an applied problem — collecting a lot of data but not having the right information to guide decision making and investment of resources," says Nicole Beck, Founder and CEO of 2NDNATURE. Furthermore, to comply with The Clean Water Act, cities spend hundreds of hours gathering data from disparate regional offices, manually entering it into spreadsheets, and compiling massive compliance reports.
Nicole Beck, Founder of 2NDNATURE, at Demo Day. Credit: © Kari Geha.
Nicole spent 15 years helping cities apply scientific methods to managing their urban stormwater pollution, and she was struck by the clear opportunity to scale best practices. In 2016, her firm, 2NDNATURE, decided to run an experiment. They hired a CTO and built a digital, cloud-based platform for storing data and analyzing results. "Cities would have the ability to easily compare projects and data year-over-year, and we'd have a product we could build on for other clients," Nicole explains. 2NDNATURE was about to prove it could dramatically improve stormwater management practices for cities everywhere.
The City of Salinas Pilots 2NDNATURE's Platform 
Early 2NDNATURE client The City of Salinas, California was eager to make a change. Similar to most municipalities, they were spending hundreds of thousands of dollars and over 1,000 hours compiling their data from multiple departments and partners to organize a 3,000-page annual report for the State Water Quality Control Board. While the report met regulations, its data wasn't collected in a uniform manner making it impossible to compare projects year-over-year or document any clean water progress — the fundamental intent of the Clean Water Act regulations. 
The City of Salinas implemented the 2NDNATURE platform and can now see what's working well on color-coded maps, iterate on it, and share performance data across multiple stakeholders. With program data centralized and standardized, the platform generates compliance-ready annual reports with just a few clicks. No more wasted dollars or months spent compiling data. 2NDNATURE's software reduced the time and cost of annual report compilation for the City of Salinas by 2x. Within 2 years of launching the platform, 2NDNATURE had 36 city and county customers. 
Sustainability Accelerator Expands Startup's Reach
When The Techstars Sustainability Accelerator in Partnership with The Nature Conservancy opened applications for 2019, Nicole and team seized the opportunity. As Nicole explains, "the resources that Techstars would bring to our budding technology company, plus building a relationship with The Nature Conservancy — we'd be silly to pass that up." In going through the Sustainability Accelerator, 2NDNATURE gained 800 new leads, $6M in new deals, and expansion into a new state. The insights they gained from Techstars and TNC mentors improved their business on multiple fronts. "Everything we got out of the accelerator program has real value to our business," says Jason Yoho, 2NDNATURE's Chief Commercial Officer.
---
Learn more about how TNC is using innovation to fight climate change by partnering with startups like 2NDNATURE.
---
August Ritter, TNC's Sustainability Program Director, sees partnering with 2NDNATURE as truly a win-win. With a mission to conserve lands and waters everywhere, TNC places great value on new green developments. Says August, "There are a number of important co-benefits that occur when cities build green infrastructure, but they are hard to quantify. 2NDNATURE's platform is helping with that. They are helping cities better understand the ROI of green infrastructure investments in a way they haven't been able to do yet." 
What's Next in Stormwater Analytics? 
August is excited about the potential for this kind of technology to decrease stormwater pollution. "Cloud analytics software can help cities measure performance of these green infrastructure investments,performance across the spectrum of co-benefits they provide" he explains.
2NDNATURE is in the midst of closing a round of financing, and while scaling its urban stormwater pollution solution is the priority, the possibilities for impact are far broader. "We don't just want to treat stormwater," Nicole says. "We want to empower cities to invest in green stormwater infrastructure in a way that cleans water, builds economic resiliency, and mitigates climate change."