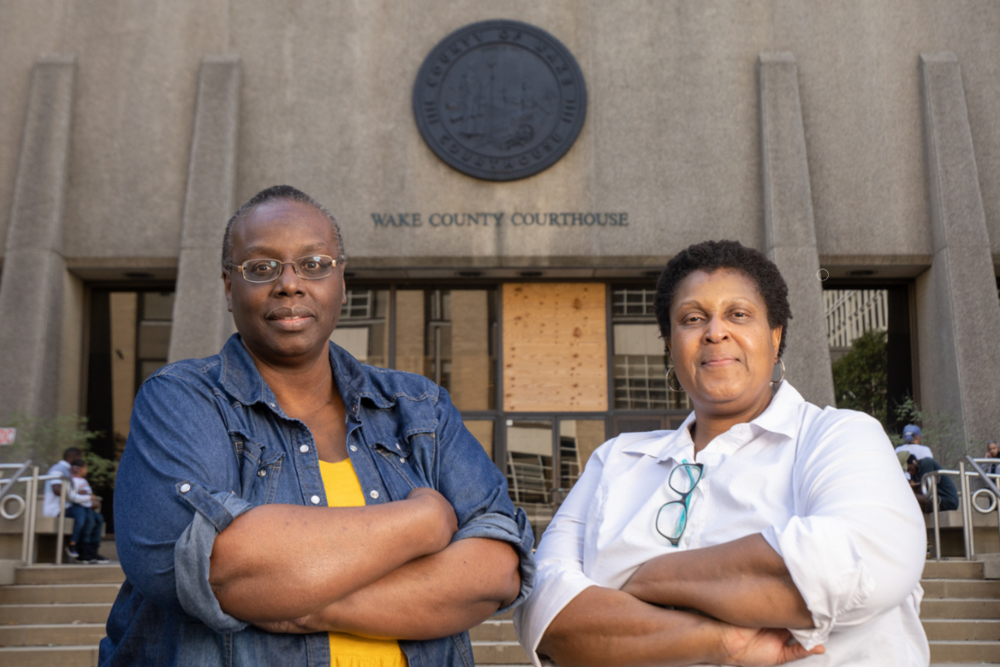 Courtroom5 Founders Sonja Ebron and Debra Slone
Courtroom5 | Techstars Kansas City 2020
Three of every four civil cases in the United States includes at least one person who is unrepresented by a lawyer. In the majority of such cases, these unprepared citizens have to fight their opponent's lawyer to get a fair hearing in the case. Founded by Sonja Ebron and Debra Slone, Courtroom5 is the end-to-end legal toolbox for people in this situation. Courtroom5 completed the Techstars Kansas City Accelerator in 2020.
Navigating the civil justice system is no mean feat for the average person — and nor is it simple for some of the most educated among us. Courtroom5 CEO and Cofounder Sonja Ebron says she learned the complexities of law the hard way.
"My cofounder — Chief Product Officer Debra Slone — and I are PhDs in our fields and former college professors," Sonja says. "Like many people, we each had middle-class incomes when we found ourselves dragged into court. The average lawyer charges $350 per hour, and neither of us could afford that."
"How hard could it be for a PhD, right? But it was extremely difficult. We made lots of trivial mistakes that caused major damage to our cases, mistakes that a timely piece of information could have prevented."
The experience inspired the pair to create a tool to deliver that information so others could have a better chance of reaching a just outcome.
Courtroom5 is a legal toolbox that tracks progress throughout a case and provides users only the most relevant legal information, training, and tools needed to reach the next step. Users gain access to a library of document templates, searchable case law, analysis of claims and defenses – everything they need to navigate a system designed for lawyers. 
The Many Injustices Plaguing Our Society
The need for this legal tool is only amplified by the political and social climate of today, Sonja says.
"As Black women, we are keenly aware of the many injustices plaguing our society," Sonja says. "The crisis in access to justice that we're working to resolve disproportionately affects Black and Brown people, and our customers are disproportionately Black and Brown. Our goal is to create an avenue where people can demand justice in the courts rather than in the streets."
So far, Courtroom5 has served thousands of people and, of those who have reached an outcome using the tool, more than 70% either win or settle their cases. This month, Courtroom5 was selected as one of the recipients of the Google for Startups Black Founders Fund.
Millions of people today are facing the economic consequences of the pandemic, Sonja says, including court summons for debt collection, foreclosure, workplace issues, and other finance-related problems. "Most of them will face corporate lawyers without a lawyer on their side. Courtroom5 provides them with an opportunity to present their cases and be heard."
Accelerated By Techstars' Worldwide Network
Sonja and Debra bootstrapped the company to a minimum viable product and a few customers before deciding to apply to Techstars Kansas City 2020. 
"We knew an accelerator could have an impact on our trajectory," Sonja says. "And we chose Techstars because we knew the reputation, we'd witnessed its impact on several North Carolina companies, and we believed in the power of mentoring."
"Techstars provided us with powerful mentors, intensive startup training, and critical funding. This combination helped us focus on and leverage the key drivers of the business."
Now, Courtroom5 is seeking "intrepid investors" to help the team disrupt the legal industry and remake the consumer law business model "so that everyone gets the legal services they deserve," Sonja says.
"We want to offer our customers as-needed attorneys for specific, well-defined legal tasks they don't feel comfortable completing themselves, such as legal research to find the right case law or oral argument in a courtroom or in a judge's chambers."
"We are so happy to be recognized by Google with this funding and support. This initiative is an important signal to other industry leaders to follow suit, because when we #FundBlackFounders, we fund Black communities."
---
Check out all our Techstars Accelerators and see which ones have applications open now.