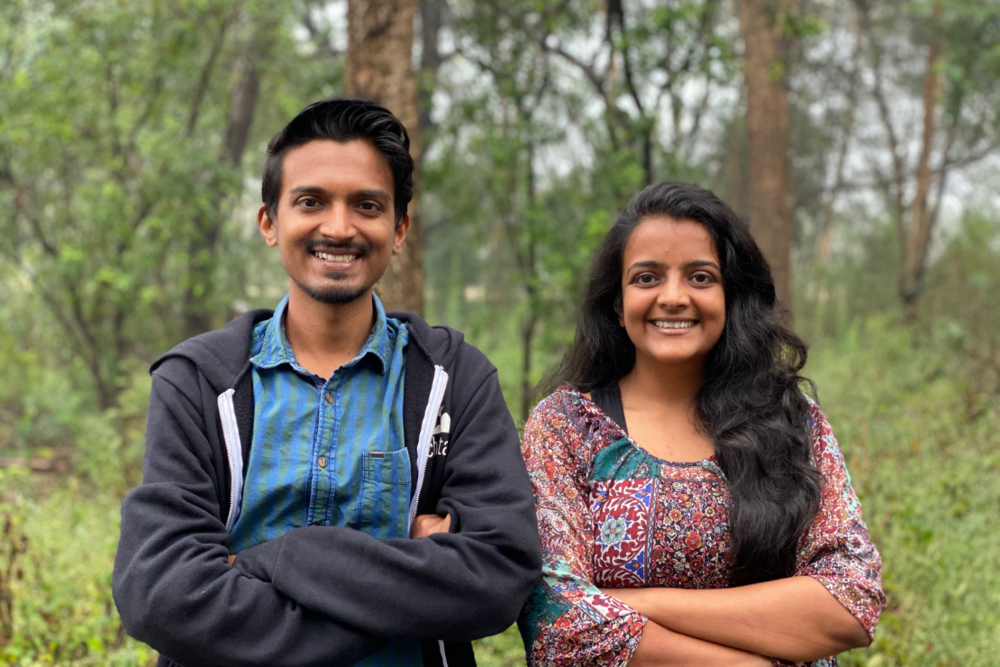 Craste founders Shubham Singh and Dr. Himansha Singh
Craste | STANLEY+Techstars Accelerator 2019
Every year, millions of tons of crop residue are burned in India — so much that the resulting "toxic clouds" are visible from space. Founded by Shubham Singh and Dr. Himansha Singh, Indian startup Craste helps prevent these toxic clouds by buying the stubble from farmers and creating products like organic packaging and furniture materials. Craste completed the STANLEY + Techstars Accelerator in 2019.
Crop residue — the stubble that remains after crops are harvested — needs to be disposed of before the next growing season. For farmers in India, the cheapest and fastest way to clear the soil for the next crop is to burn last season's remains, but this process creates major environmental repercussions. 
Smoke from this burning produces a cloud of particulates so large that it's visible from space. The "toxic cloud," as it is often described, can be bad enough to cause an air pollution emergency in New Delhi. Each winter, Delhi's air quality index plunges to severe or hazardous levels because of crop residue burning, but government alternatives to prevent the fires are not seen by farmers as economically viable or time-efficient.
The best solution, says Craste CEO and Cofounder Shubham Singh, is to harness the full potential of the crop waste itself. Farmers need to dispose of this material, but rather than burning it, they can sell it to Craste, which uses the stubble to create value-added products like organic packaging and furniture materials. The company name itself, Craste, is a portmanteau of "crop" and "waste."
"With this venture, we are not only helping to curb carbon emissions, but we are also providing a new, readily available, cheaper alternative to timber in the wood-dependent industry and, thus, also saving trees," says Craste COO and Cofounder Dr. Himansha Singh. "Craste fosters the circular economy with benefits for farmers (by raising their income), the environment (by saving trees and reducing pollution) and the consumer (by creating eco-friendly products)."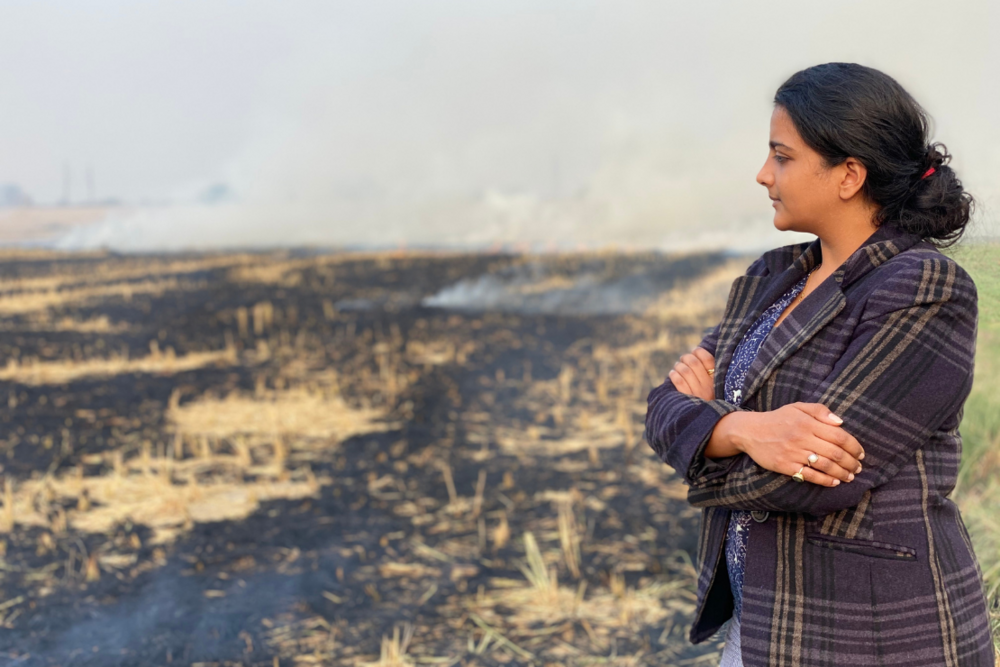 Craste founder Dr. Himansha Singh with a field of burning crops
---
The world's top startups and corporate innovators are teaming up to build sustainable solutions in Techstars first Sustainability Challenge. Learn how to get involved.
---
'Leaving A Better Place For The Next Generation'
India generates 500 million tons of crop residue each year, yet this is a raw material which is overlooked, Shubham says. Crop stubble has struggled to gain momentum over recycled and virgin wood due to high levels of silica as well as the seasonability of the supply. Craste has developed innovative techniques to use multiple varieties of crops — including high silica content based crops like paddy — to develop products with high-quality properties. These products include tree-free pulp for flexi packaging and moulded pulp products to replace single-use plastic. In addition, Craste is developing formaldehyde-free particle boards for furniture and construction projects.
"We want to see a world with tree-free products, so we are only dependent on living trees rather than cutting them down," Shubham says. "Our initiative is to foster circular manufacturing so we can cater to our needs without destroying the planet."
Helping Corporations Reach "Plastic-Free"
Craste took part in the 2019 class of the STANLEY+Techstars Accelerator, and the startup worked directly with accelerator partner Stanley Black & Decker to create sustainable packaging. The team is currently designing clam-shell packaging that will help the corporation to reach plastic-free. "As a startup working with an enterprise, it has been very enriching," Shubham says.
Post-accelerator, Craste is engaged in a pilot with Anheuser-Busch InBev SA/NV, commonly known as AB InBev, to help achieve its circular packaging goals. Through this pilot, AB InBev barley farmers can earn a secondary income by selling their barley waste to Craste. "We use this waste to create sustainable six-pack boxes for AB InBev," says Shubham.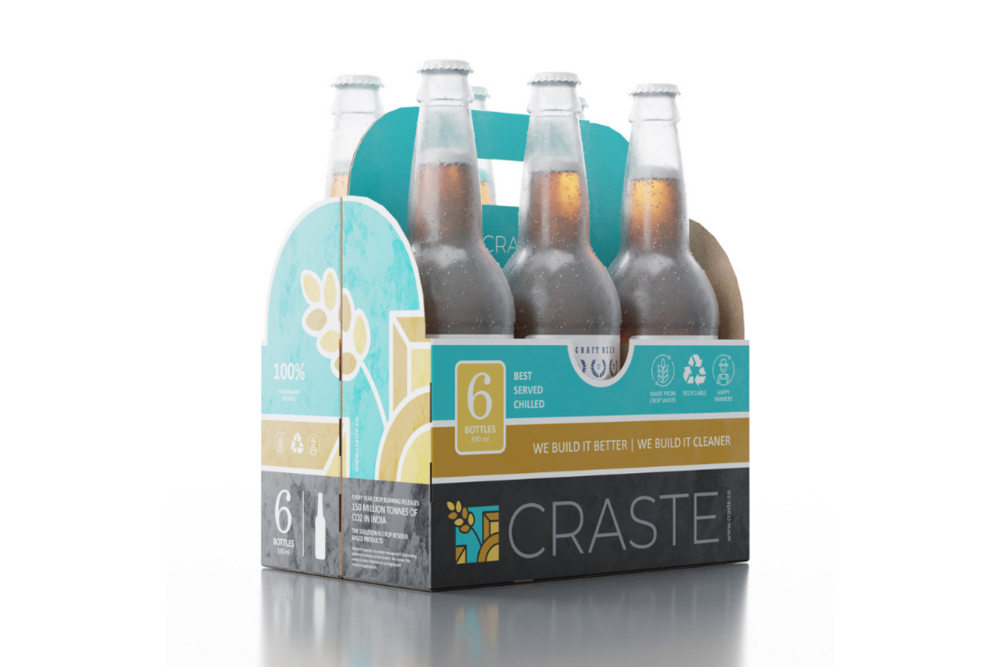 Craste sustainable six-pack box
Once the pilot is complete, Craste hopes to work with AB InBev to plan a long-term partnership to help the corporation reach its sustainability goals. According to Shubham, both AB InBev and Stanley Black & Decker have signed the "The Plastics Pact" with the Ellen McArthur Foundation to move toward a circular economy for plastic, including eliminating unnecessary or single use plastic packaging by 2025. "Stanley Black & Decker is excited to continue collaborating with clever startups like Craste," says Mark Maybury, Chief Technology Officer at Stanley Black & Decker, "As we work to create a more sustainable future where plastic packaging is reusable, recyclable, or compostable."
"Leaving a better place for the next generation is important," Himansha says. "We want to contribute towards making that step towards a better future. After all, if we want to sustain, shouldn't we be sustainable?"