Yes, You Can Do This! How Women Start Up, Scale Up, and Build the Life They Want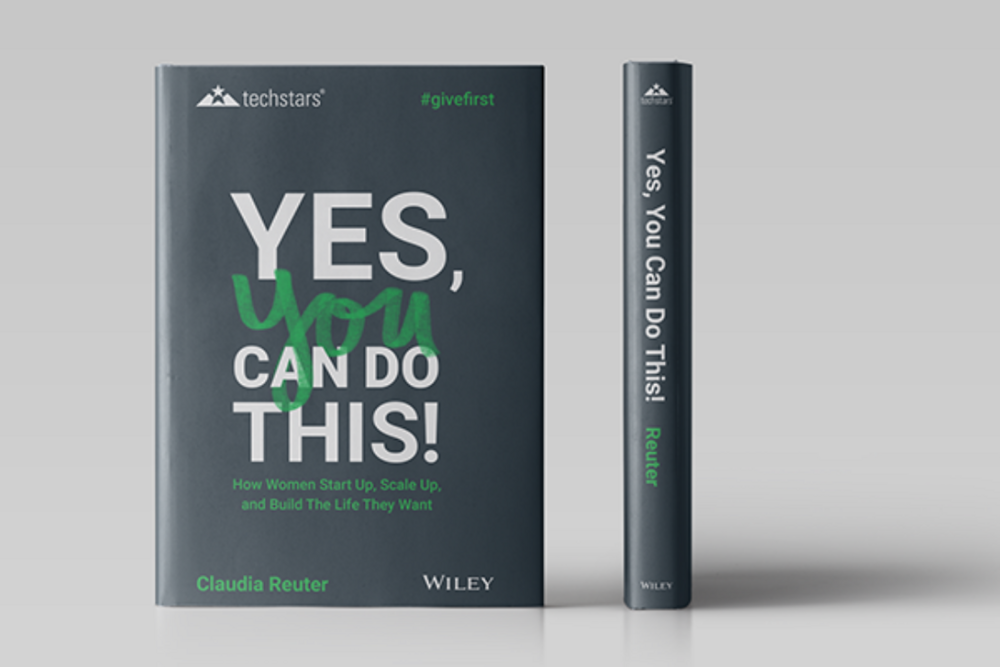 YES, YOU CAN DO THIS! is set to be pubished by Techstars Press, a Partnership Between Techstars and Wiley, on February 19th.
"Combining compelling storytelling with practical, tactical advice, Reuter has created a manifesto for the next generation of female founders. Rooted in the research around gender and work, this is a must read for women looking to launch the next new thing." - Jennifer McFadden, Associate Director of Entrepreneurial Programs, Yale School of Management
Hoboken, NJ (January 16, 2020) – In the upcoming new book Yes, You Can Do This! author and General Manager Americas East for worldwide entrepreneurial network, Techstars, Claudia Reuter, has created a new manifesto for women in the workforce.  Reuter shares her story of re-entering the workforce after raising her two young children and the unique path she forged to create the career and life she wanted. In Yes, You Can Do This! Reuter invites other women to explore and to consider entrepreneurship by weaving a fictional narrative with practical take-away resources, so they too can create businesses with the rules they want, combat many of the challenges women face along much more nuanced career journeys, and step into leadership positions of their choosing.  
"Right now, fewer than 10 percent of Fortune 500 CEOs are women, less than 25 percent of corporate board directors are women, and only 17 percent of companies offer paid maternity leave," Reuter notes. "While we're making progress, at the current rate of change we're still 100 years away from gender parity in the workforce. I wrote this book because I believe that if we can support more women who pursue entrepreneurship, we can change those stats more quickly, and level the playing field for others in the process."
More than just a "how-to' book, Yes, You Can Do This! provides clear examples and practical resources to help women
Develop and share their vision

Learn how to deal with stereotypes and unconscious bias

Leverage perceived weaknesses and turn them into strengths

Balance life and avoid burnout

Cultivate the confidence to transform an idea to a company with the culture and rules they want
Yes, You Can Do This! is the first title to be published under the imprint Techstars Press, a new partnership between Wiley and Techstars, that will serve as the premier publishing home for entrepreneurs, innovators, and industry disruptors, and will acquire, curate, and publish with the mission of providing indispensable resources for the startup community. 
In keeping with the Techstars spirit of stimulating innovation and positive social and economic change globally, Techstars Press will act as a platform to launch breakout ideas and industry expertise within the entrepreneurial and startup landscape. Through Techstars Press, Techstars and Wiley will be able to offer unique value to authors and readers, bringing to market rich content from talent that traditional publishing houses alone don't have access to, and providing a flexible range of offerings in both product and promotion.
Yes, You Can Do This! is currently available for pre-order and will be available wherever books and ebooks are sold on February 19th.
About the author: Claudia Reuter (https://www.claudiareuter.com/) is a GM for Techstars, where she's invested in several companies, a former Senior Vice President of Labs and Digital Services for  Houghton Mifflin Harcourt, and the former CEO and co-founder of SchoolChapters (acquired by HMH). She currently serves on the Board of Directors at Lessonly and has been featured on leanin.org, quoted in Forbes and Entrepreneur, and recognized for her trailblazing work by the Boston Business Journal as a "Women to Watch in Technology" and as a "Changemaker" by HUBweek, for her focus on bringing technology to places it doesn't exist. She is a member of the Editorial Advisory Board for Innovation Leader and she is the creator and host of the podcast "The 43 Percent" which debuted in March 2019 as a "New and Noteworthy" on Apple podcasts.
About the book: Yes, You Can Do This! How Women Start Up, Scale Up, and Build The Life They Want by Claudia Reuter (Techstars Press, February 2020, 224 Pages, $25.00, ISBN: 9781119625605). For more information please visit the book's page on Wiley.com.
Media contact: For advance review copies of the book, interviews with the author, excerpt requests or any additional information, please contact: Amy Laudicano, Wiley – aaudicano@wiley.com.