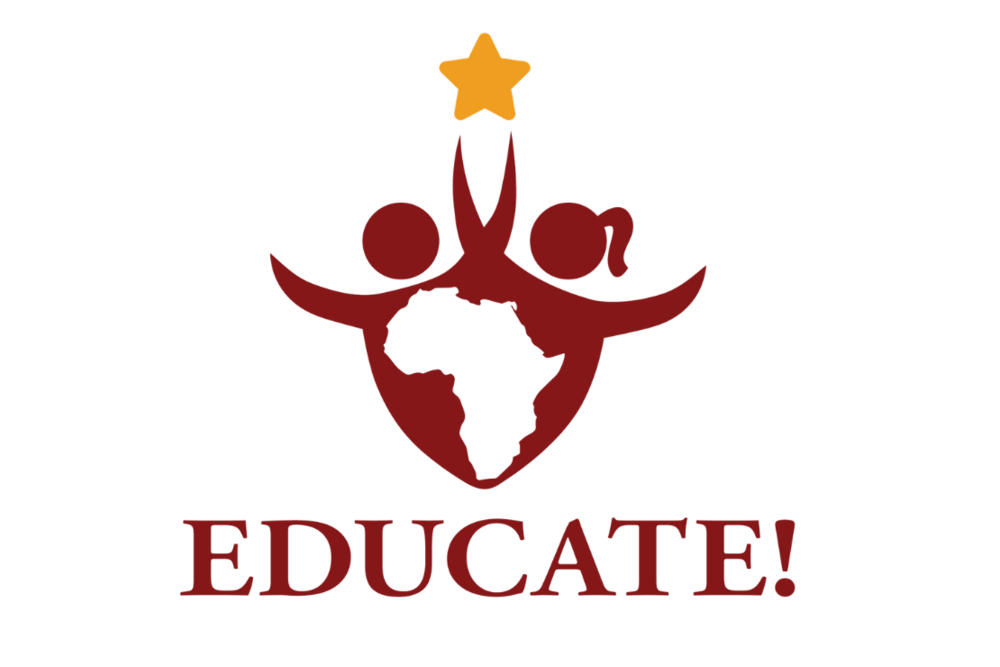 Boris Bulayev is the Cofounder and Executive Director of Educate! Boris emigrated to the U.S. from Latvia at the age of seven as a refugee, and he is passionate about providing access to the kind of educational opportunity that allowed him to get to where he is today. Boris is a Startingbloc fellow, winner of the Jacobs and Rybakov Prizes, and a two time Forbes 30 Under 30 Social Entrepreneur.
Eric Glustrom is the founder of Watson and Educate!, two organizations transforming education worldwide. Recognized as an Ashoka fellow, Echoing Green fellow, and one of Forbes 30 social entrepreneurs under 30, Eric's work is driven by a simple belief: to solve the toughest challenges facing humanity, the place to start is within the hearts and minds of the next generation.
Educate! received a grant from the Techstars Foundation for 2020. 
01. Give us the elevator pitch for Educate!
Educate! tackles youth unemployment by reforming what schools teach and how they teach it, so that students in Africa have the skills to attain further education, overcome gender inequities, start businesses, get jobs, and drive development in their communities. Our model is delivered through practically-trained teachers and empowered youth mentors. Educate!'s goal is to make this practical, skills-based model part of national education systems across Africa.
02. How does your organization create a more diverse and inclusive entrepreneurial ecosystem?
Educate! is increasing diversity in entrepreneurship by helping youth in marginalized, under-resourced communities in Africa become entrepreneurs and leaders. In total, we estimate that 70% of our Scholars (students enrolled in our Leadership and Entrepreneurship course) are orphans or vulnerable children, defined by living in poverty, having one or more deceased parents, HIV/AIDS status, affected by armed conflict, food insecurity, socially marginalized identity, or living outside of family care or in temporary housing. Further, our program has a proven outsized impact on girls, who often face greater barriers to entrepreneurship and are underrepresented in business leadership positions globally. Educate! prioritizes gender balance, ensuring that at least 50% of Scholars are female. Through comprehensive research and development, we have developed best-in-class strategies for creating gender equity in the classroom, like ensuring that girls speak as often as boys, girls are empowered to take on leadership roles, and we feature female entrepreneurs in case studies.
03. How will the grant from the Techstars Foundation be used to further the mission of the organization?
The Techstars Foundation grant will be put towards supporting our COVID-19 response work in our flagship school solution, The Educate! Experience. As the largest youth skills provider in East Africa, Educate! is uniquely positioned to reach a large audience of youth and make a significant impact on the obstacles presented by the COVID-19 pandemic. Educate! is aggressively working to take its proven skills-based education model for Ugandan youth virtual, leveraging radio for content delivery, and robocalls, interactive voice response (IVR), SMS and remote mentorship for follow-up assessment, engagement, and mentorship on starting appropriate projects and businesses (such as sack gardens). This could be supplemented by in-person, small group mentorship immediately post-full lockdown, in compliance with social distancing orders and school closures. Funding from Techstars enables us to reach over 6,000+ scholars with plans to grow that number to 10,000 with the critical soft and hard skills needed to start businesses, get jobs, and drive development in their communities.
04. How did you came to do this work and why is it important to you personally?
Boris: I became part of Educate when I was recruited by Eric Glustrom, Educate!'s first founder, as a sophomore at Amherst College. I was a refugee myself, and I believed in giving other young people opportunities. I emigrated to the U.S. from Latvia at the age of seven. I consider myself lucky to have attended a great public school in San Francisco that eventually got me into Amherst College.
Boris and Eric: In 2002, we traveled to Uganda to visit Benson, a young refugee boy who Eric had sponsored through school. Benson believed with a formal education, he could change his life and solve the problems in his community. During our visit, we were shocked to meet student after student going in and out of school because they couldn't afford school fees. Their struggle went far beyond schooling — these bright, motivated young people were fending off disease, growing their own food, and surviving in some of the worst conditions imaginable. We saw a huge opportunity if school could help prepare these young people to solve the whole range of problems they and their communities were facing.
We were inspired by the potential and by the challenges of the young people we met — we had a vision to transform classrooms into training grounds for students to learn to help themselves and change their communities. By teaching them leadership and how to start small businesses, students could not only pay their own school fees, but they would also have the skills and opportunities to succeed after graduation and transform their own lives.
We hired our third founder Angelica Towne to craft the solution. Angie knew firsthand what it means to be literally saved by youth organizations, growing up in inner city New York. She graduated from Middlebury College after writing her senior thesis on leadership programs she implemented in Jamaica and the U.S. Angie moved to Uganda, built our program and launched the first Educate! Experience model in March of 2009.
05. Tell us the story of a specific entrepreneur you are proud to have supported.
Educate! graduate, Daniel Okurutm, was an Educate! Scholar in Hoima, Western Uganda. In secondary school, Daniel joined Educate! and served as President of the Student Business Club. Under his leadership, the Club started a business building and selling clay cooking stoves, which were safer and more efficient than the stoves typically used by members of the community.
After graduating from secondary school, Daniel worked hard to earn a diploma in medical technology. Leveraging both his medical education and his business skills gained through Educate!, Daniel opened a rural health clinic, with a dispensary and small blood analysis laboratory. He grew the clinic over time, and today services include family planning, medical consultations, vaccinations, diagnostics and treatments. The clinic receives 350 patients per month on average and employs two people.
Now, Daniel is focusing on growing his business. He says, "This clinic was my "back-home project" [individual business projects which Scholars are coached to start through Educate!]. It took some time to achieve it, but I'm now quite satisfied and four weeks ago I opened an urban clinic which will have a little space for inpatient care too. The new clinic will serve four schools: if the children get sick we will be their referral hospital."
In addition to running the health clinic, Daniel serves as an Educate! Youth Leader (manager of Educate! Mentors), giving back to the next generation of youth in his community. "As Youth Leader and the Club's advisor, I keep telling Mentors and students that it's not just about money, but about having a business idea and planning carefully. Students often have fears, but fears mustn't paralyze them. I tell them they need to start with an idea and build upon it, little by little. Think big, but start small! I help them brainstorm ideas. If they need to raise some funds, I help them design a strategy for that."
Daniel's driving motivation is giving back to his community: "I want to help people around me. That is what inspires me and what has always been and still is at the back of my mind. I started with cooking stoves because I wanted to mitigate the health and respiratory problems that often result from smoke inhalation, but the clinics are the ultimate realization of my aspirations."
---
Donate now to support the Techstars Foundation, which empowers underrepresented entrepreneurs.