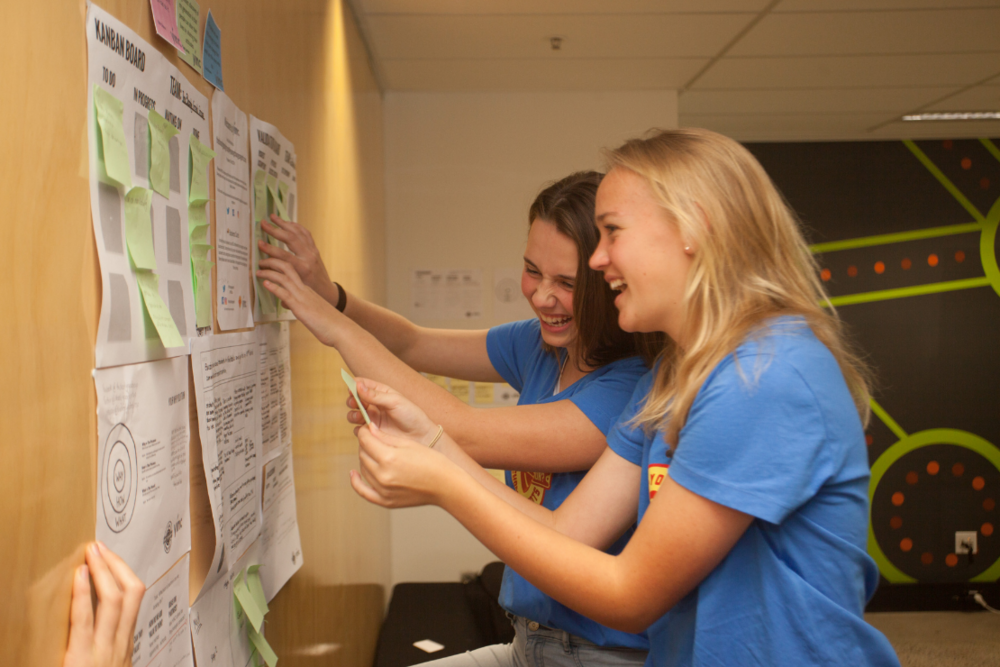 Young Change Agents in action.
Margaret O'Brien is the Cofounder and CEO of Young Change Agents. Alongside her team, Margaret has worked to bring social enterprise education to thousands of youth across Australia since 2016. Under her leadership, Young Change Agents has launched Australia's first high school incubator, YINC, trained hundreds of Australian teachers in the delivery of design-thinking based entrepreneurship programs and designed and delivered major programs to a diverse range of students including youth in juvenile justice, indigenous youth, and youth with disabilities.
Margaret is on the Board of the Social Enterprise Council for NSW and ACT, a co-convener of the Sydney Social Enterprise Exchange and an Activator with the women's investment network SheEO where she invests her time and money into helping female entrepreneurs and growing the movement in Australia.
Margaret started Young Change Agents after working in business for 15 years across Australia and the UK and three years working in international development in Colombia where she set up library and literacy programs in partnership with local leaders and foundations. This time working with youth in Colombia was the catalyst for the Young Change Agents as her experience with teenagers showed her that youth could thrive with entrepreneurial learning opportunities.
01. Give us the elevator pitch for Young Change Agents.
Young Change Agents helps youth see problems as opportunities through social enterprise — our focus is on building the mindset, skillset, and toolset of young people and we do this in a scalable way by investing in ecosystem development, teacher capacity building and proprietary technology to support our face-to-face programs.
02. How does your organization create a more diverse and inclusive entrepreneurial ecosystem?
Our programs are inclusive of all youth including marginalised and disadvantaged young Australians. In 2020/21 we are focusing particularly on young people experiencing disadvantages or who are part of a minority group. For example, Young Change Agents is a key delivery partner for the Australian Government initiative, the Academy for Enterprising Girls as well as a Digital Futures Partner of Telstra Foundation reaching youth in regional and rural areas across Australia. We are also co-designing and delivering programs for Indigenous youth in the Northern Territory — which the Techstars Foundation grant will help support.
03. How will the grant from the Techstars Foundation be used to further the mission of the organization?
In 2019/20 Young Change Agents conducted a series of youth workshops and community consultation interviews over 2019/20 in order to co-design a Young Change Agents approach for young Indigenous Australians. Indigenous Australians are significantly underrepresented with less than 1% of Australian businesses owned by Indigenous people. Furthermore, the labour force participation rate of Indigenous Australians 15 years and over is 52%, with no significant improvement in a decade, highlighting the need for alternative career pathways. The grant will be used directly to develop and pilot programs in the Northern Territory following a year-long codesign process in 2019-20.
04. How did you come to do this work and why is it important to you personally?
Young Change Agents has its roots in the work I did in Colombia, in South America. I saw that young people deeply understood the problems in their community but didn't have the mindset that they could be the change agents, nor the skillset and toolset to be entrepreneurs. Once I started working with young people on this, it was clear that a massive impact could be made through entrepreneurial learning. In Australia, we also have a gap in our education whereby students are missing these transferable skills. It is important to me personally because we need a whole generation to solve the challenges of now and the future. Social entrepreneurship can create sustainable solutions. It can light a fire in the bellies of our young people, and help them to see themselves as part of the solution — reframing problems as opportunities.
05. Tell us the story of a specific entrepreneur you are proud to have supported.
A recent example is Lachlan and Justin from Farmwatch. Lachlan and Justin are teenagers who live in a drought-devastated area of regional Australia. Lachlan's family farm has had all hands-on-deck for a number of years, including the teen boys. Lachlan and Justin participated in our program at their local school and developed the idea for Farmwatch, which uses sensor collars for cattle connected to an app to help farmers better track their stock and the health of their animals. They have now been able to attend a tech conference in Melbourne to present their idea and to visit Sydney to participate in a youth incubator program to further develop their skills. Rural youth like Lachlan and Justin are the future of our agricultural sector, and agritech is an area these young men can continue to flourish in.
---
Donate now to support the Techstars Foundation, which empowers underrepresented entrepreneurs.