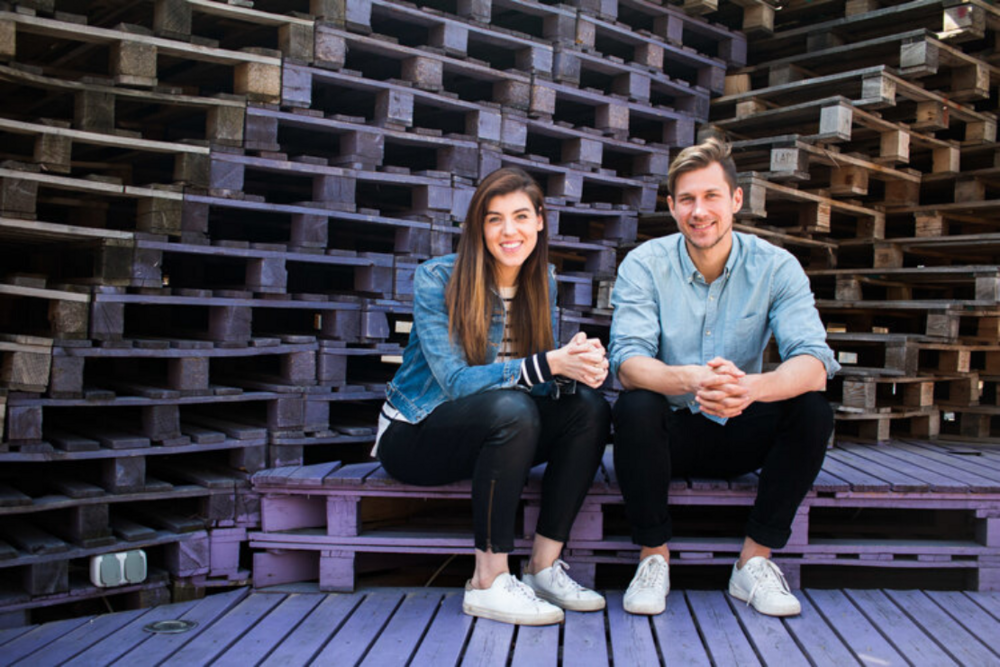 4-min read
The Techstars Foundation works with nonprofits that support and develop underrepresented entrepreneurs to provide access to resources, funding, and expertise of the Techstars network.    
Re:Coded is a 2019-20 Techstars Foundation grantee dedicated to helping people living in regions of conflict through digital education and access. Re:Coded launched in 2017 and has gone on to change the lives of young people and refugees in the war-torn regions of Iraq, Turkey and Yemen through digital education and re-skilling. 
We spoke to Marcello Bonatto and Alexandra Clare, cofounders of Re:Coded, to get a glimpse of their journey. 
01. Where did the idea for Re:Coded come from, and what progress have you made so far? 
Marcello:  Ali and I came up with the concept of Re:Coded while pursuing our Master's degrees in New York. Inspired by a summer internship experience in Iraq, Ali started working on the idea of Re:Coded as her Master's thesis. We wanted to work on improving education and employment opportunities for youth living in regions affected by conflict, and we realized that in order to land jobs in the current market, a strong digital background was a key prerequisite. As this was not accessible to the young population in war-torn regions, they were being pushed to the margins of the digital economy. 
02. What has Re:Coded achieved so far to fulfill its mission? 
Marcello: We got proof of concept after a short pilot, started the organization in May 2017, and obtained funding of about half a million dollars to launch the programs in Turkey and Iraq. 
We offer four programs in Turkey, three in Iraq, and have recently launched in Yemen. Our programs are primarily coding bootcamps — five-month intensive programs upskilling youth who have little to no prior coding knowledge to enable them to become junior developers and join the tech workforce. We also run small to medium-sized workshops and tech entrepreneurship programs. We have trained over 1000 youth and children in these programs. 
03. What keeps you going?
Marcello: Personally, what keeps me going is making sure that our graduates are not just technically adept,  but also confident human beings who believe in themselves. We like to think of our programs as a tool for the youth in these regions that allows them to explore all the potential that they have. 
Ali: In the countries we work, people are being deported and being treated as less than humans every day. It is really heartening to see the long term transformation of people who go through our programs. People come out of our programs with friends and cofounders, and we are really proud to say that some of them have gone on to do extraordinary things which we believe will have a long term impact on their local economies. 
04. What do you plan to accomplish with the grant from the Techstars Foundation?  
Ali: The goal is to figure out how we can add value to underrepresented entrepreneurs who lack access to networks and funding. We are interviewing refugee entrepreneurs to understand what their biggest needs are, where the opportunity gaps are, and how we can help. The first activity that we completed as a part of the Techstars Foundation program was a Tech Masterclass led by Ryan Jung, a Product Manager at Earnin. He facilitated the Tech Startup Masterclass in Istanbul for emerging refugees and underrepresented founders. 
We aim to design a program based on the needs of our entrepreneurs by helping them secure access to resources and funding to make their businesses succeed. We want to figure out the gaps and how we can best fill them. 
05. Tell us about some of the companies who learned from the Tech Masterclass. 
We saw some amazing people take the class! Here are a few of the companies who learned a lot from the Tech Masterclass.
Snaxify
This is a food delivery app for the Arab community in Istanbul, Turkey. The app tailors to the Arab community through partnerships with Arab restaurants and businesses. Founder Souhaib Felmez was inspired to launch the startup after realizing the local Turkish delivery apps didn't cater to people like himself. 
Nirobo
Nirobo takes its name from Nihon, the Japanese name for Japan, and Robotics. The startup was founded by Ammar Sammour and his partners to help students learn and understand engineering, math, physics, programming, through the building and creation of robots. Turkey does not have a standardized robotics course across schools, and Nirobo aims to provide a curriculum for teachers to integrate robotics into their classrooms. 
The goal of Mommy is to help mothers and expecting mothers to overcome their challenges during motherhood by creating a platform for them to share their experiences and help each other. Emin Ayar, the founder, was inspired to launch the startup when he and his wife were expecting their first child. The startup has reached 100,000 users, with over 50,000 questions asked and more than 700,000 answers. They are looking to expand their app to other countries like Azerbaijan and Poland, and to build partnerships between experts, such as doctors and teachers, so that mothers can ask them questions.