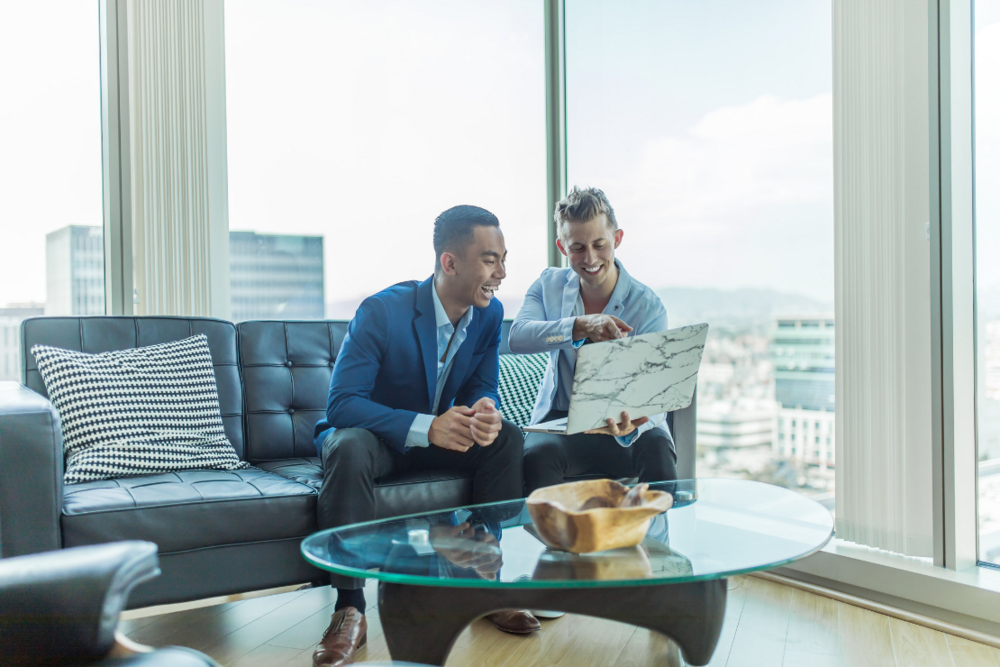 In many cases, your pitch deck will be your calling card: It's what investors will see even before they agree to meet with you. The investors we spoke to tell you what should go in it — and what shouldn't. Ultimately, preparing a pitch deck is an exercise in communications — you must tell a story that hits all the right notes. Blake Armstrong, Director of Strategic Partnerships for Startup Banking at Silicon Valley Bank, talked to VCs about what they're looking for.
Watch Blake Armstrong answer questions about investor pitch decks on this AMA replay.
Key Takeaways:
Your deck should tell a story; and like any good narrative, it should be compelling, credible, and concise. 

Grab investors' attention in your first slide and work to hold it as you describe the product, opportunity, and team.

Balance enthusiasm with reality; investors will see right through over-inflated promises. 
---
You already know what investors look for when evaluating your startup: A clear explanation of the problem you're solving, the size of your market, potential competitors, growth models, and the ability of your team to pull it off.
But how do you cram that all into a pitch deck? How do you boil down something you've spent countless hours obsessing over into a handful of pithy slides?
Think of your pitch deck as a calling card, a persuasive presentation that you're onto a big opportunity. Even before it comes to an investment, a good deck may help you land a coveted meeting with the right investor. 
"The best decks provide a narrative," says Karin Klein, a founding partner at Bloomberg Beta, Bloomberg LP's venture arm. "The deck can show that a founder has thought through the critical aspects of her business. The deck also gives a glimpse as to whether the founder can sell, including if she'll be able to recruit the right team and win customers and partners."
A typical VC or angel investor may see hundreds of pitch decks every year. They may take two to five minutes to read it before deciding whether to meet with a founder, which is why, VC Jean de La Rochebrochard, says it "must be both complete and short." Investors may ultimately end up doing as few as a couple of deals a year. In a time of crisis, like in the wake of the COVID-19 pandemic, they may do none. 
While a stellar pitch deck won't land you a term sheet, you need to know what goes into the best of them, what's essential and what's optional, and how best to communicate your proposal effectively. These eight tips will help.
01. Create a Compelling Narrative
"The best decks have a cohesive story," says Klein.
While there's no single way to tell a story, most good ones grab their audiences right off the bat. Your pitch deck should do the same, opening with something relatable about why you're passionate about the opportunity, or why others should be, says Klein.
In its 2004 pitch deck, Facebook hit the mark, as it led with this compelling quote from the Stanford Daily, the university's student newspaper:
"Classes are being skipped. Work is ignored. Students are spending hours in front of the computer in utter fascination. Thefacebook.com craze has swept through campus."
This killer quote conveys excitement while also tickling the reader's curiosity about what busy college students are doing on their computers. The founders followed this up with a one-slide description of what the product is and how it works.
Not every founder will have such compelling material to open with. But take the time to distill the essence and impact of what you're proposing into a tight message.  
"Simplicity is helpful and shows a clarity of vision and the ability to sell," says Klein.
As you move past that opening slide, think about keeping your story concise. Ideally, your deck should be between 10 and 25 slides, with each one furthering the story about the exceptional opportunity you're offering.  
02. Be Able To Describe Your Product
Explaining what you do, of course, is critical to your deck. And while that's obvious, it's surprising how often founders struggle with it, Klein says. "The inability to describe the product is an issue," says Klein. "As a founder, you're closest to what you're building. It's worth seeing if someone outside of your company can explain what you do after reading the deck."
In the opening slides of its often-cited pitch deck, Airbnb left no confusion about what it did. "Book rooms with locals, rather than hotels," the first slide proclaimed. By the third slide, the reader knew exactly why that idea made sense. "Save Money. Make Money. Share Culture."
"I want a deck that right off the bat, on the first slide, tells me what this company is about," says Ariel Poler, a serial entrepreneur and prolific angel investor. "That starts with a good impression. From then on, I know what I am looking for. I know the context."
What applies to the opening, applies throughout. Simply put, keep it simple. Don't clutter your slides. Don't make them dense with text. 
03. Show, Don't Tell
Of course, nothing increases investor confidence more than being able to actually see what your product does. "At Bloomberg Beta, we believe a product demo is more useful than slides," says Klein. "One is a description of a thing, the other is the thing itself."
But good slides can sometimes convey the essence of what a product achieves or looks like. Klein recalls the successful deck of one tech-enabled startup in real estate, a sector famous for its "location, location, location" motto. "The deck included visuals so the reader could almost experience being in the locations," she says.
Similarly, slide five of Facebook's pitch deck showcased the essence of the product by displaying an image of a profile page, the core element of the social network's experience at the time. The accompanying text highlighted its essential elements: photo, contact information, personal information, and (because Facebook started its life in universities), course information.
04. Accurately Describe Your Market
Every founder likes to boast that they're tackling a billion-dollar opportunity, or more. If that's what you're doing, great. But you better be able to explain to investors why.
Generalities and overinflated potential risks leaving the impression that the entrepreneur   "doesn't know the market or is trying to pull the wool over the reader's eyes," Klein says. 
Poler, who has invested in the likes of AdMob, AngelList and Change.org, agrees. He's met founders in the healthcare field who say to him: '"Look, healthcare is a trillion dollar industry,'" he says. "'Well yeah, but you're doing knee replacement. That's not a trillion dollar business.'"
Regardless of how big your market actually is, investors want to know you've put a good deal of thought into understanding the opportunity. Klein remembers being impressed by one founder who didn't have a defined market segment for her product, but came up with a smart workaround, showing that adjacent markets were enormous.  
05. Don't Claim To Know It All
A great deck doesn't pretend that you're right and everyone else is wrong. You must be honest not only about the strengths of your product, but about the challenges it will face. And if your competitors are doing some things right, don't try to gloss over that.
"If you have a unique approach or a unique angle that's going to give you an edge, you should show that," says Poler. "That's going to win you investors. But don't pretend everyone else is an idiot and only you get it."
As you explain what's different about what you do, famed investor and LinkedIn founder Reid Hoffman recommends you consider pitching by analogy. In LinkedIn's case, he called the service a "professional people search 2.0," much like eBay was "goods listings 2.0" (replacing newspaper classifieds) and PayPal was "online payments 2.0" (replacing bank payments). Travis Kalanick's versions of pitching by analogy? Calling the original UberCab the "NetJets of limos" and "Cabs 2.0."
06. Prove you're the right founder and right team
You have to convince investors that you have the right team to execute on your vision. That means highlighting professional backgrounds and successes. But that alone may not do it. 
"Obviously you want to feel that the team has done things that make you feel they will do this well," says Poler. "But you should explain why they are the right team to do this specific project. It's less about what credentials and whether or not they have the generic skills to do this, but why they are relevant to this particular business."
The team slide for LinkedIn pitch, for example, showed an impressive bench that in addition to substantial entrepreneurial chops and technical expertise already had experience in the then-nascent world of social networking..
In this day and age, you should also consider your team's diversity. "When everyone looks the same on the team slide," Klein says, it could send "a negative signal."
07. Don't Obsess
Believe it or not, a quest for perfection, slick design and overly-high production values in a pitch deck can all be red flags.
"If I see something that's too polished, I worry the entrepreneur doesn't have her priorities straight," says Poler.
That's not to say you shouldn't work hard on your deck. But focus on substance. "We shudder at the idea of founders spending lots of time making fundraising presentations," Klein says. "Whether perfect or otherwise, give us anything you've already made — financial model, deck, background materials. It helps us make sure our conversation is more of a discussion."
And if you are the obsessive type, here's a tip. Before you send the deck, make sure to get rid of the "version 36" file name first.
08. Finally, understand your audience
Now have a deck you are proud of, what do you do next? Figure out what investors may be the right fit for you and your business.
"So many entrepreneurs seem to just ignore this point and go like, 'Okay, let me go to the top 25 investors and boom they just hit send,'" says Poler. Finding the right targets for your pitch is "more important than anything that's in the deck or how good the deck is," he adds. 
Among the things you need to research about potential investors: areas of interest, investment theses, targeted investment size, existing portfolio, and investment climate. You'll also want to pay attention to the scuttlebutt about how those investors treat founders and who they are as people. 
"Ask yourself, 'Who is going to have open ears and be receptive,'" says Poler. "If there's no chemistry, you're wasting your time and your money."
This article originally appeared on SVB's Startup Insights.
This material, including without limitation the statistical information herein, is provided for informational purposes only. The material is based in part upon information from third-party sources that we believe to be reliable, but which has not been independently verified by us and, as such, we do not represent that the information is accurate or complete. You should obtain relevant and specific professional advice before making any investment or other decision. Silicon Valley Bank is not responsible for any cost, claim or loss associated with your use of this material.
---
Ask Blake Armstrong your questions about investor pitch decks at an upcoming AMA on September 30, 2020. Register now >