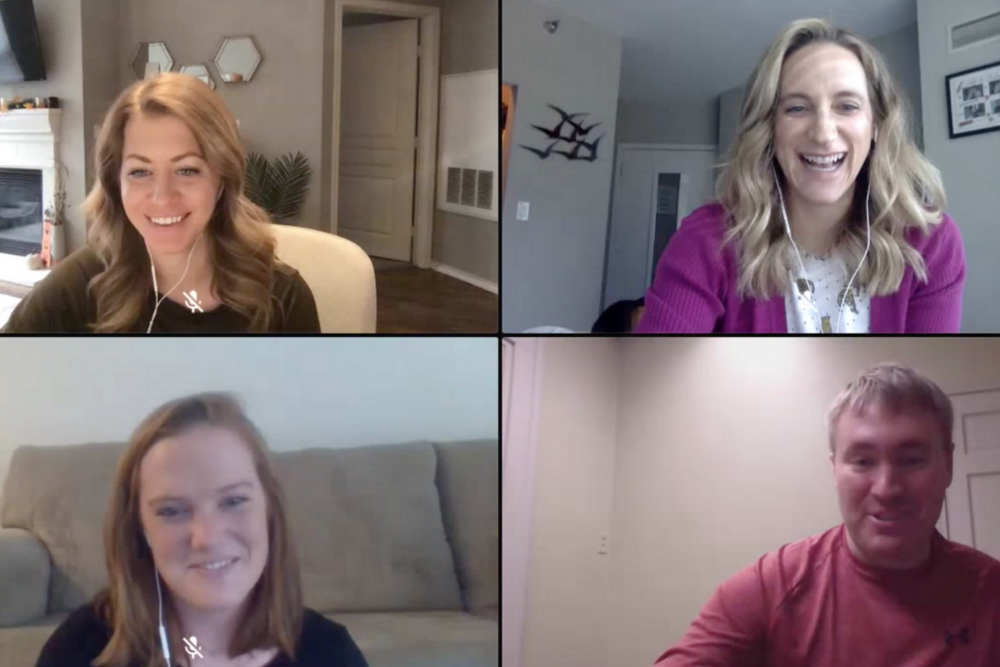 Moderator Kacey Wherley with panelists Anna Consani, Chelsea Hurley, and Neil Mylet.
Get actionable advice for early-stage founders from the replay of this Ask Me Anything (AMA) with successful entrepreneurs and GoDaddy Registry, a Techstars Global Network partner. 
Entrepreneurship is hard. That's why it's so important to have successful entrepreneurs and industry insiders share their perspectives — so that you can learn from their experiences. 
In this AMA (Ask Me Anything), Techstars Global Network Partner GoDaddy Registry plus two more experts share their thoughts on the big subjects that many early-stage entrepreneurs face, like how to stand out from the competition, hiring strategies, revenue growth, fundraising, and more. 
Meet the Panel
Neil Mylet, Serial Entrepreneur and Founding Member of Rural Innovation Network

Anna Consani, VP, Community and Partnerships at Springboard Enterprises

Chelsea Hurley Business Development and Marketing at GoDaddy Registry 
The Big Questions
Here are the questions the panel took today, plus some of the answers we heard:
How do I know when to take my idea full time? 
"The best thing you can do while you're still in your full-time job is building the relationships that you need for the company that you're trying to grow."
"Don't put too much pressure on yourself to grow too fast."
"Look at what your objectives are, surround yourself with the best people and mentors."
What is your best insight into choosing a domain name that will get results?
"Don't bury the headline, you know, include what your product or service is in the name."
"Short and memorable is what you should aim for at the end of the day."
What's the easiest way to start doing customer discovery if you don't have a lot of budget for it?
"I think the first lesson you have to accept is whatever you start with, it's going to change 50 times over the first year or two. So be prepared for the good feedback and the negative feedback. Ultimately it's going to make your product and your vision stronger."
"I would also advise to look at your local community as well. Local chapters of business services through your government that may be able to put you in contact with their networks and alumni. This includes lots of people who will be able to just troubleshoot or get on the phone with you for 15 minutes."
"What's really important is to always know your competition as you're building."
How important is a great idea versus the actual execution of the project?
"I would say execution is everything."
"It takes diligence, it takes commitment and it takes a lot of sacrifice to get to the point where you can execute on your vision in a meaningful way."
"Solve a small challenge that leads to the bigger idea and you can gather those small wins and get some momentum."
How can I build a prototype or MVP without spending too much or hiring a developer? What no code tools are best to use?
"If you have an idea and you don't have a lot of money, one thing you could do is reach out to your local university. Maybe they have a computer science program. Tell them your situation and see if they won't provide a couple of students to help you. They'll give you some advice on how you can grow and scale without investing tons of money. You may have to buy them lunch a couple of times. But definitely don't get discouraged because you can spend a lot of money and accomplish a lot, or you can spend a little money and still accomplish a sizable amount of your first goal."
"Don't get overwhelmed, don't get discouraged because you can't go out there and drop a million dollars right away. Work and make the focus surrounding yourself with the team of advisors and folks who can help you validate your idea and build up what you need to deploy, because it's a lot more fun to have all your ducks in a row and go spend $50,000 and have something that you can actually go to market with potentially, versus going out there and spend $500,000 and realizing you have to change a million things."
Cofounder problems: We started a project together for fun, but now I want to grow it into a startup. How can I help my cofounders change their mindset?
"Get some sort of structure in place to set up the company. And if they're not willing to come all in now, that's fine. But then you just need to be clear on exactly what you're taking on liability wise with the company."
"What you really want to think about is the skillsets of the folks that you need on your executive team."
How can I tell if crowdfunding is right for my company?
"It's really good for getting feedback and getting data around what potential customers think of your product. I think that is actually the most valuable, though of course you can raise money doing it, too."
What should I include in my pitch deck? Are virtual pitches different from in-person pitches? 
"The key aspects that you want to make sure you're covering are, of course, setting up the problem/solution, setting up who your target market is, how you're making money, and who the management is. You're covering all those components. Whether it's two minutes or 10 minutes, that usually is going to cover enough basics. Then in the Q and A you can dive a bit deeper into each of those topics."
Advisory board: Who are the critical people you should invite to be part of your advisory board and what qualities should they have?
"People who challenge you, people who don't tell you necessarily what you want to hear. I know starting off as a young entrepreneur, you want constant validation and you want to be reassured that you're going in the right direction. But having that kind of legitimate feedback from the beginning, that grounding can put you in the best position for success. So I would just say surround yourself with folks who will push you to grow and mature as an entrepreneur from the beginning."
If you're pondering any of these questions, watch this AMA replay now for thoughtful, actionable answers that will help guide you as you grow your company.
---
.US is the official country code top level domain for the United States of America. Launched in 2002, .US is the domain for anyone with a dream to chase, an idea to share, a cause to champion, or a business to promote. .US domain names can be registered by any individual, business, or organization that is a citizen of, or licensed in, the USA, including federal, state and local governments. In addition, .US may be registered by foreign entities that have a bona fide interest or presence in the United States. To learn more about .US, please visit www.about.us.