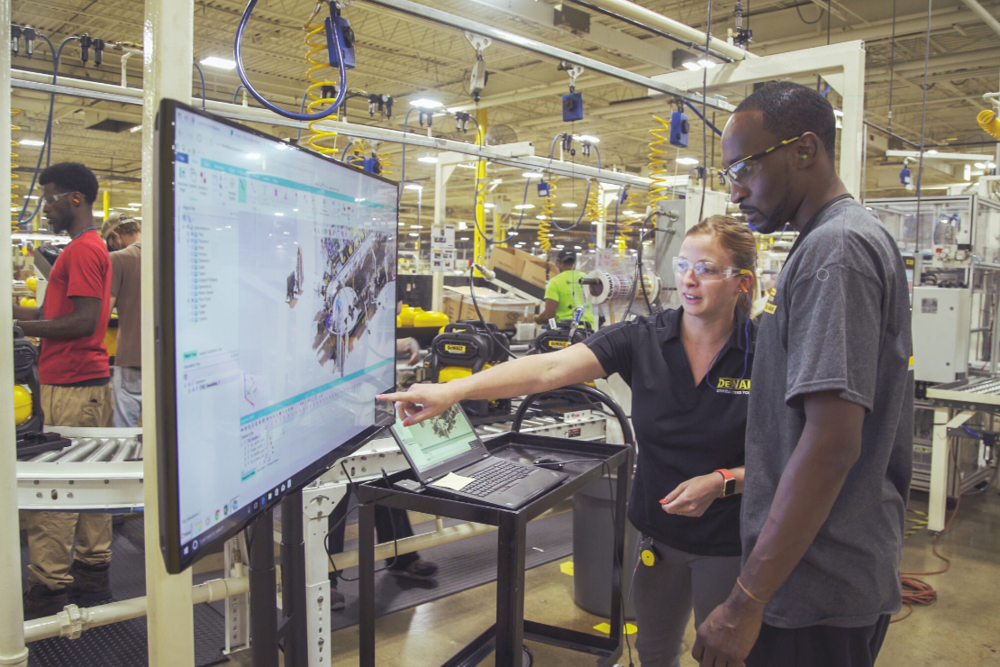 Innovation is key for Stanley Black & Decker. That's why they partnered with Techstars to create the STANLEY+Techstars Accelerator, among other efforts. And market validation is critical for startups — yet accessing valid information about specific industry needs and opportunities remains difficult. 
That's why Techstars is hosting a Q&A with Stanley Black & Decker's Chief Technology Officer Mark Maybury and Global Vice President of Industry 4.0 Sudhi Bangalore to a sneak peak into what attendees can expect from an upcoming speaker series hosted by STANLEY + Techstars Accelerator Managing Director Laila Partridge. The series will be focused on Artificial Intelligence (AI) in Advanced Manufacturing. Stay tuned for more information about how to register for the upcoming series over the coming weeks. 
---
Watch the replay of an AMA with Techstars Managing Director Laila Partridge,  Stanley Black & Decker's Chief Technology Officer Mark Maybury, and Global Vice President of Industry 4.0 Sudhi Bangalore.
---
Read on for Mark and Sudhi's thoughts on why STANLEY works with startups and who will benefit from this speaker series. 
Q: What is the goal of this speaker series and who should attend? 
Mark:  This past March, I wrote a white paper titled Toward a Road for AI-enabled Manufacturing to describe the opportunities and impediments for AI technology adoption by manufacturing companies. I wanted to rally the industry around a roadmap so that we can generate solutions to our community's roadblocks in a timely fashion. The first step was to identify the issues and discuss technology options. I was delighted when Laila suggested using my white paper as a basis for an open discussion with entrepreneurs in the startup community. This speaker series is about joining manufacturing and startup communities to discuss the industry's needs and generate solutions.
Sudhi: In my role at Stanley Black & Decker as Global Vice President of Industry 4.0, I use technology to improve business operations. My group looks at everything from product design, factory floor automation, and supply chain optimization, to delivering a high-quality customer experience. It is a broad directive aimed at achieving tangible organizational benefits and improving profitability. Innovation is key. Thus, I was excited by the opportunity to speak directly to the startup community. The speaker series is a terrific platform for STANLEY, its ecosystem, and manufacturing peers to communicate their needs to entrepreneurs who can build deployable solutions. 
Q:  Why is it important for corporations like Stanley Black & Decker to work with early stage startups?
Sudhi: There are a number of reasons we like working with early stage startups. Those include:
01. New ideas. Startups are not hamstrung by legacy systems, so they bring a fresh perspective to both existing problems and new challenges. 
02. Speed. Startups are small, capital constrained entities. This forces a sense of urgency and fast pace to product creation.
03. Failing quickly. Being capital constrained means starting small and experimenting quickly/frequently to gain market traction. Only with market traction can a startup attract additional capital to scale growth.
04. Culture. Innovation is about new ideas, speed, experimentation, and a willingness to look at problems differently. STANLEY's innovation culture benefits from working closely with entrepreneurs that reflect those values.  
Mark: Technology and business model innovation come in a variety of forms and from a number of different sources. Stanley Black & Decker's Operating Model is centered around people and technology. A key element is what we call 'Extreme Innovation', which means innovation everywhere, innovation of everything, and innovation by everyone. Key elements of our Innovation Ecosystem include the STANLEY+Techstars Accelerator, Stanley Ventures, StanleyX, and other Centers of Excellence. All of these elements seek to contribute to Stanley Black & Decker's core businesses, in a constructively disruptive and intentional manner. For an early stage startup to have impact on a company the size of Stanley Black & Decker, it must be financially successful. So, in addition to good technology and alignment to a Stanley business interest, we look for strong teams and viable business models. We then work closely with these startups to help them succeed. As we collaborate with early stage companies, we both learn from each other and make our respective companies stronger.      
Q: What can a startup learn from the speaker series?
Mark: On social media we will be promoting the series with a #AIRoadmap hashtag to reflect the AI in Advanced Manufacturing theme. Sudhi, Laila, and I will bring together industry thought leaders, executives, and decision makers to speak about specific AI and Machine Learning (ML) use cases. We have identified the gaps, challenges, and opportunities for STANLEY, our ecosystem, and our manufacturing peers. These discussions are about communicating those specific use cases, and the associated size and scope of those opportunities, to entrepreneurs. We want the startup community to help us solve our industry's most pressing needs. 
Sudhi: Stanley Black & Decker's focus over the past few years has been to work closely with a range of companies, breaking down silos within companies and among ecosystem participants to increase efficiencies, improve collaboration, and gather data for better systems and decision making. We are active in the World Economic Forum tracks on Advanced Manufacturing and the Future of Work. This speaker series will reflect those efforts in a discussion that expands beyond STANLEY to include our peers in the manufacturing industry. We seek to work collaboratively with the startup community on developing AI/ML tools and solutions for the manufacturing industry.