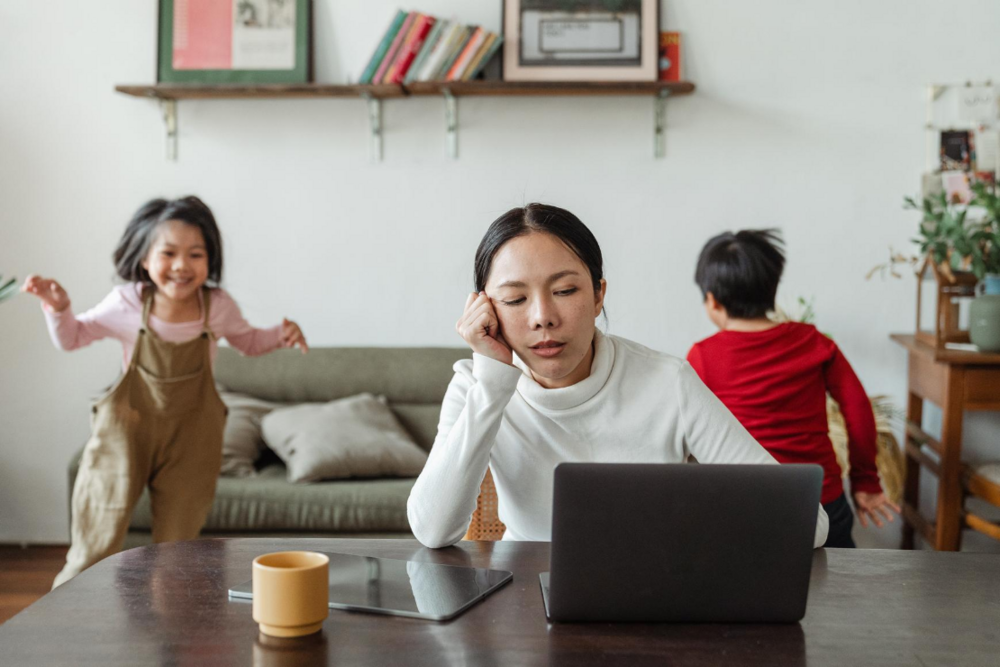 By Claudia Reuter, General Manager Americas East for Techstars
Entrepreneurs have already changed what work looks like. Over the last 20 years, startups have lured highly skilled workers from large established corporations with new perks such as casual dress, unlimited vacation time, and pet-friendly workplaces. 
A generation ago, people would have scoffed at the idea of workplaces like these. But we can change the shape of work and the workplace. We can do so intentionally, to be more inclusive and eliminate the "motherhood penalty" that is so damaging to women. And this moment, when the COVID-19 pandemic has already changed work as many of us experience it, is the perfect time to do it. 
The Motherhood Penalty
While the Pregnancy Discrimination Act (PDA) of 1978 made it illegal for employers to discriminate against women who are pregnant, studies continue to demonstrate that even now, more than 40 years later, women who become mothers continue to face a motherhood penalty in the workplace. Mothers earn less — not just than men, but than women who are not mothers — and they are perceived as less committed to their jobs, less dependable, and more emotional and irrational. 
All of this is particularly troubling because it impacts so many women — and women are, of course, half of the human population. Approximately 85% of women become mothers at some point in their adult lives. 
Once women become mothers, they encounter higher expectations on the job, while at the same time they are perceived as both less competent and less committed to their work. They are less likely to be hired or promoted and often receive lower salaries than others in similar positions. This discrimination is only exacerbated when women attempt to re-enter the workforce if they've stepped away to care for their children. 
Women returning to the workforce are forced to fight an additional perception that they were taking "a break," rather than doing the difficult work of raising children — work that demands, and hones, many skills that are highly transferable to the workplace. If hired, they often face a significant pay cut, compared to their pre-child salary. Others re-enter the workforce at a lower point on the career ladder and feel that they have to prove themselves, once again, to accelerate their career progression.   
The Pandemic Impact on Parenthood and Work
In 2020, countries around the world have gone into lockdown in an attempt to slow the spread of COVID-19. These lockdowns caused more than 30 million Americans to lose jobs and file for unemployment, and they left millions more to work remotely from home without childcare. 
Mothers have long been told that they must not let their responsibilities as parents impact their work — and they are already fighting the perceptions that they are incompetent and uncommitted. Earlier in my career, when I was working to build a company, I took countless work calls from a bedroom closet to reduce the chances that my business associates would hear my young children in the background. Today, children popping into Zoom conference calls has become commonplace. At some companies, mothers no longer need to try to distance themselves from children while they are working from home. 
Suddenly, with both men and women working remotely, there's a new normal. Parents cannot make a sharp division between work and parenting, because both their jobs and their children are omnipresent. 
Of course, not all employers have been understanding about this new normal. There is already at least one lawsuit from a mother who says she was fired because her children were making noise during work meetings during lockdown. 
A New Opportunity for Entrepreneurs
The pandemic has created a new opportunity for everyone to rethink the value that we place on caregiving, and how the work day is structured. In particular, it has created an exciting new opportunity for entrepreneurs.
When entrepreneurs create new businesses that scale, they also create opportunities to transform the world of work. In addition to bringing new products and business models to the world, as they've scaled, startups have fundamentally altered the way in which we expect to work. Perks like casual attire and unlimited vacation time were intentionally created to attract and retain talent.
Why not leverage this moment in history to reconsider even more fundamental ways to change the future of work, to attract more and better employees, and give them the benefits they need to be successful? 
Our Current Childcare Crisis
In the United States, as of 2018, only 17% of civilian workers had access to paid parental leave. While this causes huge problems for thousands of new families every year, we as a society talk even less about the challenges following any maternity leave. We have a crisis in the lack of affordable, high-quality child care in the United States. Public school does not start for children until the age of five in most states. While there are some public options for preschool and daycare, most professionals don't qualify for aid, and, as a result, can often see more than 50% of their take-home pay after taxes go towards childcare expenses.
It's often because of the outrageous costs of early childhood care that people — especially women — step away from the workforce with young children, not because they are trying to take what some wrongly consider "a break." Even more disheartening is the fact that, despite the incredible expense of childcare for parents, many of those who work to deliver the care earn poverty wages and struggle to make ends meet. 
The standard workday for professionals is 9 am to 5 pm, plus an average commute of 30 minutes, but salaried employees often stay much later based on meetings and other company demands. Meanwhile the standard school day is 8 am to 3 pm, and being late to pick up your child is not an option. Even paid-for, after-school options often end at 5 pm — and charge large fines for late pickup.
Taking Lessons From Lockdown
Now, as millions are working from home, commutes have vanished, and online learning has become a new normal for children. While many look forward to the day when we can all return to previous routines, it's worth making time to think about what components of the lockdowns we might consider keeping. 
Do we need to be commuting an hour a day? 

What positive impact could a reduction in commutes have on families, and on the environment? 

Can we start to focus more on outcomes at work rather than 'seat' time? 

Are meetings actually more effective in person, or can we leverage tools like Zoom to collaborate and get to decisions just as easily?  
With crises come opportunities. There are amazing companies that are starting right now that will change the way we work and the way we live. As entrepreneurs build businesses that scale, I hope that founders consider going beyond being pet-friendly, and become family-friendly. 
Many people who step away from the workforce to care for children often do so for financial reasons — because they're paying as much, or more, for childcare than they make at work — rather than because of a lack of skills, so why not consider perks that attract and support caregivers, like flexible hours and paid child-care? Moreover, why not consider their time as caregivers as experiential leadership training? 
Let's Create a "Motherhood Reward"
As a culture, we spend a great deal of time talking about the value of caregiving, but we don't pay for it, and we don't acknowledge its value as caregivers, especially mothers, attempt to return to the traditional workforce. Many of the skills that caregivers develop transfer to skills required in management. Entrepreneurs have a unique opportunity to re-value caregivers as workers, and consider new benefits to support them.
As we slowly emerge from our homes and return to offices throughout the country, let's not forget the ways in which we saw colleagues with young children gracefully manage their work and families. We should challenge each other to remember that work still got completed while young children hopped into meetings, and until we get the workday and the school day to align, let's acknowledge the work and sacrifice that stay-at-home parents make, and allow them to re-enter the workforce a level up, not a level down. 
As entrepreneurs build new businesses, they should consider the untapped potential of this portion of the workforce, and the impact they can have on the success of their organizations. Let's use the lessons of COVID-19 to finally put an end to the motherhood penalty, and create a motherhood reward instead. 
---
Read Claudia Reuter's new book "Yes, You Can Do This. How Women Start Up, Scale Up and Build the Life They Want."