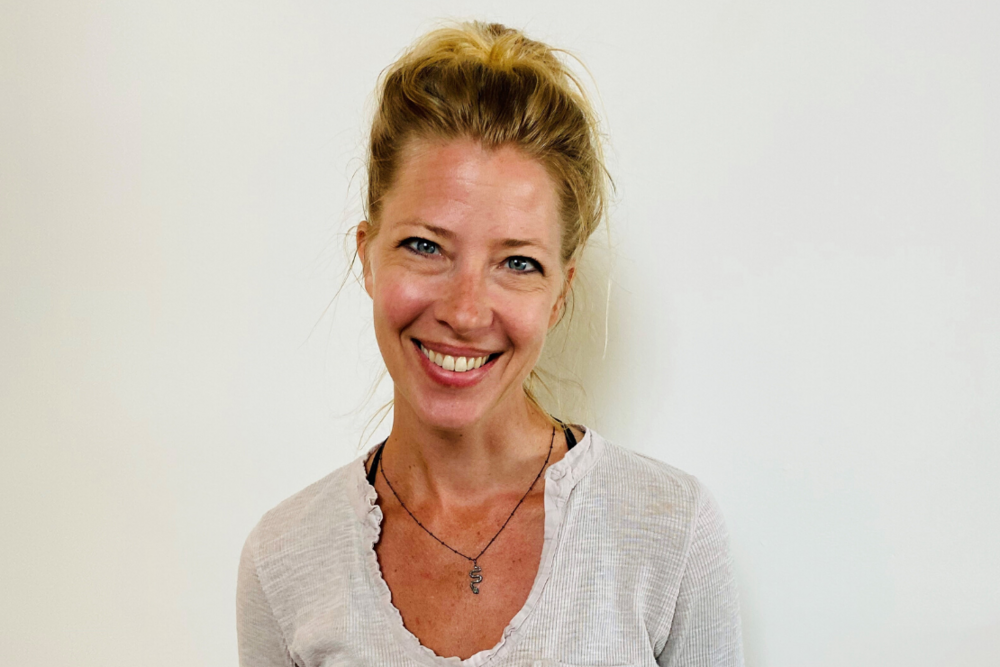 6-min Read
By Erin Rothman, CEO of StormSensor
It was March 23, 2020. The COVID-19 pandemic was beginning to sweep across the United States, and the stock market was crashing. I had been working on the Series A for my company, StormSensor, for the past seven months, and had a solid investor pipeline of about $6M to close a $4.5M raise. Except over the past week, five of my investors had pulled out. By the end of that week, all but two of my original commitments were gone. 
This is the story of how I raised a round during the first wave of a pandemic. 
But first, how did I get here? 
Finding Meaning in Starting a Company
I spent 2014 in San Francisco. This is a year that I prefer to call my gap year (alternatives: the early side of a midlife crisis, the deep thirties, any other names that reflect some degree of existential crisis and makes one question why one does anything if not for love and joy, and maybe a bit of money, at the age of 34). I was going through a divorce, had recently sold my house in Seattle, and was trying to figure out how to spend the rest of my life, because while I was good at consulting, it didn't make me fundamentally happy.
However, what DID bring me joy was creating beauty and simplicity. And because I am a scientist and CEO, not an artist, I thought about my prior work, what made it frustrating and disheartening and expensive and inefficient, and realized that an idea I had years ago — to automate the workflow for stormwater monitoring — might allow me to combine beauty with science and engineering. Besides, everyone else in San Francisco was in a startup at the time, I was having a gap year, so why not?
I founded StormSensor in 2015, with a goal of creating smart urban watersheds, and providing insights to cities about how their stormwater and sewer systems function and where they fail. This is work I am passionate about. After years of development and fundraising to cover prototyping and pilots, we finally proved product-market fit: we found a huge pain point for our customers, we were beginning to deploy data networks in cities across the country to track and monitor urban flooding and sea level rise, and we began bringing in our first year of revenue for a deep-tech solution. It was time for our Series A.
I spent seven months putting together the raise. I traveled all over the country to meet with early-stage VCs who focused on cleantech, water, and social impact and who ultimately shared our vision. I had a solid investor pipeline of about $6M to close a $4.5M raise.
The COVID-19 Pandemic Crashed our Investor Pipeline
But mid-March – right before this was due to happen – the COVID-19 pandemic arrived in the U.S., the market crashed, and our investor pipeline disappeared with it. 
On March 17, I sent a note to my board to let them know that I was scared….things seemed to be falling apart in the market and I wanted to discuss the possibility of losing this raise. They told me we should keep an eye on things, but it's probably fine.
On March 19, I had my first withdrawal of about $500k. I emailed my board again to let them know that I was worried. They told me that it's probably fine, just one investor pulling out isn't the end of the world. 
That weekend I had four more investors pull their commitments. The market crashed on Monday, less than a week after my first note to my board, and by the end of the week, all but two of the original commitments were gone.
We Lost Everything — and We Had No Plan
 We lost everything that week, and we had no plan.
I knew I would be out of cash in April and wouldn't be able to make our full payroll. The ulcers arrived. Tums had limited effect. I found another company to do an insolvency/acqui-hire. I would lose StormSensor, but it would allow me to save my team and (maybe) our vision.   
It was the only sensible thing to do. But the thought of handing us over for nothing broke my heart, and while, logically, I knew it was the most likely and the most reasonable outcome, I wasn't quite ready to give up. So I asked for just a little more time.
Just a Little More Time
American Family Institute stepped up and offered to lead the round with $1M that would be a match to $1M that I brought in — IF we reduced the valuation, both pre- and post-money. So we dropped the pre-money from $8M to $7M. And for the post-money, I had a call with our noteholders (yes, all 50 of them) to explain our ask: that in order to save StormSensor, we needed them to convert at their caps + 25%, which basically meant that they would forgo the discount in their original note terms, and that they would pay 25% more than they would have according to those terms. 
Every single one agreed right then, on that call. I asked them to send a followup email saying the same. They all did. We had 99% concurrence within 24 hours of our ask, and this in the midst of an economic collapse. 
Within days, I was halfway there. I had a lead, I had $1M, I had concurrence from the noteholders.
An Inbox Full of "No"
But I was only halfway there. I couldn't raise a damn cent if I didn't bring in that other $1M for American Family Institute to match, and it had to be (almost) all new investors I'd not spoken with previously, or earlier investors who were individually impacted by this virus and the economy.
Because I had no clear line of sight to closing this round, on March 25, I furloughed my team.  
I spent all day, every day (and most nights) on the phone with investors, partners, accelerators — anyone and everyone who had money, could help, knew someone. Every day I had the best calls! And every morning I woke up to a pile of "No" in my inbox. Because I had no choice, I got up and did it again.
On April 1 (my gosh, payroll was coming up, and even the thought of it was making me sick), E8 Angels, an angel investor group in Seattle, hosted an event for StormSensor where I pitched our case to them, their networks, and every one of our existing investors. That pitch got us $200,000. We had a start! Individuals began kicking in.
Payroll was due later that week and I was short; I put everything I had left from my personal savings into our business account, and I still couldn't make it, which meant three of my employees had to go without a paycheck.
Real Commitments
But then we started getting commitments, real ones.
We completed our first close of $1.5M on April 17, not even a month after I thought my world ended. That, and almost no food or sleep, four bottles of Tums, two rounds of Prilosec, a lost voice, and four bags under each of my eyes.
While my team and I had a happy hour/check in every night, that last afternoon, a Friday, when we closed, I had half a glass of bubbles and collapsed. My husband carried me to the bed because I couldn't walk. I slept for three days straight, waking up in tears every few hours.
I saved my company. I have an extraordinary team. And since then we closed the rest of the round, and we've brought in an additional $100k in grants from Mission 2040, $270k in grants from RISE Resilience, and have opportunities for more.
But when I say "I" saved my company, I really mean "WE." Between Imagine H2O, Techstars, American Family Institute, Sofia Fund, Title Town Tech, Mission 2040, Next Wave Impact Fund, Emmett Partners, E8 Angels, and everyone within all of these networks — plus my team secretly working behind my back — we did this together. It was the most astonishing thing I have ever witnessed, and the greatest honor of my life to be a part of.
Our customers also watched this happen and stuck with us. Because we're not just monitoring stormwater. We're helping cities empirically evaluate climate risk so they can build resilience into their critical infrastructure. We're developing solutions so our communities can thrive in a changing world. And we're doing this because there is nothing else on the planet we can imagine doing.
---
Learn more about Techstars accelerators and see which ones are accepting applications now.