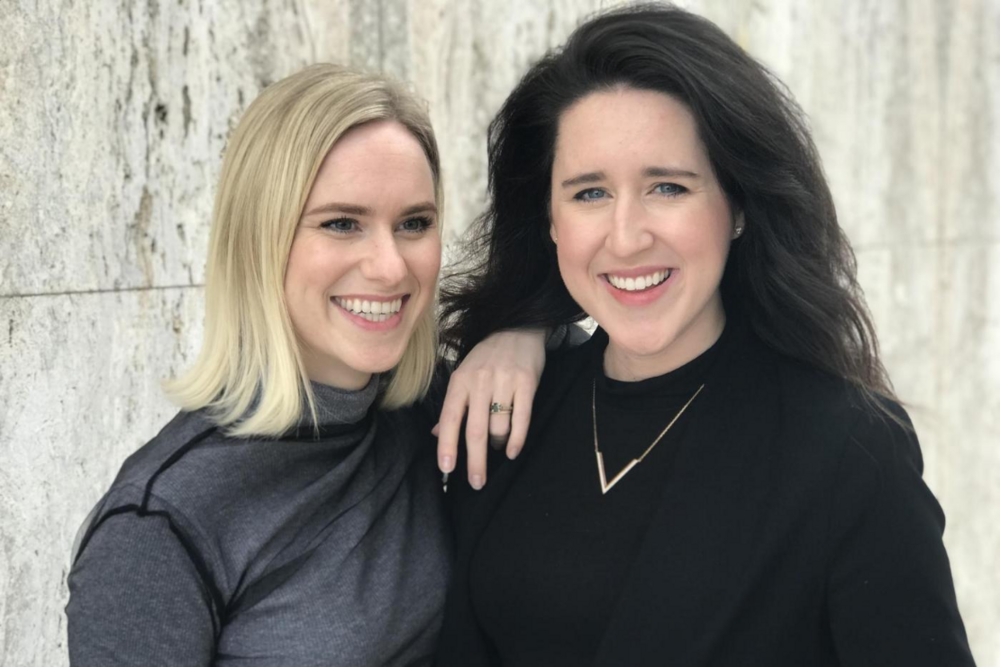 Blue Fever | Alexa Next Stage Powered by Techstars
Founded by Greta McAnany and Lauren Tracy, Blue Fever provides AI emotional guidance and community for Gen Z women. The company is currently going through the Alexa Next Stage, Powered by Techstars program.
For young women, the internet in general and social media in particular can be huge sources of stress and anxiety. When they compare their bodies, activities, and social lives to the harsh comments and carefully curated profiles online, they end up devaluing their actual lives and selves. 
Using Technology to Provide Emotional Support
Blue Fever, founded by real-life best friends Greta McAnany and Lauren Tracy, provides a helpful counterbalance to this pervasive anxiety. Teens can communicate with an empathetic AI nicknamed Blue that aims to provide guidance to young women experiencing stress, loneliness, anxiety, low confidence, and more. Blue is friendly, knowledgeable and wise — like an uplifting, always-there-for-you big sister.
"The guiding force of Blue Fever was to create a big sister support network that I never had growing up, but always wanted," says Greta. "You can't scale such mentorship as one person, so how do you scale it using technology?"
Blue Fever is currently an SMS product. Users send a text to #HeyBlue, and communicate their emotions via targeted hashtags such as #wannacry, #lonely, and #rejected. Depending on the need, Blue texts back validating responses and useful resources, such as podcast episodes hosted by Greta and Lauren with topics ranging from making friends to feeling down to breakups (pro tip: don't text your ex). 
If conversations with Blue veer into more serious territory such as crisis situations, the app directs users toward Crisis Text Line, a nonprofit that has trained crisis counselors on call.
The Future Is Spoken Aloud
Blue Fever's core SMS product is on the cusp of change. The company is currently building an app to provide a more engaging and interactive experience for their users, and through their participation in Alexa Next Stage, Powered by Techstars, they are exploring the myriad possibilities of adding a voice technology component to Blue.
"Alexa is conversational AI over voice. Blue is a conversational AI over text. We see a clear opportunity for voice conversations and human emotions to connect," says Lauren. 
Twice Techstars Accelerator Alumni
Alexa Next Stage, Powered by Techstars is Blue Fever's second time participating in a Techstars program, the first being the Techstars Los Angeles Accelerator in 2017. 
"Techstars has been with us through our product transitions. It was super integral when we were launching our SMS product in 2017," says Greta. "Now, the suite of mentors in Alexa Next Stage and the program structure is perfect for the app-based product we're building. We believe voice is going to be a strong channel, and that it could be very valuable to our users." 
---
Check out what Blue Fever — and the other six companies participating in the Alexa Next Stage program — have been up to by virtually attending the Innovation Showcase.
---
With COVID-19 social distancing measures stretching into the late summer, more Gen Z women may need positive guidance than ever before. Blue Fever is ready to step up to the plate.
"This demographic is telling us they miss their friends and they miss school. They miss the ability to have the kind of emotional connection happening around each other," says Greta, adding that social media use has risen during the pandemic as well — a double-edged sword, as such platforms may actually increase risk of depression.
Lauren agrees. "Gen Z is the loneliest generation to date, and the ripple effect of such loneliness is going to have far-reaching effects into adulthood," she says. "That's why we're so passionate about the product we're building." 
---
Check out all our accelerator programs and see which ones have applications open now.