CareAcademy | Techstars Boston 2017
Our world is growing older. The number of individuals aged 65+ is projected to double to 1.5 billion by 2050, leading to bigger demands on caregivers to continue to respectfully and compassionately support the eldest among us. Founded by Helen Adeosun, CareAcademy looks to "upskill" carers and improve quality of life during this period with its end-to-end training and compliance platform for home care agency and caregiver training. The company completed the Techstars Boston Accelerator in 2017.
The healthcare implications of a rapidly ageing population, many of whom increasingly prefer to age in place at home, is coming into focus with research predicting the home healthcare market will grow at a compound annual rate of 7.9% between 2020 and 2027. The home care industry will be required to provide more care to more people than ever before.
CareAcademy makes this possible by providing online professional development and upskilling for direct care workers through curated bite-sized learning on its platform. Coupled with its advanced reporting, portability, and training and compliance management dashboard, CareAcademy is an end-to-end, scalable training solution that transforms home care businesses into efficient industry leaders. More than 150,000 caregivers are already learning and growing professionally through the platform.
"After seeing what it's like for the majority of the population to require healthcare from their homes as part of shelter-in-place measures during the COVID-19 pandemic, now more than ever, the industry is opening its eyes to the value of home and long-term caregivers, particularly caring for older adults who are most at-risk in today's climate," CareAcademy CEO and Founder Helen Adeosun said. "This presents a unique opportunity for widespread education around the value of home care workers – and the need to ensure they have the training and resources they need to deliver the very best care to older adults."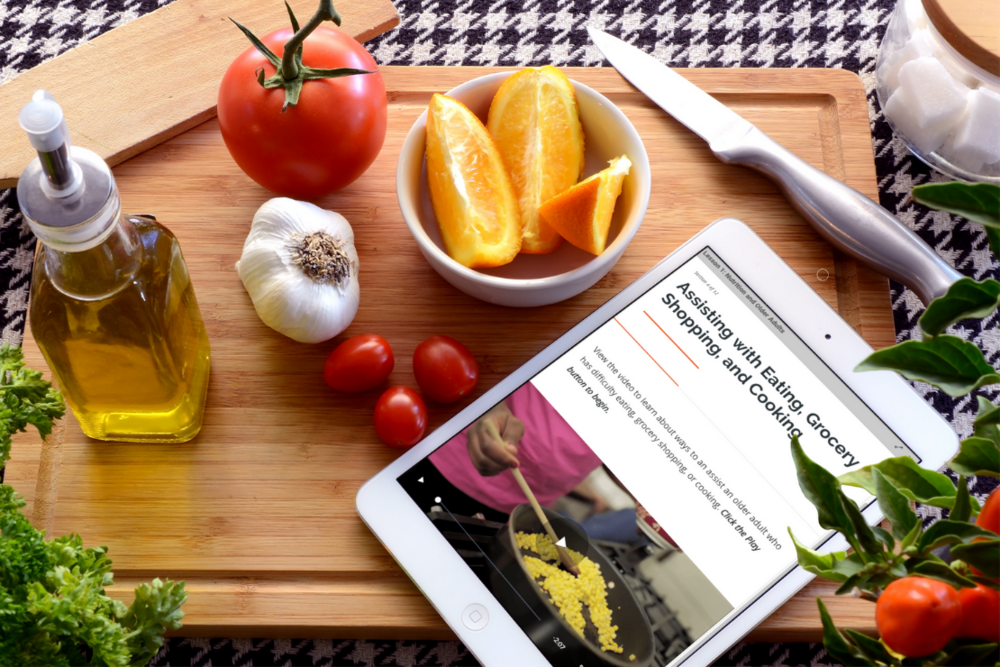 CareAcademy's platform meets caregivers where they prefer to learn.
Home Care During COVID-19
A former direct care worker herself, Helen said the ongoing pandemic only reinforces the importance of home care. "It is critical to acknowledge how COVID-19 has torn through communities that already faced the greatest health risks, including those living in nursing homes, and Black and Brown communities," Helen said. "Approximately 42% of all U.S. coronavirus-related deaths have occurred in nursing homes. Moreover, deaths from COVID-19 are twice as high in Black and Brown communities in many cities across the nation. This coronavirus has swept through the country, exacerbating and revealing disparities in our healthcare system that exist because of systemic racism."
CareAcademy has been actively supporting caregivers and their patients since the start of the outbreak by offering a public class on the best practices for navigating the COVID-19 pandemic as a home caregiver.
Developed in just four days at the start of the Pandemic, the COVID-19 for Caregivers class helps caregivers properly care for older patients who have been discharged recently and may have had exposure to COVID-19, empowering them to learn more about the disease and ensure they and their families stay safe. Helen said the class has received very high traction with over 35,000 certificates awarded to date.
In June as the impact of the pandemic on the economy and rates of joblessness spiked, CareAcademy put together a program called "The Future of Work is Homecare" designed to help transition people displaced from their jobs into a rewarding career in direct home care. CareAcademy made a series of training classes available for free to anyone who was interested. Participants who completed the training program are then matched with participating home care agencies to continue their training and transition into home care. To date over 2000 participants have joined the program and nearly 300 candidates have been matched with agencies. 
"By providing both COVID-19 training support and helping new entrants begin their caregiving career, we are helping to bridge the gaps and disparities within healthcare, particularly those faced by older populations and by people of color. More importantly, we know that the majority of direct care workers are from communities of color – thus we also have the dual purpose of employing direct care workers and upskilling them for viable pathways in healthcare," she said. 
Mentorship and Investment from Techstars
CareAcademy chose Techstars to gain access to human capital, resources, and become part of a curated set of companies. The Techstars Boston Accelerator certainly delivered this to the startup, with Techstars mentors later becoming advisors and investors at CareAcademy. In fact, accelerator mentor Yvan Castilloux became the startup's first employee and serves as their Chief Technology Officer.
"The companies in my cohort remain some of my closest friends to this day, and our mentors and Managing Director after finishing the program became our biggest advisors and investors," Helen said.
In June, CareAcademy closed $9.5 million in Series A funding led by Impact for America Fund (IAF) and Rethink Impact, with participation from Rethink Education, Revolution Rise of the Rest, Wanxiang America Healthcare Investments, and Techstars Ventures. 
The recent Series A financing brings the company's total financing to date to $13 million, including prior seed funding. CareAcademy is using this round of funding to expand its market share within the home health and long-term care industry, expanding its GTM teams with the addition of a marketing leader and an expanded sales team, with plans to bring on a VP of Engineering and Chief Operations Officer before the end of the year.
"As a company, we believe home care workers have always been essential workers. It is at our very core  to not only train for new skills, but more importantly, enable caregivers to engage the skills they're already using," Helen said.