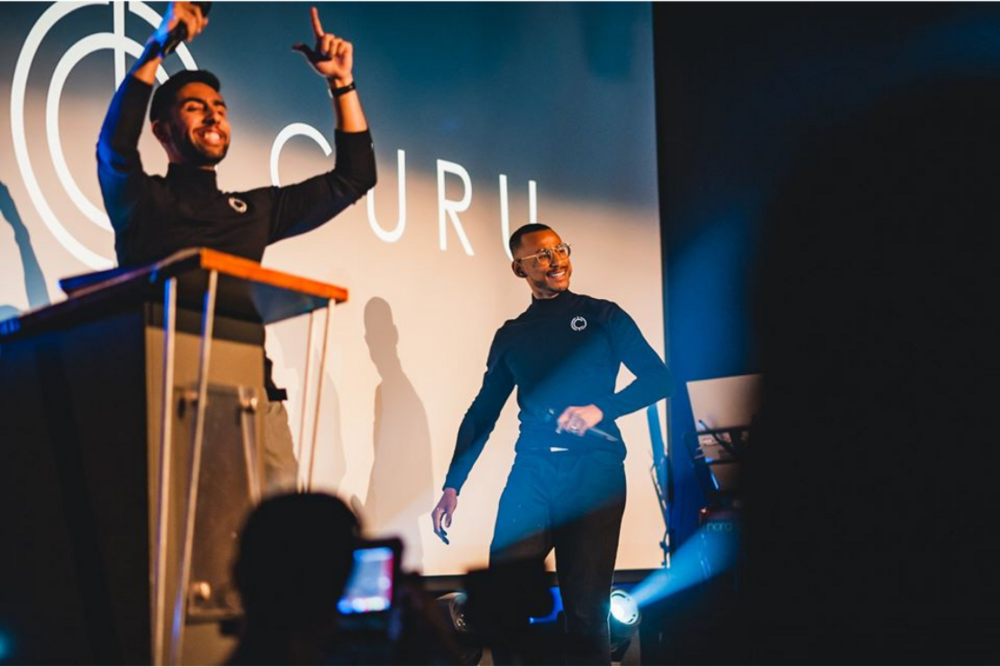 Curu Cofounders Abb Kapoor and David Potter
Curu | Techstars & Western Union Accelerator 2019
Credit scores determine many factors of modern life in the United States. Good scores enable people to get credit cards, access loans, and rent apartments. Bad scores, on the other hand, prevent tens of millions of others access from those very same things. More than 50% of Americans have faced credit rejection during their lifetime without any path to approval — something Denver startup Curu, founded by David Potter and Abb Kapoor, is rallying to change. The company completed the Techstars & Western Union Accelerator in 2019.
David Potter and Abb Kapoor realized there was a problem with credit scores in their sophomore year of college. The roommates, who met in their freshman year at the University of Maryland, had been rejected from every student apartment complex and off-campus housing option. The issue? Their lack of established credit.
"We were restricted in our ability to get approved, and neither of us comes from very affluent backgrounds," Abb says. "Once we couch surfed that summer, we realized that it sucked — but we also realized that we were really lucky to be able to couch surf."
"We ended up asking ourselves: 'Imagine if we weren't in school and this happened to us? Imagine if we were new to the country or if we were a single parent with kids and literally could not find a place to live because a credit number said we weren't worthy?'"
Fixing An 'Archaic' System
This realization soon evolved into a shared passion to solve the "archaic" credit system as we know it. The pair so loved the problem they were trying to solve, in fact, that they each dropped out of school to pursue the project full-time.
The result is Curu: a B2B SaaS platform which replaces lenders' traditional rejection emails with a retention-driving Approval Dashboard where applicants can see where they fell short and follow customized steps toward eligibility. 
Cofounded by David and Abb — CEO and COO, respectively — the platform is the ultimate win-win for users and financial institutions. Users link all of their accounts to their secured Curu profile and Curu's engine calculates ways to improve the end-user credit score in order to help them meet eligibility requirements and get approved for financial products.
Financial institutions, meanwhile, contract with Curu to provide their clientele with a solution consisting of individualized behavioral modification and a credit score program that generates new accounts.
The importance of this solution is thrown into relief by the ongoing COVID-19 pandemic and subsequent economic downturn, where the need for credit has spiked — yet the bridge between lenders and borrowers is longer than ever before. 
Getting Curu In Front of the Western Union CEO
Abb and David decided to further develop their startup into a stable, scalable, venture-backed business in the Techstars & Western Union Accelerator. "The Techstars network is not only well-vetted and high calibre, but it's also really active," Abb says. "There's so much buy-in from the mentors that they donate a lot of time, energy, and attention to mentoring the startups going into the program."
The founders were also impressed by the involvement of the accelerator partner, Western Union. Curu was able to meet multiple times with the Western Union CEO and pitch in front of the Fortune 500 company's board during the program. Moreover, Western Union provided dozens of advisors to mentor the accelerator startups, with one later becoming a formal advisor of Curu.
Curu's growth and development since the program show no signs of slowing. In June, Curu closed its $3M seed round led by Vestigo Ventures, joined by Harlem Capital, Techstars Ventures, Matchstick Ventures, Carolina Fintech Ventures, Holt Accelerator, Chingona Ventures, and Upscale Fund. 
The fintech startup intends to utilize this seed funding to scale its solution via integrations with banks, credit unions, and online lenders across North America.