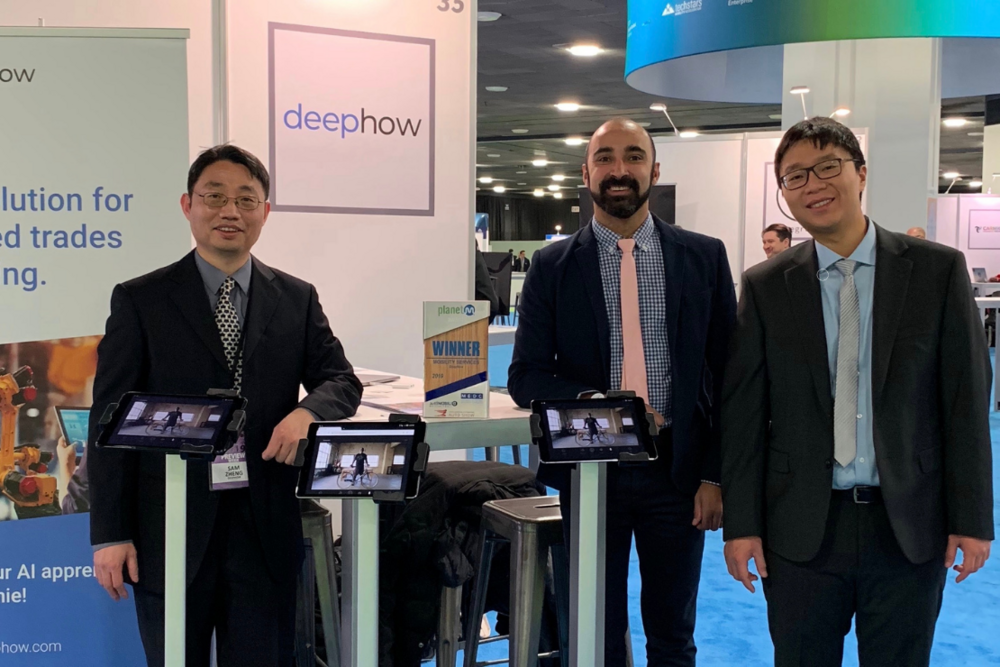 DeepHow founders Sam Zheng, Patrik Matos da Silva, and Wei-Liang Kao
DeepHow | Techstars Mobility Accelerator 2018
Technology should help people, not replace people. This is the ethos of DeepHow, founded by Sam Zheng, Patrik Matos da Silva, and Wei-Liang Kao, the Detroit startup bringing "human-centered AI" to manufacturing, service, and construction in order to train the workforce of tomorrow. The company completed the Techstars Mobility Accelerator in 2018.
The contemporary manufacturing floor is vastly different than it was even 10 years ago. Today, like something from science fiction, autonomous robots work side-by-side with human employees. While the sheer speed of progress is staggering, this rapid change presents a problem in and of itself. An aging workforce and a shortage of skilled workers are undermining operations, along with high turnover and expensive training. It is now the human component that requires industry attention.
Detroit startup DeepHow works at the intersection of people and technology to ensure that manufacturing workers do not get left behind: they're creating the first AI solution to capture  and transfer knowledge among employees in skilled trades.
Working smart with 'human-centered AI'
The core of DeepHow's solution is an AI system called "Stephanie" that helps capture experts' know-how and build up an enterprise knowledge repository. In addition, Stephanie can help create step-by-step and interactive how-to videos that can then be used to speed up the learning curve.
Founders Sam Zheng (CEO), Patrik Matos da Silva (Chief Product Officer), and Wei-Liang Kao (Chief Engineer) say the benefits of their platform speak for themselves. DeepHow's Stephanie uses AI workflow indexing and segmentation to create video content 10 times faster and improve workforce performance by 25%. 
"The bottleneck in production is now the skills gap," Sam says. "We see a lot of experienced technicians coming up to retirement age and taking with them 'tribal knowledge.' And once they leave the company, this is gone, and it cannot be effectively captured or transferred to the next generation of young workers."
Techstars Makes the Right Introductions
The DeepHow founders began their journey while working together at Siemens. Inspired by the opportunity to improve knowledge capture, increase training efficiency, and help grow the culture of workplace safety, the trio initially deployed an earlier version of DeepHow across more than 30 Siemens service centers worldwide.
DeepHow took part in the Techstars Mobility Accelerator in Detroit to further develop the business. Patrik says the experience was much like a boot camp where Techstars "really helps you in a short amount of time validate your idea, see what you're missing, and potentially help you meet with investors, partners, and mentors."
"Finding the right people who can guide you in this space is so important and, in that regard, Techstars really helped us a lot."
Great Synergy with STANLEY
Starting last October, DeepHow has been partnering with STANLEY X, the innovation hub of Stanley Black & Decker, to test their platform across three manufacturing sites. "Stanley Black & Decker is dedicated to training their workforce for tomorrow — and after our multiple pilot tests it got them thinking that DeepHow will be the platform on which to do it," Sam says.
In July 2020, Stanley Black & Decker announced a partnership with DeepHow to utilize the startup's AI platform in upskilling programs. Those three sites have since expanded to over thirty sites within the Stanley Black & Decker ecosystem, with DeepHow planning to expand to 100 more across the globe. Further, the Fortune 500 corporation has entered a commercial agreement with DeepHow to bring the platform to its existing customer base and scale adoption.
Sam describes "a great synergy" between the corporation's long-term goals for skills training and the benefits offered by the DeepHow platform. "The collaboration and validation from Stanley Black & Decker is a big thing," he says. In preparing to raise Series A funding next year, the founders agree on the importance of finding their product-market fit and learning from real-world integration of the platform. "This partnership shows we are on the right track and really opens doors for us," Patrik says.