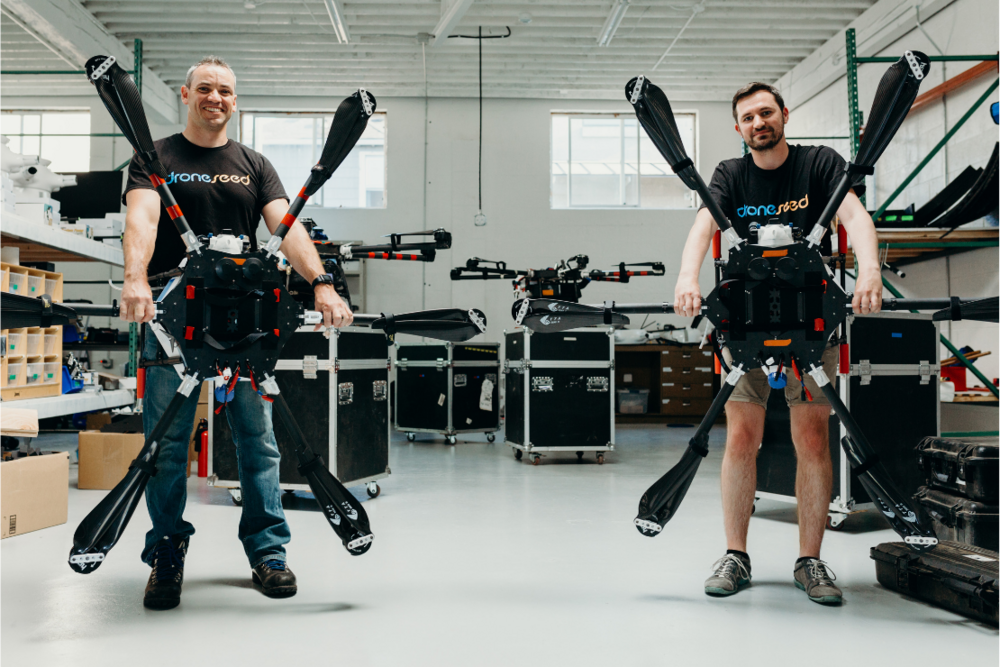 DroneSeed | Techstars Seattle 2016
This year has been one of our worst for wildfires. More than four million acres — and counting — have been incinerated with five of the twenty largest wildfires in California's history forming part of the 2020 season. As a result, there are far more trees being lost than there are trees naturally or artificially regenerating. This is the problem 2016 Techstars Seattle graduate DroneSeed is looking to solve with heavy-lift drone swarms.
The devastating west coast wildfires come at a climate tipping point. Humankind finds itself on the precipice so many have warned about with experts calling for global carbon-based emissions to be cut in half by 2030. Trees, meanwhile, reduce the effects of climate change as they sequester carbon. Thus, fewer trees mean less carbon removed from the atmosphere.
This is an issue all too clear to startup DroneSeed, whose mission is to make reforestation scaleable and, in turn, mitigate climate change. 
The company shortcuts multi-year rehabilitation efforts with its uniquely 21st-century approach to forestry services. Instead of sending out manual work crews armed with shovels, DroneSeed reforests using heavy lift drone swarms. These teams of drones scout a burned area, identify where trees would grow best, and then return to launch groups of three to five drones at a time, each carrying 57 pounds of seed vessels. Pre-programmed flight paths mean one pilot manages five aircraft, and the seed vessel boosts the survival rate of valuable seed. 
Reforesting Six-Times Faster
DroneSeed is setting precedents in its mission to reforest faster. The company is the first and only approved by the Federal Aviation Administration (FAA) to deliver agricultural payloads with multiple drones. Further, DroneSeed is the first company to receive FAA approval to do this Beyond Visual Line of Sight and recently expanded its approvals to include California and eight other states. 
The results speak for themselves. DroneSeed's solution is six times faster than a human tree planter and can propagate 40 acres in a single day. Moreover, DroneSeed can be airborne over post-wildfire sites within 30 days. 
---
Is your startup fighting climate change? Check out the Techstars Sustainability Challenge!
---
DroneSeed founder and CEO Grant Canary says climate change is the problem he has been most interested to solve since high school. Today, trees are the only scalable method to sequester carbon, Grant says, meaning modern tools are important in fighting the worst effects of climate change.
"My worldview is that climate change is the problem all other problems report to, because if we don't mitigate its worst effects, no other problems get time on the clock because our political, social, and economic systems will be falling apart." 
The Camaraderie of Techstars
DroneSeed received "invaluable feedback" on fundraising and development during its time in Techstars Seattle 2016, Grant says. "What I didn't expect was the camaraderie and to find a community I so strongly identified with. I hoped for it — and Techstars delivered," he says.
The program was a major success, Grant says, with the startup hiring multiple employees and meeting its largest investor in its angel and seed round through Techstars. The program "camaraderie" continues to this day as DroneSeed meets quarterly with MD Chris DeVore and mentors the Techstars Sustainability Accelerator. 
DroneSeed continues to go from strength to strength after posting profit margins for two projects at scale and projecting revenue of $1M for 2020-2021. Going forward, DroneSeed has plans to expand to Australia, and is expanding on its existing service model of payment per acre as a service by "subsidizing the hell out of reforestation efforts" using ex-ante carbon credits in short supply as 23% of the S&P100 has pledged to go carbon neutral or negative.
"I'm ecstatic to see the talent and energy pouring into the climate tech space as founders, talent, capital, new funds," Grant says.
"What's truly needed, however, are carbon markets, and we're just seeing the second wave break," Grant says. "Markets are the greatest tool to organize collective action. What buffeted the first wave of cleantech was government failing to set the market rules on carbon. We're seeing momentum build again now. The best thing we can all do is vote. It matters. As a species right now, we're pandas. We're doing nothing at scale to save ourselves."