6-min read
Aptitud, SaniScanner, Big and Mini | LaunchPad Fellowship 2020
Founded by Riley Rojas, Audra Huffmeyer, and Arielle Nicole, Aptitud provides high-quality fitness products to enhance your home workout lifestyle. Founded by Keyu Cao and Parker Watts, SaniScanner is a UV-C sterilization system for retail checkout counters. Founded by Anthony and Allen Zhou and Aditi Merchant, Big and Mini combats social isolation and bridges the generational gap, connecting youth and seniors through video calls. All three companies are participating in the LaunchPad Summer Startup Fellowship in 2020.
Riley Rojas and her APTITUD cofounders, Audra Huffmeyer and Arielle Nicole, didn't plan on spending the summer working on a new startup. Neither did Keyu Cao or Parker Watts of SaniScanner or Anthony and Allen Zhou and Aditi Merchant of Big and Mini. Amongst the eight of them, there were jobs unexpectedly ended and internships canceled, housing abruptly shut down, and even a research opportunity with the Institute of Science and Technology Austria (IST Austria) that was postponed.
But as with Blackstone LaunchPad students who jumped at the chance to participate in the Techstars Virtual COVID Startup Weekends in April or LaunchPad alumni previously featured who pivoted their businesses in midst of upheaval, these Fellows from UCLA, UT Dallas, and UT Austin have all found the entrepreneurial opportunity in the obstacle presented to them.
"Something I think all young entrepreneurs have in common is that we try to look for the positives," said Riley. "In times of trouble and in times of chaos, there are often opportunities to provide great solutions and build successful businesses."
Each in their own way and each motivated by personal experiences, observations, and passions, these remarkable LaunchPad Fellows are also addressing some very real challenges brought on by the coronavirus pandemic.
---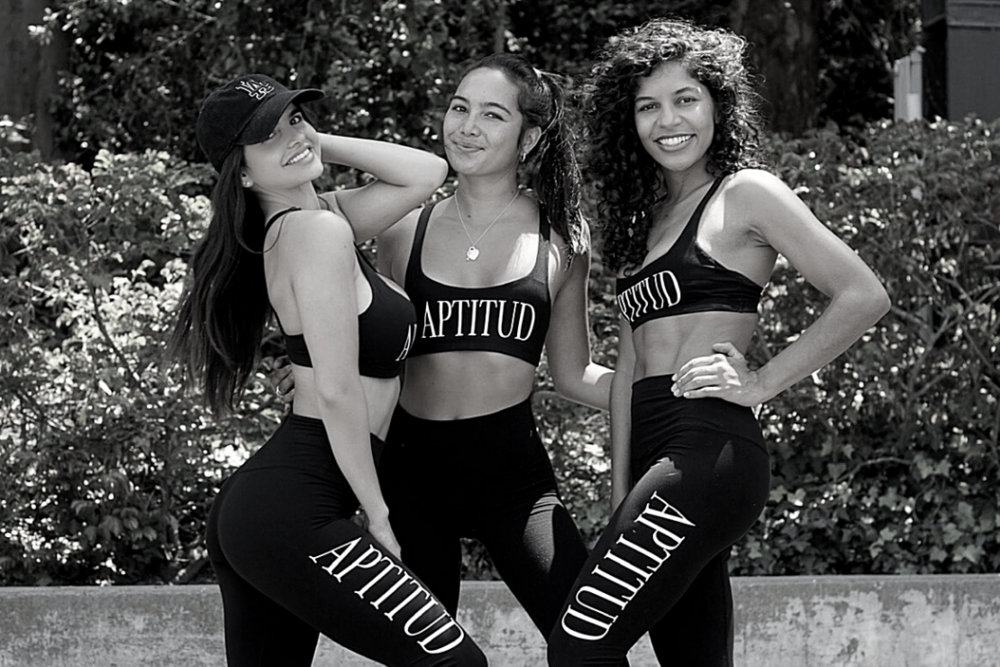 Delivering to At-Home Fitness Needs
Riley, Audra, and Arielle, who had met through Startup UCLA's Summer Accelerator in 2019, shared an enthusiasm for fitness and stayed connected after last summer's program by participating in Barry's Bootcamp classes. However, when gyms started closing and they transitioned to at-home workouts, they collectively recognized an unmet need: stylish and functional athletic gear and accessories for those who were not relegated to bedrooms, garages, and basements to get their workout routine in. Enter APTITUD (which means "fitness" in Spanish.)
In just a few months of work on their startup, these female founders have already accomplished an impressive amount: they've been busy nailing their brand aesthetic, posting on Instagram (which has 40,000 followers) and Tiktok (garnering 70,000+ views), starting conversations with industry influencers who may become critical product promoters, and figuring out a potential profit-sharing plan with trainers. The entrepreneurs have even been negotiating manufacturing agreements with partners in China and have ordered the supplies for their first 1,000 "fitkit" product packages.
How can they make so much progress in such a short time period? The efficiency of successful entrepreneurs isn't new to any of them. With opportunities like LaunchPad Propel (which Riley and Audra attended in 2019) and the professional and peer networks that resulted, each of these founders has already started at least one other successful student business: Arielle founded Kitty Obsession, which manufactures a patented cat carrier and other innovative cat products. Audra founded Fil₂R, a sustainable, water filtration company. Riley previously started Izzy & Riley, a college game-day clothing company as well as Textbook Dibs, a textbook kiosk.
"I think the pandemic has really changed people's behaviors long term," said Arielle. "Personally, I've realized I can save a lot of time and money by working out from home, and I think other people have recognized that too. Hopefully, for people who have made that change, APTITUD can become part of their new normal."
---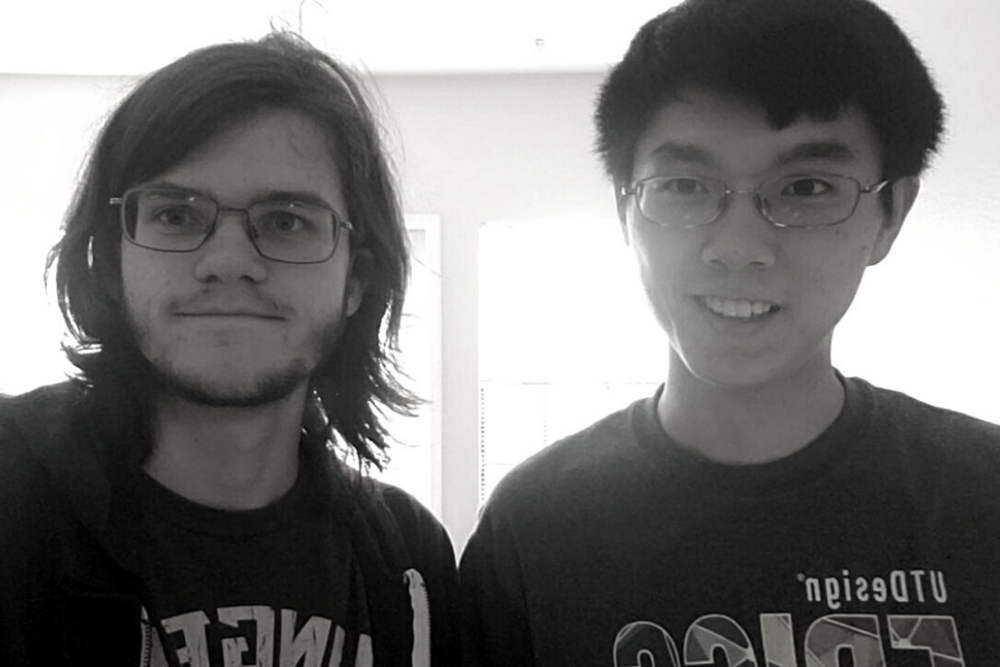 Making A Trip to the Grocery Store Safer
Keyu and Parker, Co-founders of SaniScanner, are newer to entrepreneurship experience, though the desire to explore 'the startup life' has existed for some time.
"I've always been interested in entrepreneurship," said Keyu. "So at UT, Dallas, I got involved in the Entrepreneurship Club and other on-campus LaunchPad programming."
Randomly assigned as roommates during their freshman year, this team proves that successful co-founders are sometimes introduced in the most organic way possible.
Their business, SaniScanner, addresses the significant health risks of grocery store checkout conveyor belts, one of the most heavily contaminated public surfaces. The belts' porous PVC material makes them an ideal breeding ground for pathogens such as bacteria and mold and simultaneously limits the effectiveness of conventional chemical cleaners. SaniScanner's sterilizer system is designed using carefully contained UV light to efficiently neutralize a wide variety of common infectious pathogens–including foodborne diseases such as E. Coli, Salmonella, and Norovirus. (Though research is still pending on the effectiveness of UV-C light against COVID-19, UV-C has been proven effective against other coronavirus strains such as SARS and MERS.)
While they may be newer to entrepreneurship, these cofounders have a critical advantage in the form of their UT, Dallas LaunchPad Campus Director, Dresden Goldberg. "Dresden has been really helpful connecting us to resources and opportunities," said Keyu. "Through the Fellowship program, she's also introduced us to Abby Hunter-Syed with LDV Capital and Benjamin Schwartz with Healent, both from the Techstars network."
Experienced entrepreneurial mentors like Abby and Benjamin, will certainly be critical to Parker and Keyu achieving their ambitious goals during the 8-week LaunchPad Fellowship program. These student founders hope to complete their first-generation sterilizer prototype, work with a 3rd party microbiology laboratory for validation of the product's sterilization effectiveness, begin demoing the MVP to retailers in the Dallas-Fort Worth area, and surveying 200 shoppers on their perception of shopping safety with and without a checkout sterilizer.
If experienced mentors will be one key to the team's success, optimism and positivity are another. "The thing that has surprised me most so far," said Parker, "is how much easier it was to form an LLC than I expected. That was great! I think it only took us a day to fill out the paperwork. Hopefully, the rest of the journey will be equally as successful."
---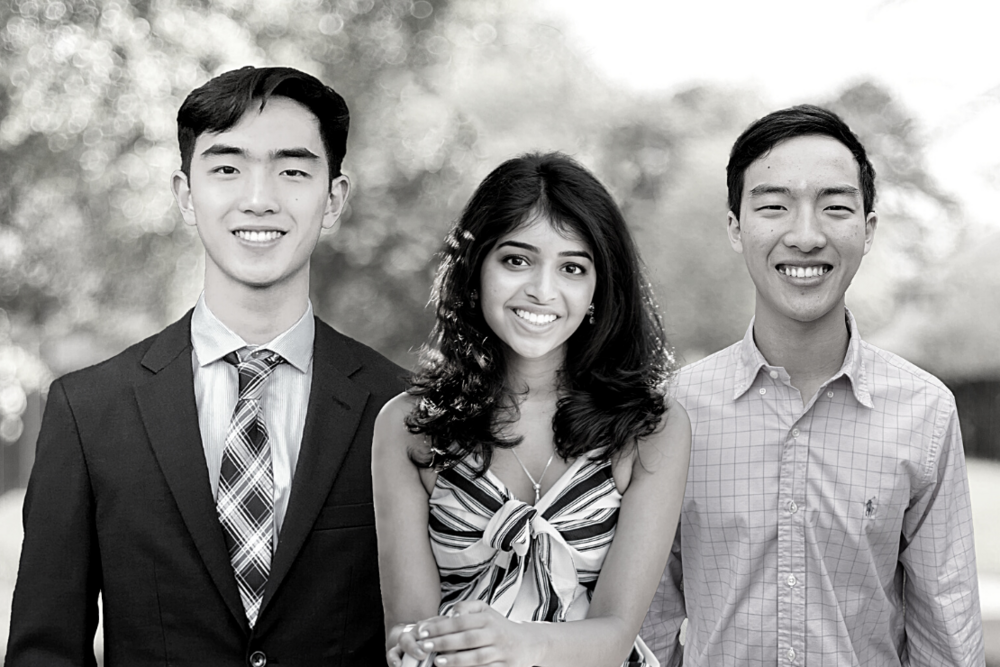 Addressing the Implications of Pandemic Isolation
With two rising sophomores at UT Austin (Allen and Aditi) and one rising high school senior (Allen's brother Anthony), the LaunchPad Fellows from Big & Mini may just be the youngest cofounders in the program. But that hasn't stopped them from tackling a major coronavirus repercussion: the epidemic of loneliness.
"All three of us have had experience volunteering in retirement homes and senior centers during high school and middle school and really enjoyed it," said Aditi. "So when COVID happened, we talked about feeling some degree of increased isolation ourselves. But thinking of these senior citizens who can't just go to the grocery store, or even really leave their rooms in some cases, it really hit home that those people might be struggling with that issue so much more."
To help solve that problem in a time when people can't be physically connect, Allen, Aditi, and Anthony have started Big and Mini: a nonprofit that combats social isolation, bridges the generational gap, and creates some really incredible and unexpected friendships by connecting youth and seniors through video calls.
"When we started researching solutions to this issue, something we quickly realized was the low-tech strategies of many organizations," said Allen. "There are church groups that organize postcard and letter-writing projects. But that's just not the same as seeing each other. And none of the programs we found were prepared to scale."
One thing that the three founders all recognize is the distinct skills and perspectives they each bring to the effort and how well those complement each other. Allen is all about long-term vision - where they're going, how to scale, what they need to grow and more. With a more focused and pragmatic approach, Aditi is always thinking about what needs to be accomplished next and what the team can do that will provide the most immediate value. She's also the writer in the group. As "the data guy" and back-end coder, Anthony is focused on the numbers and verifying assumptions with objective information.
"We're being more and more conscious about how we're designing the system," said Anthony. "So it's really nice to have strategic conversations where we might have conflicting opinions but a common vision. Ultimately, those discussions get us to a more successful result."
---
Whether they're addressing physical fitness, consumer safety, or mental health, these three LaunchPad Fellows are going to turn the challenge of coronavirus into an opportunity to help others. Learn more about all of the LaunchPad Summer Startup Fellows here.