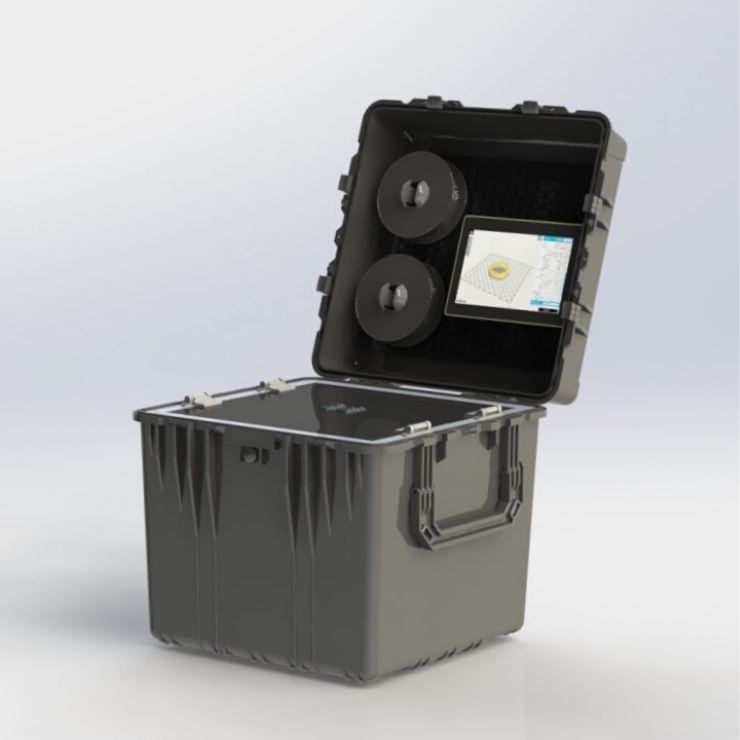 3-min read
Craitor | Blackstone LaunchPad powered by Techstars
Founded by Eric Schnell, Craitor is a mobile, 3D printer manufacturing company focused on serving military needs.
Eric Shnell has had a passion for the U.S. military as long as he can recall. Rather than serving activity duty, however, conversations with veteran family and friends, and contacts at the U.S. Marine Corps base at Camp Pendleton in Southern California have revealed another way he can use his drive and entrepreneurial passion to contribute: solving a significant supply chain issue with his company, Craitor.
"Lots of service members have shared the challenges of an overburdened supply chain," said Eric. "Simple - but mission-critical - replacement parts can take days, weeks, and even months to arrive where they are needed in the field, elevating the already high risk."
After spending more than a year researching the issue to understand its different dynamics across multiple branches of the armed forces, Eric and his team started developing an on-demand manufacturing technology solution to decentralize the military supply chain. He's aiming to provide basic manufacturing capabilities where they are needed through a mobile, expeditionary 3D printer.
Tough Environments Require a Tough Solution
Unlike other 3D printing solutions, Craitor can go anywhere our soldiers may find themselves and produce military-grade components when and where they are needed. 
"Craitor can be treated like a spare tire carried in the field - only this tire can also produce lots of additional parts and equipment whenever they are needed," said Eric. 
Other 3D printers on the market can require laboratory-like, protected environments (low humidity and minimal temperature fluctuations, for example) and are not easily shipped. 
Craitor creates a conditioned environment - within its own frame. It can survive drops, knocks, pressure, and is water and dust-resistant. It even floats! The printer can produce almost anywhere, under the most severe conditions, whether it be frigid tundra, dry desert, or humid rainforest. 
LaunchPad Lift Network Benefits
Eric is quickly learning how to effectively leverage mentors and partners to benefit from their experience. His team of advisors boast decades of experience selling to the government and working with the armed forces and insight from these individuals has already helped Eric overcome several barriers to enter the government market.
"Launchpad Lift has provided us with amazing mentoring from the Techstars and Blackstone network," said Eric. "These experts have helped us optimize our design pipeline and find sources of non-dilutive funding to refine our product through additional R&D."
Experiencing Entrepreneurship Education
Like other student entrepreneurs, Eric finds building trust with potential customers can take him more time for him than others who might have decades of experience and relationships to lean on. Department of Defense employees, he recognizes, can be hesitant to spend their limited time and effort working with a team of undergraduate students.
"Thankfully, our drive and motivation - as well as the technology - speak for itself," said Eric. 
He also sees an advantage through his team's lower risk profile: Pre-graduation and without the traditional obligations and concerns of older professionals and supported by a wealth of resources both on and off-campus gives him the ability to keep costs as low as possible.
Eric also appreciates the opportunity to put his education in practice. While his fellow students are studying mechanical engineering to pass exams, he's using the same learning in the application of building a product. Technology continues to develop, he points out, and the sooner he can offer his solution, the better for him, and those in the military he serves.
Impact of Coronavirus Pandemic
According to Eric, COVID-19 has had a dramatic impact on his venture. "It has slowed down a lot of our hands-on work and has slowed a lot of our communications with other engineering firms and suppliers," said Eric. "It has also made it difficult for us to search for R&D funding as a lot of the government funding has been reallocated and investors are hesitant to talk to anyone regarding investment given both the virus and the economic downturn."