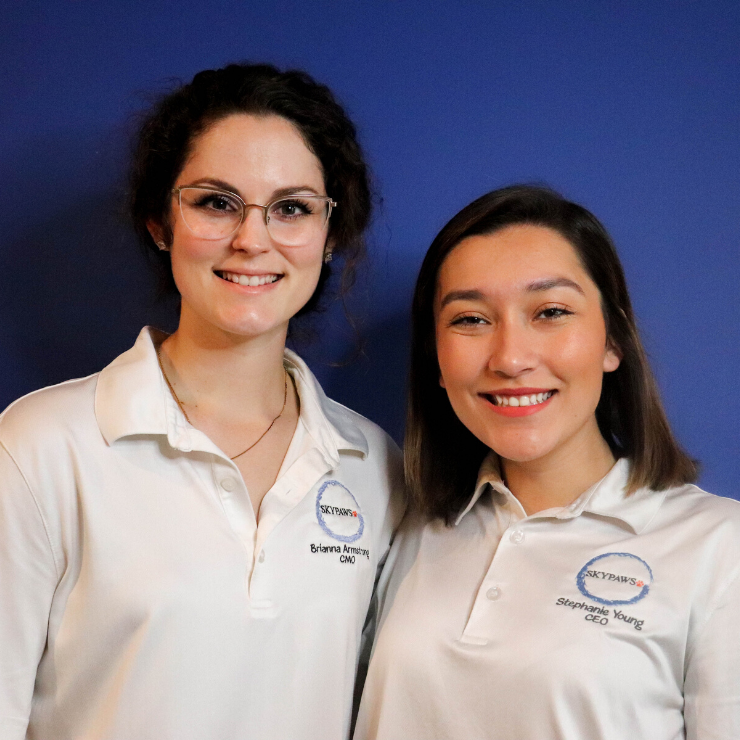 4-min read
Founded by Stephanie Young and Brianna Armstrong, SKYPaws is a mobile vitals monitoring device, designed specifically for animals. The startup team completed the LaunchPad Lift student entrepreneurship program in 2020.
Texas A&M junior, Stephanie Young, came up with the idea for SKYPaws while volunteering at her local veterinary clinic. 
One day she came upon Charlie, a dog that had recently come out of routine surgery. Sadly, though the procedure was a success, he passed away unexpectedly soon afterward in his recovery kennel. Without consistent and uninterrupted vitals observation - a common challenge with excitable pet patients that often struggle against standard medical equipment - by the time Charlie's rapid decline was noticed, it was too late. In that moment Stephanie was inspired to eventually create SKYPaws, an all-in-one vitals monitoring device designed specifically for animals.
After researching all the monitoring products on the market, but finding none that fit her clinic's needs, Stephanie decided to create her own. She built a prototype, and entered it at a science fair as an engineering experiment, eventually winning third. Several years passed before the second semester of her freshman year at Texas A&M when Stephanie picked the project back up again. Within months, and with the help of several entrepreneurship resources at the school, SKYPaws was officially an LLC and a provisional patent was filed.
Complementary Partner
While at Texas A&M, Stephanie was introduced to Brianna Armstrong, a third-year veterinary school student, through the Veterinary Entrepreneurship Academy. Stephanie had entered the Vet Prep Idea competition, but she needed a vet school student on her team in order to be eligible. Stephanie asked Brianna to partner with her and turn SKYPaws into a reality and together the women won first place. 
"Our skills complement each other - I work closely with partners and engineers, our marketing and social media, patent work, and managing finances, and Brianna handles veterinarian relations, in-clinic scenarios, design, and networking," said Stephanie, ""But beyond our working relationship, we really value our friendship."
Both founders really enjoy pitching and getting others passionate about innovations in veterinary medicine. As such, they've also presented SKYPaws in Aggie Pitch (winning 5th place), the Veterinary Innovation Pitch Competition (winning 1st place), and Raymond Idea Challenge (winning 1st place) at Texas A&M.
Stephanie and Brianna see three major competitive differentiators from other animal vitals monitoring products currently available: First is the design of their data collector: a small, two-and-a-half-inch disc that adheres directly to the pet's skin. Second, is the wireless transmission of data to their software platform, and thirdly is price. SKYPaws costs approximately 1/10th of what an equine-focused competitor offers.
Student Entrepreneurship
Brianna and Stephanie have gained a number of critical skills, including time management, public speaking, and problem solving as student entrepreneurs. Unfortunately, they've also experienced their share of obstacles: some investors and mentors have been unwilling to spend the time to meet with the cofounders simply because of their age.
"The benefit of being a student entrepreneur, is that it has allowed us to learn lots of different subjects without drastically changing our degree plans," said Stephanie. "You don't need to know everything to be an entrepreneur. You just need to be coachable, willing to learn, and able to do that quickly."
LaunchPad Lift Experience
Since starting the Lift program, Stephanie and Brianna have appreciated the encouragement and support the mentors, instructors, and other students have provided. The quantity and pace of biweekly presentations and discussions has worked well with their academic studies, and the remote nature of the program has enabled them to participate without interrupting their studies.
"One of the most valuable things about this program," according to Stephanie, "is connecting to the other student founders in our cohort. Each company is at a slightly different stage and all different industries. Techstars and Blackstone have built a community in Lift where student entrepreneurs can bond through the struggles of startup life."
Another element of Lift the SKYPaws cofounders have appreciated is the range of topics covering the full lifecycle of a startup. The goal being, even if a student entrepreneur doesn't need help with a certain topic in that particular moment, they've been presented resources and an expert to contact for when they do reach that stage.
Impact of Coronavirus Pandemic
Brianna and Stephanie shared that the COVID-19 pandemic has really impacted their business, primarily because some of the parts needed for the device come from overseas. They also share the situation has impacted their outlook and that, "it feels like every outlet that can bring us exposure or funding is canceled. We are no longer in a state of being busy, but in a state of waiting. It is really hard to not hit a wall."