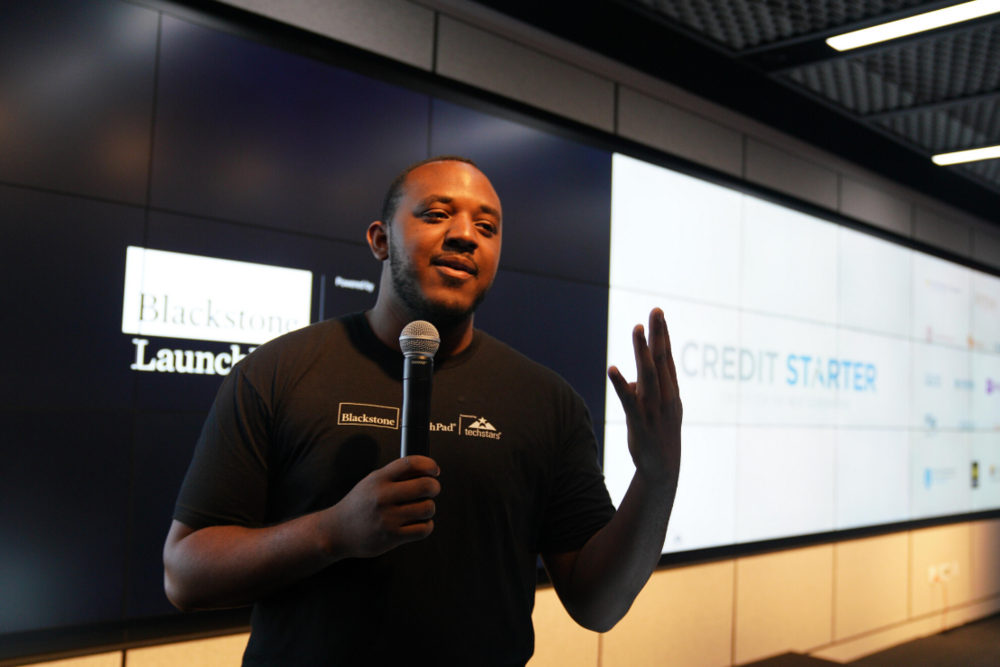 2-min read
Hatch Credit | Blackstone LaunchPad powered by Techstars 2019
Founded by USC students Mike Broughton and Ayush Jain, Hatch Credit developed an app that will help users improve their credit score, save towards goals and learn more about their personal finances. The company completed LaunchPad Lift, a program of the Blackstone LaunchPad powered by Techstars entrepreneurship network, in 2019.
When Mike Broughton, a student at USC, was $10,000 short on tuition his freshman year, he learned that getting a loan usually requires a credit score. Unfortunately, getting that first credit card requires the healthy credit history of either the primary or a secondary (guarantor) account holder – something many low-income and nontraditional college students lack. His solution when faced with this hurdle? Start Hatch Credit to help students like him.
"That catch-22 made me realize the difficulty of engaging in personal finance without the traditional pre-existing factors," said Mike. "And this led to me learning that 71% of college students also have no viable way of building their credit score."
Getting the Credit He Deserved
After working for the USC Credit Union on a number of initiatives, including student engagement and outreach, and helping the financial institution launch a credit card line for international and low-income students, Mike was asked to join the company's board. 
The rapid success of the new credit line proved a demand for some kind of solution in this space: students needed a financial product that they could access based on typical (if nontraditional) financial data points. Further complicating the situation, current financial regulations prevent banks from even marketing a credit-based product like this that many college students need.
Hatch Credit helps students build a credit history on the kinds of regular and repeatable payments college students often make (rent, utilities, gym memberships, Hulu, Netflix, tuition, etc.) and helps build a pipeline of responsible, credit-worthy student customers for financial institutions.
Opportunities and Challenges of Student Startups
"Being a young entrepreneur provides the opportunity to think differently," said Mike. "Being a student and bringing a new and fresh perspective to problems can result in outside-the-box thinking and ideas that may go against the status quo. We also have the energy to make the world a better place!"
Mike recognizes, however, that a lack of business knowledge and time spent as a professional can be held against young founders. College students often have the 'grit and the grind' to achieve success, but need experienced mentors and advisors – and their connections – to start and build businesses earlier and faster than might be possible on their own.
Additionally, through LaunchPad Lift, Mike has accessed and benefited from several other LaunchPad network opportunities. In 2019 he participated in the first LaunchPad Global Startup Weekend at UCLA and later in the year he won the LaunchPad Propel student pitch competition in New York city. He has also used many of the on-campus resources through the USC LaunchPad to learn and pivot his business – something claims to have done 13 times! Mike's school has been so impressed with the idea, they've even decided to invest in it.
LaunchPad Experience
"The most impactful moment for our company so far was during a speed mentorship session at LaunchPad Propel," said Mike. "I met with a Techstars founder there that discussed business metrics and the impact on our company's value."
According to Mike, after understanding the business and model, this mentor responded, "your driver, your metric, is helping change students' lives. The KPI is how many lives you change!" This inspiring and motivating conversation pushed Mike to believe even more in social entrepreneurship and his ability to change lives with Hatch.
---
Learn more about how to be a great mentor: read the Techstars Mentor Manifesto.