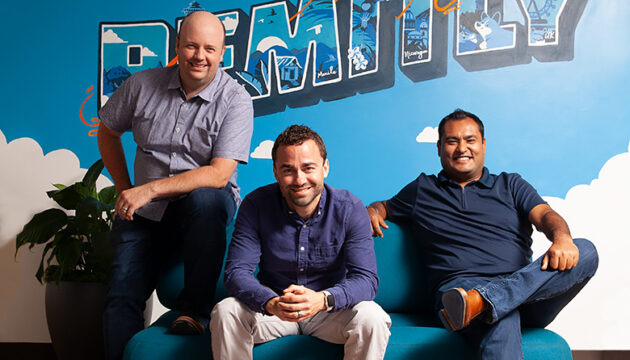 Remitly | Techstars Seattle 2011
Founded by Matt Oppenheimer, Shivaas Gulati, and Josh Hug, Remitly is making international money transfers easier than ever. The company completed the Techstars Seattle Accelerator in 2011, and recently announced unicorn status, with a valuation of $1.5 billion. 
Financial uncertainty goes hand-in-hand with a pandemic, as local economies lock down and markets fluctuate. Families and friends need to send each other money, often across borders — but those same lockdowns can close traditional brick-and-mortar remittance locations, or make people unwilling to leave the house. And although there's no evidence that cash spreads COVID-19, many are avoiding paper money. 
Disrupting Cross-Border Payments
Fortunately, fintech company Remitly has been disrupting cross-border payments since 2011, making it easy and inexpensive to send money to where it's needed most. 
So although the World Economic Forum worries that remittances could fall by $100 billion because of COVID-19, according to Geekwire, Remitly saw a 200% year-over-year customer growth spike this past May.
An Uncontested Unicorn
Remitly nearly hit unicorn status in July 2019, when a funding round brought it's valuation to between $950 million and $1 billion. Now, an additional $85 million round has pushed Remitly's valuation to $1.5 billion: an uncontested unicorn. 
The new valuation reflects just how large Remitly is now. People in nearly 20 "send" countries can use Remitly to move money to nearly 60 "receive" countries — and Remitly has served more than three million customers so far. It has not only avoided layoffs during the pandemic: Remitly is hiring, and expanding their offerings into new services like Passbook, a banking service designed especially for immigrants. 
"None of this would have been possible without Techstars"
In 2014, Remitly was still a relatively new company, bragging that, "We're now helping tens of thousands of customers transfer millions of dollars a week."
And, as Founder and CEO Matt Oppenheimer wrote at the time: "None of this would have been possible without Techstars."
Matt met cofounder Shivaas Gulati through the Techstars network even before being accepted to the accelerator, and they met the third cofounder Josh Hug during the program — Josh was the company's lead mentor during the accelerator. In the same article, Matt lays out the benefits, to him, of the Techstars experience:
Honest feedback

Focus/momentum

Credibility

Network

Fun
We're extraordinarily proud of the important work Remitly is doing, and glad that Techstars was able to do so much to help.