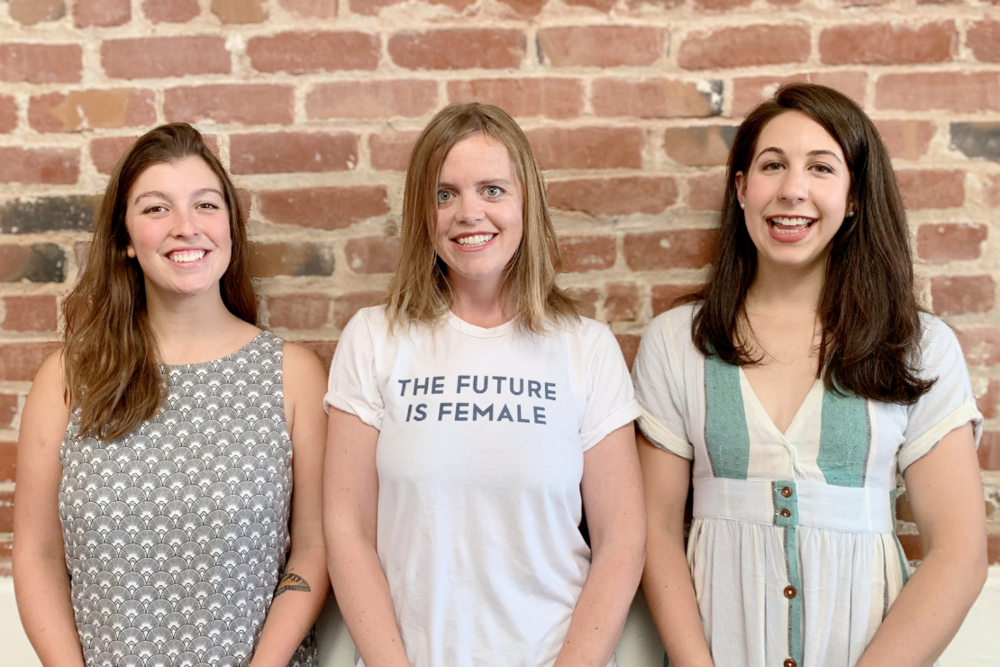 The Renewal Mill team
Renewal Mill | Techstars Farm To Fork 2018
Roughly a third of the world's food is never eaten, which means the land and resources used and greenhouse gases emitted in its creation were wasted. Interventions can reduce loss as food moves along the supply chain, thereby reducing overall demand for these key resources. One such intervention is being made by Californian startup Renewal Mill which "upcycles" byproducts from food manufacturing into high quality — and high value — ingredients. Founded by Claire Schlemme and Caroline Cotto, the startup completed the Techstars Farm To Fork Accelerator in 2018.
Okara, or soybean pulp, is made up of two-thirds fiber and one-third protein — and though it's recognized as a superfood in Japan, it is being thrown away on an industrial scale. Following standard industry practice, tofu manufacturers discard the byproduct and contribute to the staggering one-third of food raised or prepared which does not make it from farm to fork. It is this kind of waste in the food supply chain that Renewal Mill cofounders Claire Schlemme, CEO, and Caroline Cotto, COO, are combatting with upcycling.
The next-generation ingredient company upcycles fiber and protein produced during large-scale food manufacturing into high-quality ingredients and products. The brand's first product, okara flour, is sold both in stores and as an ingredient other food companies can purchase. Packed with nutrition, the flour's carbon footprint is about 60% less than traditional flour. Their upcycling process saved almost 100,000 pounds of food last year.
"Upcycling gives power back to the consumer since they can use their dollar to actively reduce food waste at scale," Caroline says. "And this is especially important during the pandemic. Data show that people are paying more attention to food waste and its direct climate impact now more than ever before."
Renewal Mill's upcycling process is scalable to other plant-based byproducts, with the company recently releasing their first oat flour and announcing plans for sunflower seed meal. Renewal Mill was named a Top 10 Trend of 2021 by Whole Foods and a "World Changing Idea" by Fast Company in 2019.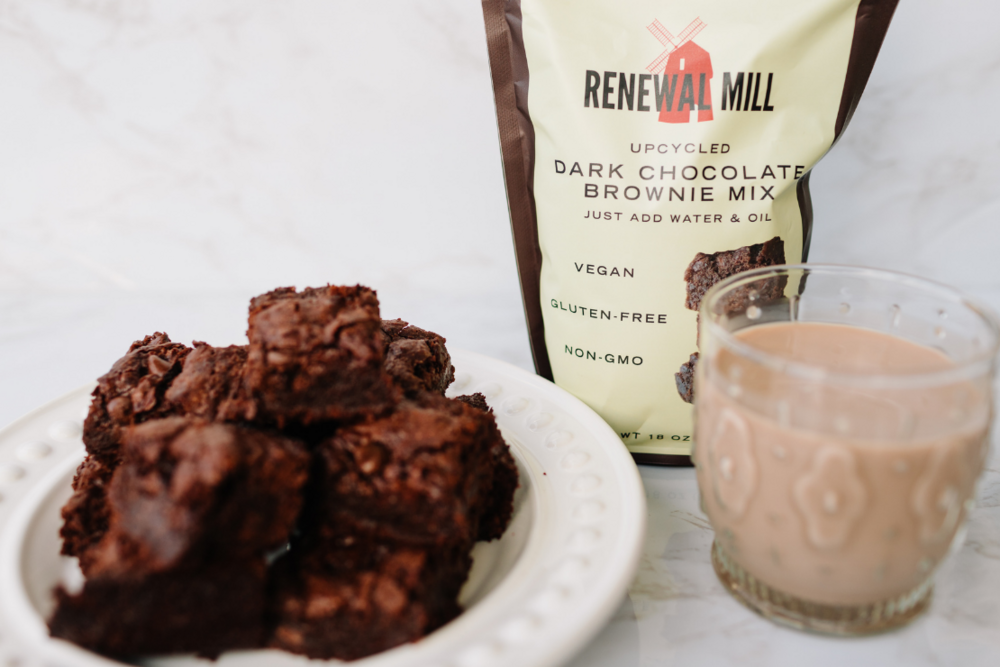 Renewal Mill brownies
A 'Differentiator On Shelves'
Throwing away uneaten food squanders a whole host of resources — seeds, water, energy, land, fertilizer, labor, financial capital — and generates greenhouse gases at every stage. In fact, the food we waste is responsible for roughly 8% of global emissions.
Sustainability efforts like Renewal Mill, however, can turn these figures around. After taking into account the annual adoption of plant-rich diets, Project Drawdown estimates that if 50 to 75% of food waste is reduced by 2050, we could avoid emitting as much as 10.3 to 18.8 gigatons of carbon dioxide into the atmosphere.
Importantly, the attitudes of both consumers and producers toward sustainability are starting to move in the right direction, Caroline says. An element which the team hopes can further cement the popularity of upcycling is the adoption of an Upcycled Certification Standard. Caroline serves as board president of the Upcycled Food Association and believes an official seal on products will be a "differentiator on shelves."
"Everybody knows the butterfly and the non-GMO project and understands what that means," Caroline says. "We're hoping that we can get everyone to similarly rally behind a singular message for upcycled food."
Techstars Program 'Fueled Growth'
Renewal Mill took part in the inaugural class of Techstars Farm to Fork Accelerator with partners Cargill and Ecolab, a program that focuses on the future of food and agriculture. The accelerator "fueled growth" for the company in a number of ways. 
First, Caroline joined Renewal Mill after meeting and working closely with Claire during Farm to Fork. The startup also soon raised its first round of $1.5M and worked with Cargill R+D to explore how the okara flour performed under different applications.
The entire experience was a whirlwind for the "proud female founders" — especially since Claire, the only woman CEO in the accelerator class, raised the first funding round while eight months pregnant.
"Farm to Fork was absolutely instrumental to Renewal Mill's growth. In 2018, we didn't have any commercialized products. To go from the idea stage to having our ingredients being used by Fortune 500 food companies and our branded products in over 150 stores, it's really amazing," Caroline says. "Also, we are both a B2B and B2C brand, and Techstars has been essential in connecting us to experts familiar with these two different models."
Today, Renewal Mill is leading the upcycle food category and is poised to grow. The startup has achieved national distribution through UNFI NEXT, and has launched on Amazon, Good Eggs, Imperfect Foods, Misfits Market, and Thrive Market. Next, Renewal Mill is seeking to close a $1M round of SAFE note funding.