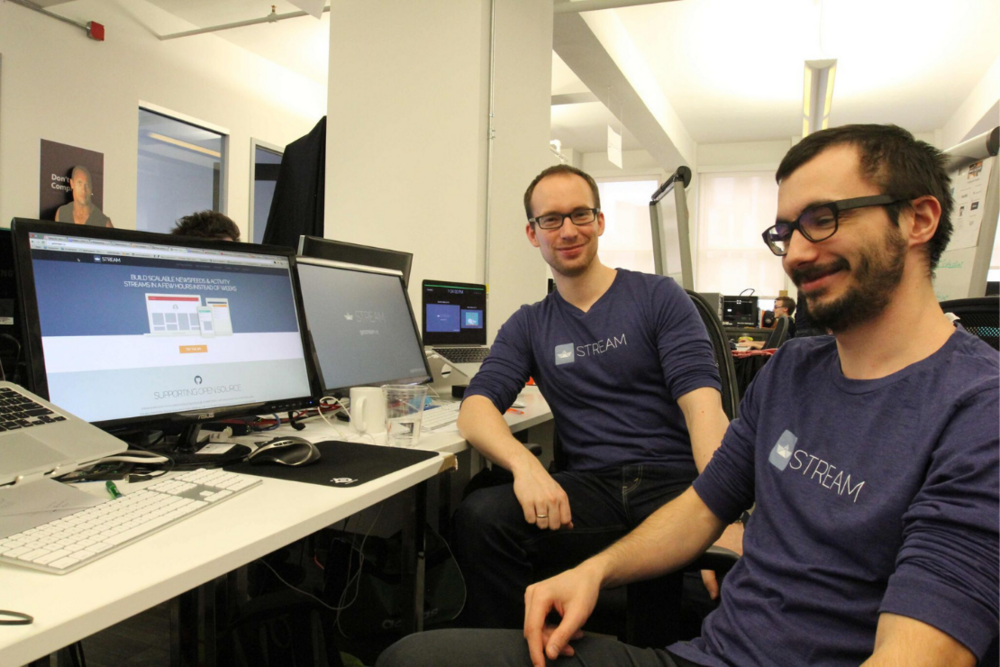 Activity feeds and chats grow user engagement — but can be difficult to build. Stream does it for you, with enterprise-grade activity feed and chat APIs that are easy to integrate into your website or app, and allow engineers to focus on building your core features. Founded by CEO Thierry Schellenbach and CTO Tommaso Barbugli, the company completed the Techstars New York City Accelerator in 2015. The accelerator kickstarted Stream's fundraising journey. 
Twitter, Facebook, and Instagram all have it. The top feature most social media apps offer is an activity feed that displays relevant and timely content to users. Activity feeds keep app users engaged by ensuring fresh posts populate the app, and they help create tight online communities. However, despite the ubiquity of this product feature, building an activity feed from the ground up is a surprisingly challenging, lengthy process for developers.
Stream founder and CEO Thierry Schellenbach realized the complexity of activity feed builds when he added one to his first startup, Fashiolista, a social network similar to Pinterest. It took him months of backend development to get the feed up and running, and even after it was implemented, his best engineer had to devote the entirety of his time to maintaining the feed. Building an activity feed from scratch was time consuming, expensive, and difficult to scale. "Instead of focusing on the community and growing the user base, we were solving all of these technical issues, such as how to keep the activity feed up and running when adding a lot of members," says Thierry. This early pain point inspired Thierry and cofounder Tommaso Barbugli to launch Stream in 2015 to provide activity feed and chat APIs to other companies looking to increase engagement.
Techstars Accelerates Growth
In 2015, Stream was accepted into the Techstars NYC Accelerator. During the program, Stream's usage grew 55% week-over-week, and supported activity feeds for over 100 companies, including Bandsintown and eToro. 
The Techstars' community was instrumental in mapping the future of Stream. After completing the program, Stream moved their headquarters from Amsterdam to Boulder, Colo. to have better access to funding and tech talent, and had raised $4.75 million by the end of 2017. This investment enabled the company to grow the team, create a best-in-class product, and lay the foundation for another Stream API product that would propel the company forward. 
Widening Product Offerings with Chat
In 2019, Stream's engineers released a chat API product after seeing their activity feed customers struggle to develop a scalable, reliable, and feature-rich chat experience for their users. 
In many ways, COVID-19, which started to significantly impact Europe and the U.S. in March 2020, accelerated the market for a chat API, as the pandemic underscored the importance of digital communication across multiple industries. Verticals such as edtech, virtual events, gaming, online fitness, dating apps, fintech and more turned to Stream to rapidly integrate chat functionality into their product offerings to boost community engagement. Some companies were able to add chat into their applications in as little as a day — impressive considering a chat feature could otherwise take months or even years to reliably add. 
"Basically, the integration process is really just one line of code. It almost felt like cheating because it was so easy to integrate," says Jack McMillan, founder of Student+, a startup app that enables university students to digitally connect. 
Stream saw a 517% revenue increase from its chat API product in 2020, and raised a $15 million Series A funding round that helped triple Stream's employees to 100 people based in Boulder, Amsterdam, and remotely. (Psst … Stream is still hiring new talent.)
By any measure, Stream is well-positioned for continued breakaway SaaS industry success, and Schellenbach in part attributes such meteoric growth to his experience at Techstars, which laid the groundwork for a solid business model and provided access to some of the world's best tech mentors and investors. In fact, just two days after Thierry's Techstars demo day, he received an email from the cofounder of HubSpot, who shared his own struggles with building activity feeds, and wanted to invest $100,000 in Stream. 
"If we hadn't done Techstars to build a U.S. network and opened a Boulder office," says Schellenbach, "we definitely would have faced a fundraising challenge."