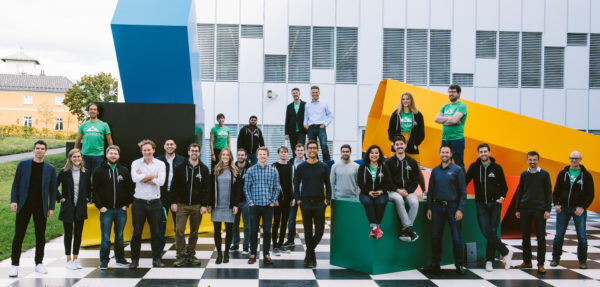 The Equinor & Techstars Energy Accelerator 2019 class
4-min read
Today, global energy corporation Equinor and startup Crux OCM are working together to test Crux OCM's software, which functions as an "autopilot" for oil and gas control room operators. It's early days yet, but if the Crux OCM solution works and scales, it will lead to efficiencies, cost savings, and new revenue opportunities for Equinor.
This sounds like a pipe dream: a startup and a large corporation partnering to give the startup a first user to test their idea and the corporation the kind of solution that would have taken years to develop internally.
In reality, this kind of partnership can be a rapid win-win, but only if approached the right way. Startups and large corporations think and work incredibly differently—and too often, great ideas get lost in translation. The first hurdle is identifying startup founders with deep domain knowledge who are at the top of their game.
Identifying the Stellar Startups
"We did not really know what we were getting into," said Jens Festervoll, corporate liaison for the Equinor & Techstars Energy Accelerator. "Equinor is a global energy company and wanted to partner with an accelerator company that had a reach into global startup ecosystems and a reputation for attracting top talent." They were hoping to identify and work with truly stellar startups with products or solutions that could make a real difference to Equinor, and to inject a dose of startup culture into the company—but they also knew that working with startups would bring special challenges for a large corporation like Equinor. And so an accelerator was born.
From the moment she heard about the Techstars Energy Accelerator in Partnership with Equinor, Crux OCM founder Vicki Knott knew she wanted in. "The same day applications opened, the founder of Crux OCM hunted me down," said Audun Abelsnes, managing director of the program. "Vicki's real obsession for a niche problem like increasing the volumetric throughput of pipelines appealed to me. Techstars backs exceptional founders, and I immediately felt there was something special about Vicki." Crux OCM indeed proved to be an exceptional startup, with a great team that was ready to #domorefaster.
The Startup Culture Injection
But Vicki did have some hesitations: "We were worried that the experience would be the same as all of our interactions with large corporations up to that point—that progress would be so slow we would not be able to determine and secure a trial opportunity within the three months of the accelerator."
It's true that corporations and startups work at different speeds, and this can cause friction. "The speed and sense of urgency is just totally different between a energy major like Equinor and any startup," said Audun. Fortunately, Audun is also positioned to help ease this tension. "I have unique access to senior management in Equinor that can help and push the needle forward if necessary." He gave Equinor the tools and methodologies to build trust with the startups in the program, creating strong channels of communication and overcoming cultural barriers.
For Equinor's part, Jens reflected that he and his colleagues "appreciated the speed at which these startups expect things to happen, and the fact that we do not work that quickly." But the Equinor people who mentored the startups in this program—giving their time and attention on a regular basis, week after week—found that they were changed by the experience. Nearly 80% of these mentors said that they would work differently in the future, with more agility. That taste of startup culture let them see ways to bring elements of it into their working lives, making them both more efficient and more engaged.
"We need this cultural change," said Jens.
The Measurable Power of Mentorship
Techstars not only brought startup speed to Equinor—mentors also got first hand experience with the Techstars value Give First. This means helping others whenever possible, without expectation of a transactional return. It is the essence of mentoring. "The Equinor staff was so welcoming and open to the Techstars companies," Vicki said. "All individuals in the organization did their very best to help us and fully embraced the Techstars #GiveFirst mantra."
Going into the program, Crux OCM saw their technology as a solution for oil pipelines. Equinor mentors like Jofrid Klokkehaug, VP of operations and maintenance, and Ulrik Olbjørn, the digital lead for Equinor onshore, helped Vicki realize that she could expand this vision. The software was just as applicable to the 5000 miles (8000 km) of integrated gas pipelines and facilities on the Norwegian continental shelf. Thanks to this insight, Crux OCM had a great new market to attack—and Equnior had a potential solution to a problem.
That's the beauty of Give First—you always do get something back. You just don't know what or when it will be. In this case, the benefits for Equnior came quickly: "Crux OCM will test their solution on a small Unit at our Snøhvit LNG facility as a first user," said Jens. "If the tech works, then there is an opportunity to scale to more complex systems, adding more value."  
A Win-Win Times Six
With this accelerator, the company was looking to "improve Equinor's ability to innovate and drive change," said Jens. Less than a year after the first class of the program, Equinor is seeing gratifying results.
They've experienced the high quality of Techstars startups, overcome cultural barriers that made trust and communication difficult, and infused some of that energizing startup culture into their corporate culture—and these are just the intangible successes. Crux OCM is one of six startups from the program that are exploring potential solutions with Equinor. That's a win-win times six—and a very measurable, and speedy, path to creating value.
---
Watch the replay of our AMA: Five Steps to Building a Successful Corporate – Startup Relationship with Equinor and Crux