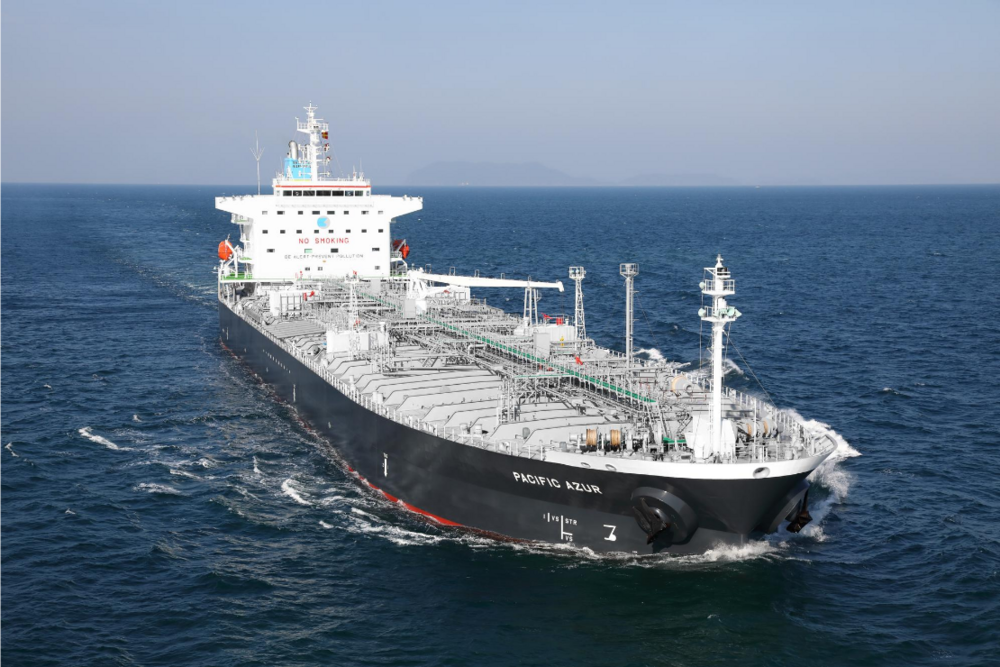 EPS ship the Pacific Azur
Singapore's Eastern Pacific Shipping is not just any maritime company. With a history spanning 60 years and a managed fleet of more than 14 million deadweight tons, EPS is regarded as an industry-leading shipping company that is committed to the green and technology-driven growth of the industry. 
Today, shipping is responsible for around the same amount of greenhouse gas emissions as the entire nation of South Korea. By 2050, if the industry continues to burn fossil fuels, shipping will produce as much as 17% of global emissions — more than the United States as a whole. Moreover, the effort to lower emissions has been historically undermined by the industry's seemingly apathetic attitude to change. Evolution has come slowly and incrementally, leaving maritime decades behind other transportation sectors such as aviation. As a result, operational insights into contemporary vessels remain largely static — to the detriment of routing, fuel efficiency, and fleet performance.
---
Want to join us in fighting climate change? Check out the Techstars Sustainability Challenge! We're bringing together founders, nonprofits, and universities with industry leaders, and we'll choose the most promising ideas and partner the very best with top companies to build out real-world solutions. 
---
EPS knows that industry change needs to happen now and quickly. The company realized, however, that it could not spark such innovation on its own. According to Chief Innovation Officer Claus Nehmzow, EPS recognized this could be achieved "much faster with outside help." In 2019, EPS joined forces with Techstars to launch the Eastern Pacific Accelerator Powered by Techstars, the world's first maritime accelerator.
Enter Nautilus Labs
The green and technology-driven growth of maritime is one of the driving forces behind startup Nautilus Labs. The worst-case carbon scenario for shipping, Chief Executive Officer Matt Heider explains, is for the industry to continue with the status quo over the next decades. Nautilus Labs looks to make the case for carbon change by arming ship owners and operators with real-time predictive decision support to improve the ongoing returns from vessels, minimize fuel waste, and enable condition-based maintenance. Sustainability and savings go hand in hand. 
---
Read our profile of Nautilus Labs.
---
Nautilus Labs converts mountains of data on multiple variables — from seafaring conditions to cargo delivery date and ship performance — into operating recommendations that optimize voyages for TCE maximization or just-in-time arrival. The practicality of the solution is something the startup set out to prove in the inaugural Eastern Pacific Accelerator Powered by Techstars.
Collaborating "Side by Side"
Nautilus Labs and eight other startups formed the accelerator's first cohort in 2019. Managing Director of the Eastern Pacific Accelerator Dhritiman Hui oversees the three-month program and says he was impressed by the strength and effectiveness of Nautilus Labs's first product, and the startup's larger vision for maritime.
---
Read about how Norwegian energy giant Equinor is innovating with startup Fieldmade to reduce C02 emissions and save money.
---
Moreover, the ability to work alongside EPS in their Singapore headquarters enabled each startup in the accelerator to effectively create for the end-user. "The problem that founders of startups often have is they're building the product in a silo," Dhritiman says. "They're not really hearing the customer's voice truthfully and in a collaborative way."
Bringing the startup in-house with EPS effectively closed the feedback loop between creator and customer. Nautilus Labs embraced the opportunity to install their technology onto EPS' diverse fleet and demonstrate their value proposition on the water. Matt says, "There's something very special in being able to be there side by side in collaborating. That proximity did breed familiarity and support with EPS, and it bolstered our relationship to grow with them."
Digitalization for Savings & Sustainability
This growth is certainly evident in the aftermath of the accelerator. Today, Nautilus Platform is fully deployed across dozens of ships in the EPS fleet to tackle emissions and lower fuel consumption. Fuel costs represent as much as 50–60% of total ship operating costs, so even the smallest reductions create big bottom line impacts.
On certain voyages, Nautilus Labs has achieved net fuel savings of about 2%. Given that the average ocean-going ship burns 50 metric tons of fuel every day, and shipping fuel costs $150 billion every year, 2% savings uncovered represents a substantial improvement. 
---
Learn about how The Nature Conservancy is using innovation to fight climate change by partnering with startups like 2NDNATURE.
---
"It's really exciting to see that kind of growth [with EPS] and to have it come from actual, validated business results that derived from using the tool," Matt says. "That is the most gratifying part because then it becomes not just digitalization for digitalization's sake, but digitalization to improve business performance."
Innovation through Corporate-Startup Partnerships
For Nautilus Labs and the eight other pioneering startups in the accelerator, EPS provided access to a deep network of industry players, real-world data, and operational insights from experienced maritime experts. The shipping company, in return, successfully performed pilots with the majority of the first cohort and integrated certain solutions into their current operating model. 
"There's just no way that we could have achieved what we have in one year without the program," Claus says. 
While the benefits are clear for EPS, Dhritiman hopes the accelerator — which is set to welcome its second cohort later this year — will encourage other large shipping entities to sit up and take note of innovation. "If we can demonstrate to the industry that technology can be a powerful solution to its problems, and we find that big shipping companies around the world are aggressively deploying technology as a potential solution towards their problems, I'll consider that a big thing."
"There is a case to be made that the Techstars and EPS accelerator is and will be the preeminent accelerator in the space," Matt says. "I think part of that is the fact that Techstars gives it the credibility of all the successful businesses that have derived out of the Techstars ecosystem and all the credibility of Techstars as a true hub of innovation globally."
---
Interested in joining the global platform for innovation? Learn more about Techstars membership and accelerator partnership opportunities.