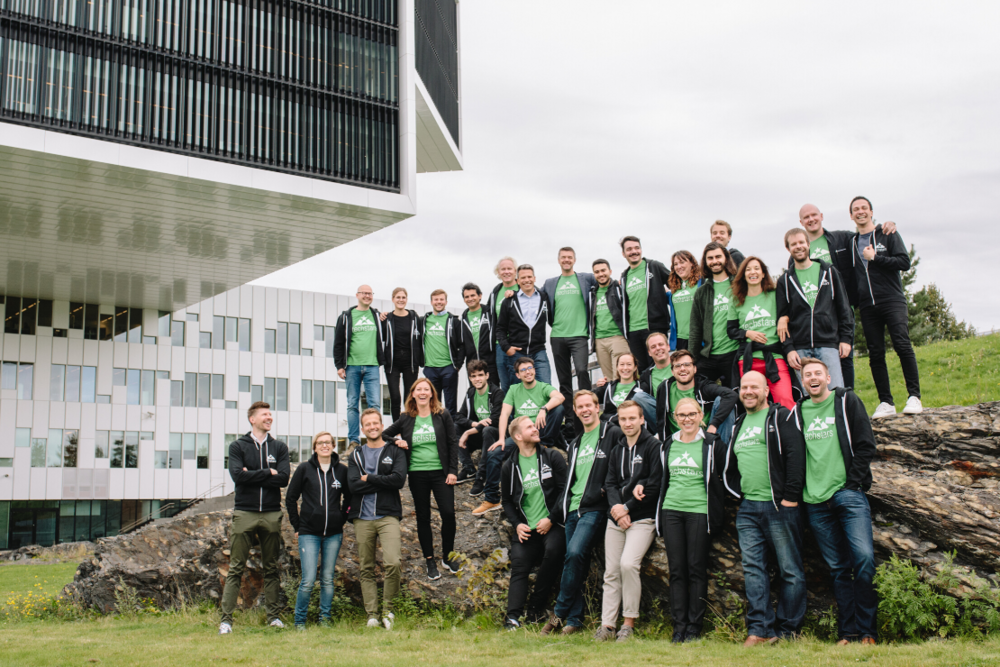 The Equinor & Techstars Energy Accelerator 2019 cohort
---
Equinor and Fieldmade have been recognized for best new initiative by Innovation Leader's 2020 Impact Awards. Learn how they are teaming up to accelerate innovation and reduce CO2 in the energy sector through disruptive additive manufacturing technology.
---
5-min read
The Norwegian energy company Equinor wanted to be at the cutting edge of an energy sector rapidly moving towards a low carbon future. Already a market leader in oil and gas innovations, the energy company had big aspirations—to be the world's most carbon-efficient oil and gas producer and to drive innovation in renewables. To get there, they realized they couldn't do it on their own. "We can't do it only internally," says Philip Hansteen, Corporate Liaison for the Equinor & Techstars Energy Accelerator. "We need to tap into the greater startup ecosystem for ideas and business models that we aren't even thinking about." Equinor joined forces with Techstars and launched the Equinor & Techstars Energy Accelerator. The aim was to create a pipeline for dynamic startups to bring innovative technologies that advanced Equinor's goals.  
From Defense to Energy  
In 2015, Fieldmade founder and CEO, Christian Norberg, had just finished an exciting prototype in a Norwegian defense lab. Norwegian defense needed a way to keep military equipment and parts operational when traveling to different locations that didn't rely on a lengthy procurement process. Christian's team developed mobile microfactories with 3D printing capabilities, which gave defense units the ability to print parts locally in the field wherever they went. Christian knew from the outset that this technology had even broader applications. He founded Fieldmade in 2016, ready to pursue more industries. "Being from Norway, it was natural to look at the largest industries and see what we could leverage there," says Christian. The Equinor & Techstars Energy Accelerator presented an ideal opportunity for Fieldmade to break into energy.  
Disrupting an Industry 
Techstars Managing Director, Audun Abelsnes, oversees the Equinor & Techstars Energy Accelerator and takes charge of identifying hundreds of startups to help Equinor select the most promising ten. "I need to see that the founders are intellectually honest and humble. They need to understand that they can learn something from talking to the expert mentors from Equinor. If it's a winning team and a good technology for Equinor, that's a good company," says Audun.  
Fieldmade not only checked the box on good technology, but also their authentic interest in understanding Equinor's pain points resulted in a truly transformative innovation for both companies.  Says Philip, "I was very impressed with how Fieldmade came into the program with one angle for their business model and was able to pivot. When we look at companies, it's all about team, team, team. And that team was willing to listen. We were able to work with them and collaborate for a better end result that was helpful for both parties."
---
Take a deeper dive into the exciting collaboration between Equinor and Fieldmade in this Ask Me Anything.
---
For Equinor, an upstream energy company that deals with expensive equipment in the tons, Fieldmade's mobile microfactories were a no-brainer. To illustrate why, Brede Lærum, Head of the 3D Printing Implementation Initiative at Equinor explains, "replacing an entire electromotor just because the manufacturer no longer had a part for the attached cooling fan meant replacing one and a half tons of equipment." With Fieldmade's mobile microfactories, Equinor had the potential to 3D print the fan part and save the exorbitant cost of replacing the electromotor, the time involved, and the expense of either shipping or storing inventory. Even more inspiring, "for every ton of metal you can avoid replacing, you can save four tons of CO2 emissions," says Brede. For Equinor, additive manufacturing will provide tremendous cost savings and massively reduce the company's carbon footprint. "Mobile microfactories fit perfectly in Equinor's strategy," adds Brede.  
One conversation led to another, and the deep discussions between Fieldmade's team and Equinor employees gave rise to an even more transformative collaboration between the two companies—joint development of a digital inventory system—a software system that connected suppliers, additive manufacturers (3D printers), IP holders and all members of the supply chain to print parts locally through a just-in-time digital process. Says Christian, "I found it very gratifying that so many people at Equinor were willing to share their perspectives. We were able to have really productive discussions about the solutions that would have the biggest impact to their business." Adds Brede, "Fieldmade was doing digital inventory for defense, but their collaboration with Equinor helped them understand how big the digital inventory issue is and how far reaching the solution will be for energy when we make it work." 
Brede gets excited when he talks about what the future looks like with digital inventory. Not only will a digital inventory system bring savings for Equinor, he says, it also means a reduction of carbon emissions. Equinor is funding most of Fieldmade's digital inventory project and providing in-kind contributions of IT, operations, procurement, supply chain materials management, and more as the project develops. Fieldmade is also in discussions with Equinor to provide mobile microfactories that will help decrease inventory levels for the company's Greenfield project. 
Moving Forward with Multiple Partnerships 
Of the 2018 and 2019 accelerator classes, eight startups have secured MOUs, pilots, or investment relationships with Equinor. Remarks Philip, "what impressed me about this program are the founders, teams, and the problems they are trying to solve. The ability of these startups to drive change, motivation, and enthusiasm is really important. That's what an accelerator can do. You invite someone in for a short time, and they can have a great impact."
To Philip, Techstars was the obvious choice to lead Equinor in creating this funnel for breakthrough technologies. "They have a worldwide network and a track record of helping both entrepreneurs and corporate partners succeed," he says. "We couldn't have done it ourselves."
---
Interested in joining the global platform for innovation? Learn more about Techstars membership and accelerator partnership opportunities.