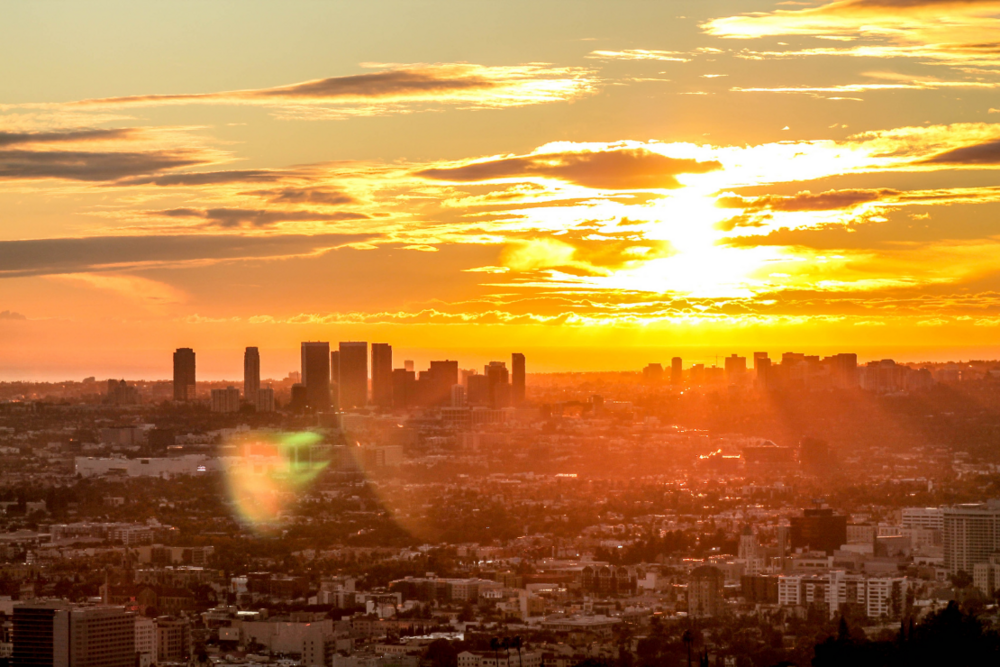 The mystique of Silicon Valley — that special place where startups flourish, nourished by VC millions — is strong. But California's a big state, and if you can pry your eyes away from the legend, there's plenty of room for another startup scene, with more space to stretch out, a less expensive cost of living that welcomes families, great universities churning out both IP and lots of educated talent, and industries both new and legacy to grow in. Southern California, we're looking at you. 
How Startup Ecosystems Grow
To understand the phenomenon that is the Southern California startup scene, it helps to catalog the elements that make any startup ecosystem grow. Techstars believes that great ideas — and companies — can come from anywhere. But in order to get a lot of great ideas turning into great businesses, and to get those businesses functioning as a community and turning into a real, self-sustaining ecosystem, it helps to have a few important items in place.
Simply put, a startup ecosystem needs these basic elements to make it thrive:
Entrepreneurs - people who start businesses

Investors - people who give businesses money and advice so they can grow

Mentors and Community Leaders - people who are willing to give their time and expertise to help entrepreneurs succeed

Talent - lots and lots of people who want to work for these new businesses

Government - leaders and policies that encourage entrepreneurship

Universities - continuously generate both ideas (IP) and talent 

Corporations - hubs of industry expertise as well as potential customers or partners
Once these all get cranking together, the machinery starts to mesh, and a virtuous cycle begins. Some startups grow fast and have spectacular exits. Then lots of the talent from those companies — newly flush with money — turn into entrepreneurs themselves. Or they become angels who invest in other people's startups. Seeing the opportunity, more investors set up shop. University grads get good jobs and stick around. Major corporations are customers, partners, or potential acquirers of startups, plus employees with industry knowledge may start their own companies to challenge or solve problems for the industry status quo. Anyone with experience or enthusiasm helps out by mentoring or organizing events for the community. 
In Southern California, all of these pieces have come together, and the result is a growing startup scene.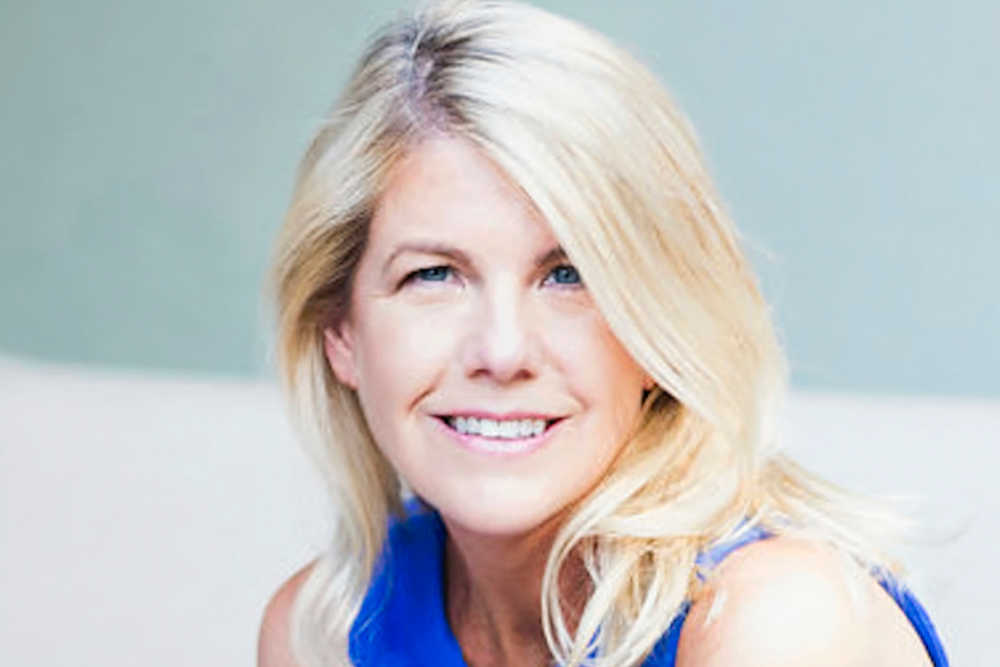 Anna Barber, Managing Director of Techstars Los Angeles
"It's gone from feeling a bit like a small town to feeling like a growing city where there are always new people," says Anna Barber, Managing Director of Techstars L.A. — one of three Techstars accelerators that make their home in Los Angeles. 
How SoCal Made It Happen
Now that we know what we're looking for, it's easy to see how Southern California became the thriving — and still expanding — startup ecosystem we see today. 
Investors
A few venture funds like Upfront Ventures and Crosscut Ventures have long been supporters of the ecosystem — and an essential part of helping it to grow. They "planted flags here really early and have been leaders in advocating for the ecosystem and supporting it," says Anna. 
Austin Clements, Partner at Slauson & Co., an early stage VC firm, and Managing Director of Grid 110, which provides entrepreneurs with free access to community, mentors, and resources, remembers a time not so long ago when "everybody in L.A. saw every deal." Today there are "many more seed funds, and many more opportunities."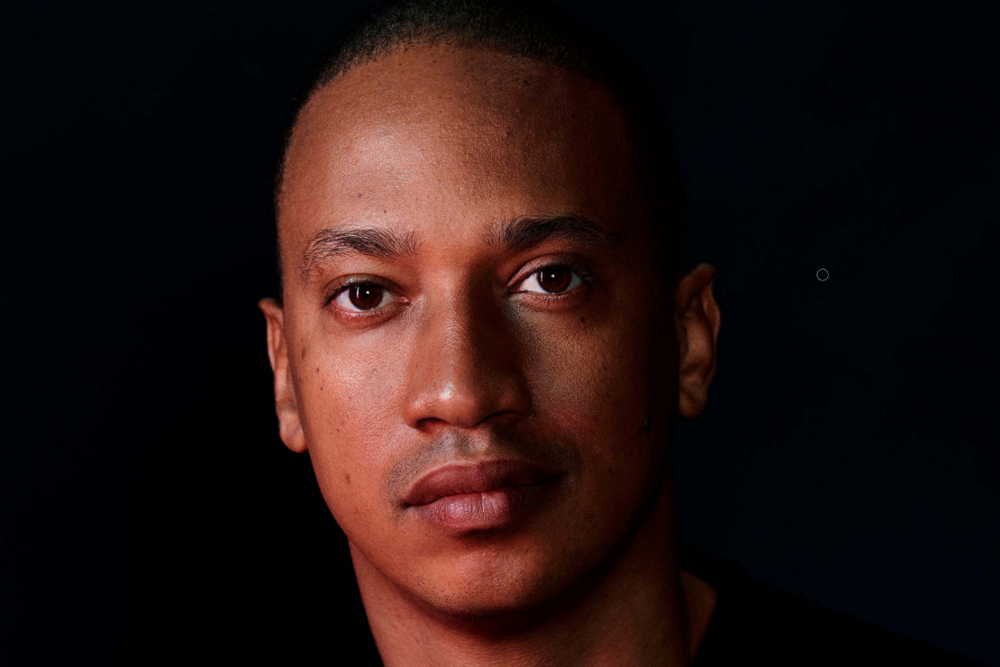 Austin Clements, Partner at Slauson & Co. and Managing Director of Grid 110
Now, as the ecosystem matures, more funding is coming into play, and at higher amounts. According to Pitchbook, just a decade ago, in 2010, Los Angeles saw 312 deals totaling $1.9 billion. Compare that with 2018, with 766 deals totaling $11.4 billion. 
L.A. is also seeing the momentum that some big hometown successes bring. These not only encourage more VC firms to set up shop; they also produce native capital, turning entrepreneurs and startup employees into angels who invest in more startups — or provide first-time founders with the money to get their own ideas off the ground. The $19.7 billion Snap IPO in 2017, in particular, is being felt across the ecosystem, as newly wealthy employees become angel investors or start their own companies. 
Universities
A large number of universities have their homes in the region, including heavy hitters like the University of Southern California (USC); the University of California, Los Angeles (UCLA); California Institute of Technology (Cal Tech); University of California, Irvine (UC Irvine); Pepperdine, and many more excellent institutions of higher learning. 
Universities not only produce educated talent for hire and ideas that grow into startups — they can also function as entrepreneurship hubs in their immediate communities. 
In Orange County, UC Irvine stands out for its extensive community engagement, centered around UCI Beall Applied Innovation @ the Cove. Beall Applied Innovation not only supports entrepreneurs from UC Irvine, they also take pride in an overall mission that is much broader. Richard Sudek, Executive Director for Beall Applied Innovation and Chief Innovation Officer for UCI, explains, "We built our effort for the community first. Our mission is to help make Orange County into a globally recognized region for entrepreneurship."
Richard reports that over the five years the Cove has been open, an average of 40,000-50,000 people have come through the building per year — and a majority of those individuals were not from within UCI. In just six years, square footage devoted to entrepreneurship and innovation at the university has grown from 1500 sq. ft. to over 100,000 sq. ft. There are maker spaces, wet lab benches, hundreds of events — even several VCs and multiple angel groups, all in the building. And most of the offerings at the Cove, Beall Applied Innovation's physical headquarters, are open to the public.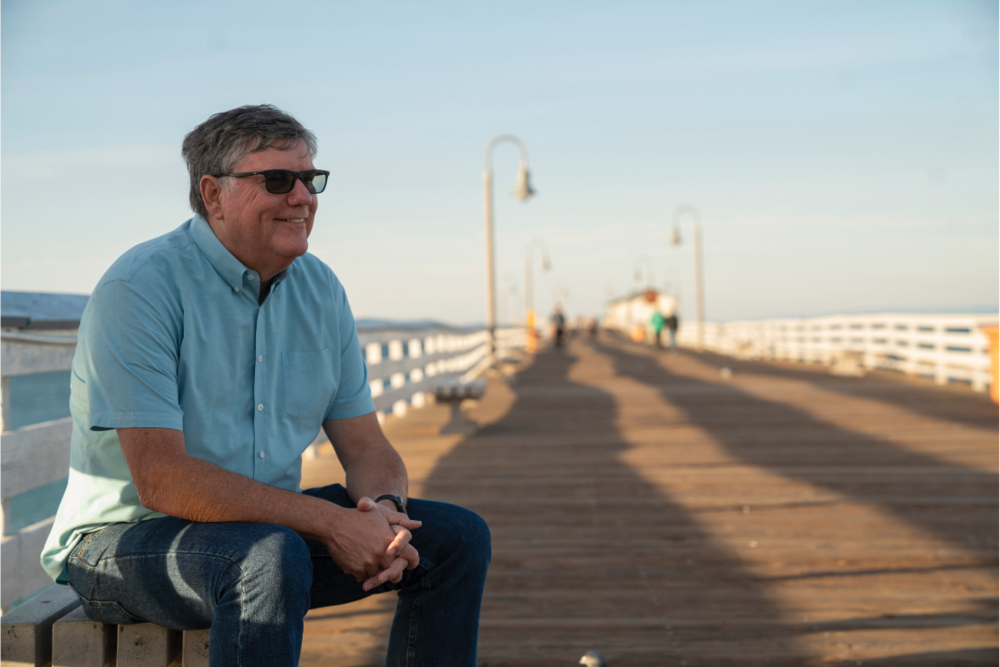 Richard Sudek, Executive Director for Beall Applied Innovation and Chief Innovation Officer for UCI
"We have done a great job of establishing ourselves as a center of gravity for entrepreneurial activity in Orange County," Richard says. 
Corporations & Industries
Everyone knows that Hollywood is the epicenter of the film industry, so it's no surprise that media and entertainment companies would sprout up around it, thriving on the deep well of industry knowledge there, and seeking to take a piece of the entertainment pie, fix problems in how it's all done, or innovate. But there's much more to Los Angeles than Tinseltown. 
In recent years, major tech companies have created outposts — substantial ones — in L.A. Google, Netflix, and Amazon are now all present in force, lending their considerable impetus to the innovation economy. And, of course, SpaceX has been headquartered locally in Hawthorne, CA since 2002.
Outside perception aside, SoCal doesn't begin and end with entertainment, and locales around the region have become known for their own industries:
El Segundo: space & defense (proximity to SpaceX) and fashion

Hawthorne: logistics, auto

Santa Monica: e-commerce, gaming, mobile, transportation, health tech

Playa Vista: ad tech, media, cloud computing (plus big outposts of Silicon Valley tech giants)

Culver City: content

West Adams: ed tech, frontier tech

Hollywood: music, entertainment/content

Arts District: fashion, immersive tech (AR+VR)

South Central/Watts: creative tech, ed tech, music

Inglewood: sports tech

Downtown: robotics, AI, clean tech

Pasadena: search, cloud

Orange County: biotech, fintech, medical devices, digital health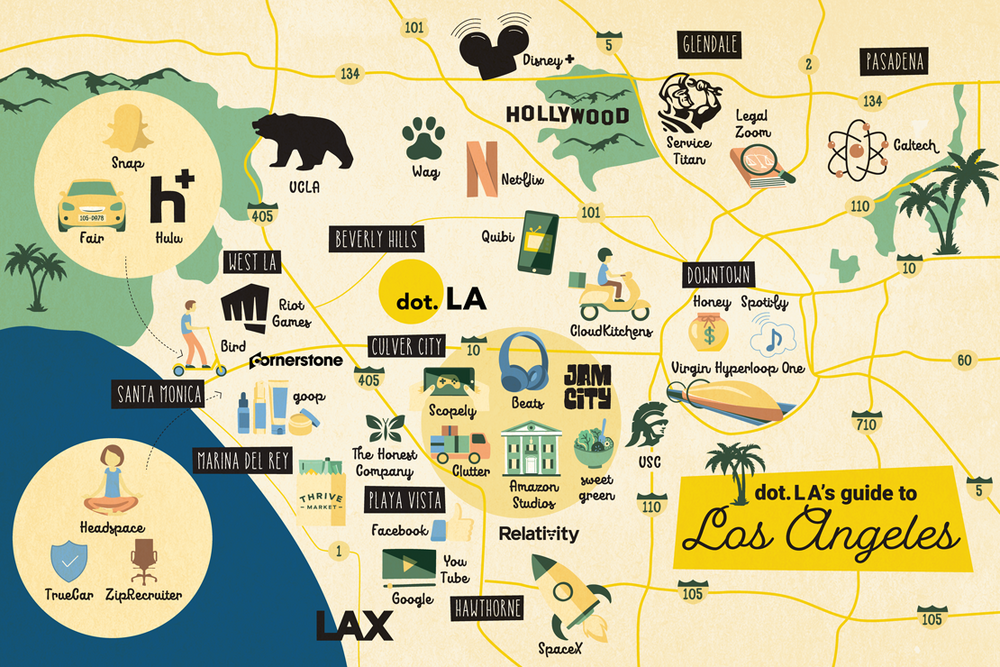 dot.LA's guide to Los Angeles
Of course, these geographic silos come with their own problems. Everyone benefits when the the community de-silos and talks to each other, and that's what community leaders are trying to achieve: "There's been a huge effort to get them to talk to each other and think about ourselves as one great L.A. tech ecosystem as opposed to these pockets of different things," Anna says.
Government & News
Governments at every level are seeing the benefits of a strong startup ecosystem in their sphere of influence, and SoCal is no exception. 
"In this moment of so many unprecedented challenges, Techstars, along with startups and tech leaders across Los Angeles, are leading the way, matching their innovation and ingenuity with care and compassion," said Los Angeles Mayor Eric Garcetti, in a video he made to congratulate the 2020 graduating class of Techstars L.A. "At the heart of our innovation economy is the never ending push to make life safer, healthier, and better for people throughout our city and across the world."
In particular, Los Angeles has been a strong supporter of growing diversity and inclusion in the local startup community. PledgeLA was founded in 2018 by the mayor's office in a bid to boost diversity in tech and VC. The community strongly supports this initiative, with backing coming from dozens of LA-based VCs, tech companies, and the Annenberg Foundation. PledgeLA is already making a difference, but they see plenty of work still to do. Their 2020 survey found that while "PledgeLA VCs are twice as likely to fund women entrepreneurs — women still make up just 18% of total investments. Only 6% of PledgeLA-backed founders are Latinx, 7% are Black, and 26% are Asian." 
Another sign of the growth of this entrepreneurial community is it's very own news company: dot.LA, which launched in early 2020. Inspired by Geekwire in Seattle and TechCrunch in Silicon Valley, dot.LA has a mission  of "shining a light on the innovation in the L.A. startup and tech community." Cofounder Spencer Rascoff — best known as the cofounder of Zillow and Hotwire — wrote that "The 2020s are going to be an explosive decade for our city and its business community. I predict that in 2030, we'll look back and say the 20s were to L.A. as the '00s were to San Francisco: a decade that changed everything, and redefined how people across the world look at our city." 
Diversity, Equity, & Inclusion
There's broad consensus that the startup community in Southern California could be more diverse — entrepreneurship and tech skew white and male overall — but entrepreneurs and community leaders see positive change in recent years, and a lot of reasons to believe that the ecosystem is becoming more and more inclusive. 
In addition to PledgeLA, All Raise is also dedicated to upping diversity in entrepreneurship and tech, specifically to "propelling female founders and funders forward." In 2019 All Raise started an L.A. chapter, led by women active in the L.A. startup ecosystem including founder Sofia Polyakov and local investor Carmen Palafox.
Another woman working to make the L.A. startup scene more diverse is Beatriz Acevedo, founder of mitú, a digital media company with a Latinx POV, and cofounder and CEO of Suma Wealth, a financial wellness brand for the Latinx community. While there's plenty of room for improvement, "tech companies and VCs in our city are being very intentional about changing this, and supporting more companies founded by people of color," says Beatriz.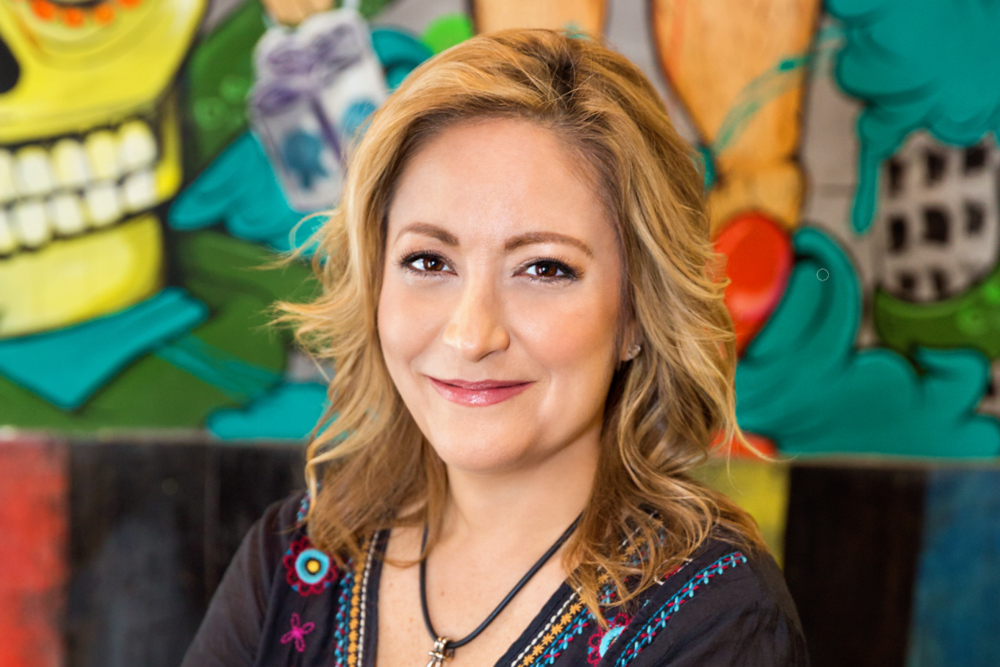 Beatriz Acevedo, founder of mitú and Suma Wealth
"It's impossible to talk about L.A. without talking about the diversity in L.A." says Austin. "And as a result, the tech industry has really started to prioritize diversity."
A Collaborative, Supportive Community
Most of all, what makes the SoCal startup community special is its welcoming, collaborative, supportive spirit. These days, Silicon Valley isn't just insanely expensive to live and work in — it's also hyper competitive. 
That collaborative spirit shows in the way entrepreneurs mentor each other, show up for events, and take each other's calls. "L.A. has evolved to be an amazing hub of innovation and an incredibly diverse community with a very collaborative and entrepreneurial spirit," says Sam Adams, cofounder and CEO of dot.LA. Beatriz agrees: "I find it incredibly collaborative."
Before Anna came to L.A., she spent the late '90s in Silicon Valley, and she remembers the passion in that time and place: "This feeling existed that we were building something special and we were all doing it together."
L.A. now reminds her of Silicon Valley then.