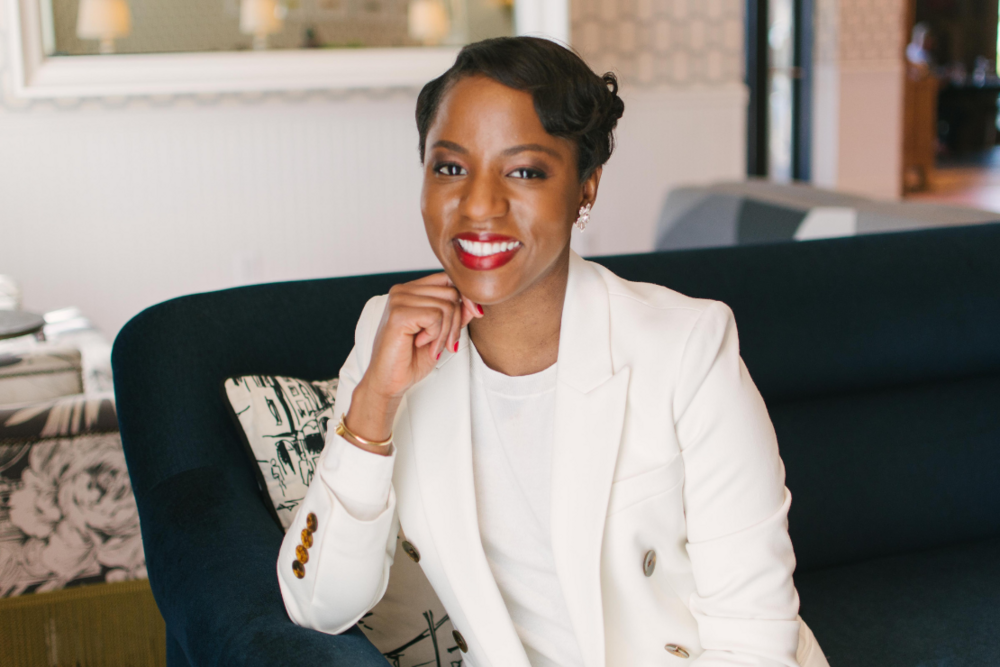 Bola Sokunbi, founder of Clever Girl Finance. Image credit: Caroline Beffa Photography.
Bola Sokunbi is a Certified Financial Education Instructor (CFEI), finance expert, author, speaker, and founder of Clever Girl Finance, a financial education platform and community for women empowering them to achieve financial wellness and live life on their own terms. The company completed the Techstars New York City Accelerator in 2018. In this article, Bola unpacks the challenges women and people of color face while fundraising and growing a business and shares her own experience fundraising as a Black woman entrepreneur. And she explains how she keeps going in the face of bias and adversity. 
Over the years since I started my own business, I've gained confidence in my title as a CEO of Clever Girl Finance and as a Black female founder. I know I'm building a business of value that not only empowers other women but also positively impacts their lives.
I'm a leader to my team, I set the vision for my business, and I execute on growth strategies. These are very much akin to any other CEO's experience regardless of their gender or race and no matter how large and successful their business is.
However, I have also had experiences that are entirely about my race and gender, especially around fundraising. Some of the comments and feedback I have received are based in biases around my gender and my race. My personal experience highlights the experience of women, especially women of color, raising capital in today's world.
Before I get into that, let's first go over some of the statistics around women (like me) accessing and raising capital.
---
Read our mini-interview with Bola Sokunbi.
---
The Challenges Women Entrepreneurs Face Accessing and Raising Capital
The lack of starting capital and the inability of women and minorities to access business capital from financial institutions is a major roadblock in their efforts to successfully build businesses. 
This is particularly concerning given that women own 12.3 million businesses in the United States (making up 40% of all businesses), generate $1.8 trillion in sales, and employ over 9 million people each year. 
Of these women-owned businesses, 5.4 million are majority-owned by women of color, employ 2.1 million people, and generate $361 billion in annual revenues. In addition, in 2019, women opened 1,821 businesses every day and of those new businesses, 64% were started by women of color.
It is well known that women — especially women of color — in addition to earning less on average than their white male counterparts are less likely to get access to capital for their businesses. Women report facing both gender and racial biases when attempting to access capital, with bankers and investors asking questions more focused on their personal lives rather than about their businesses.
My Experience As a Woman of Color Trying To Raise VC Funds
Here is my personal experience attempting to raise capital for Clever Girl Finance in 2018 and 2019. Through 90+ meetings with investors, I received comments — primarily from white male investors representing Venture Capital firms — about how my children could be a hindrance to my ability to build a successful business. I was encouraged not to tell investors I had children or that I was married because it indicated too much "baggage" as a founder. 
I was also asked why I felt women of color did not have equal opportunities in America. These individuals questioned whether this is truly a real issue or just a gimmick to raise capital. This is why I gave you all those stats above: I know that too many people, even supposed experts in startup funding, don't know the numbers.
They wondered whether it was proven that women of color cared about financial wellness. (The answer, by the way, is yes.) They made many comments and asked many questions rooted in sexism, gender-biases, and racial-biases. And they were unwilling to have their biases disrupted by my actual information. 
My efforts to raise capital at that time were unsuccessful. 
My experiences are not unique. Thousands of women in the Clever Girl Finance community have reported struggles with accessing capital to start, sustain, or grow their businesses. Thousands more female and minority founders continue to share their stories and struggles of being shut out of opportunities to get investment for their companies. 
In fact, women received only 2.2% of the $85 billion of venture capital invested in 2017; and of this capital raised by women, Latina women received 0.32% and black women received 0.0006%. In 2018, this statistic remained much the same, with women again raising only 2.2% of the $130 billion of venture capital invested that year. 
You Can Build a Successful Business Despite the Challenges
All this being said, it's still very possible to build an incredibly successful business despite the challenges, and that is just what I'm doing. Here are a few lessons I've learned along the way.
01. In the business of building a business, thick skin is a must 
You cannot survive without it. I'm at the point where I make it a goal to not let myself be affected by ignorant comments or biases — though I'm also not anyone's pushover, and I won't pretend to be someone I'm not. So now my approach is super simple: I'm polite and matter of fact about my opinion or disagreement, all while killing them with kindness. And that's it. Next.
02. Never forget why you started what you started
On incredibly trying days and while meeting those incredibly trying people, I remind myself why I started what I started and why I can't afford to let anyone's expectations take me off the path of my big vision. I get clear, and get back to focusing on my goals. Yes, my goals may be more difficult to achieve, but my experience serves as motivation to achieve them.
03. Don't stop advocating for yourself and others 
While you might face a multitude of challenges accessing or raising capital to grow your business. Don't stop sharing your experience and certainly let your voice be heard. There is no better time than now to seize the opportunity to effect change by pushing for policies to be put in place and by pushing for diversity, equity and inclusion for women and minority founders.
___
The road to building a business is never straightforward and does not come without challenges. Regardless of the path you take, don't be discouraged, instead let the challenges fuel your ambition.