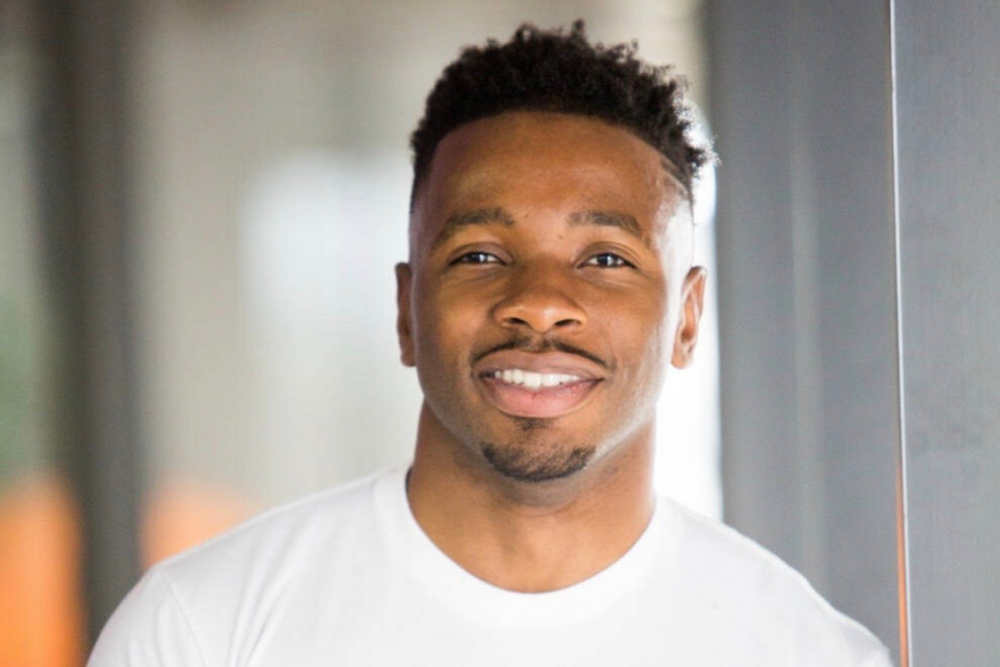 Damola Ogundipe, Cofounder and CEO of Civic Eagle
Civic Eagle | Techstars Anywhere 2019
Legislation and policies in states across the country are moving quicker than ever amidst an ongoing pandemic, civil rights action, and upcoming election. Founded by Demola Ogundipe, Yemi Adewunmi, and Shawntera Hardy, Minneapolis startup Civic Eagle develops software that helps companies in this fast-moving context to discover and analyze regulations with no manual work. The company completed the Techstars Anywhere Accelerator in 2019.
Policy advocates help shape and change the world, and yet it is work which often demands hours upon hours of manual research. The discovery, analysis and management of state and federal legislation is no mean feat, and certainly not in the face of an election year and ongoing pandemic.
Civic Eagle Cofounder and CEO Damola Ogundipe says that he always wanted to have a positive impact on democracy in a way that could scale. According to Damola, there is no better way to do that than removing the manual work from policy work.
Civic Eagle's software Enview brings state and federal bills together so that organizations can unlock efficiency in their workflow. The startup's platform searches, tracks, and works with legislations from across the country to synthesize policy information and enable policy advocates to focus on winning campaigns. In this way, Civic Eagle helps clients to promote better democratic outcomes for people and their communities.
Damola points to examples of how Fair Fight reduced its time reviewing legislation by 75% with Enview, and Fredrikson & Byron pivoted to Enview to deliver with speed to its clients.
Structural Change Through Legislation
The value of the startup's solution is especially evident in the Black Lives Matter movement. Civic Eagle is currently providing its software to racial justice organizations at no cost so that they have the tools necessary to create sustainable structural change through legislation.
Damola — who cofounded the company with Chief Strategy Officer Shawntera Hardy and Chief Product Officer Yemi Adewunmi — says Civic Eagle's Black founding team have always strived to deliver the best product possible despite conscious or unconscious biases in the world of entrepreneurship.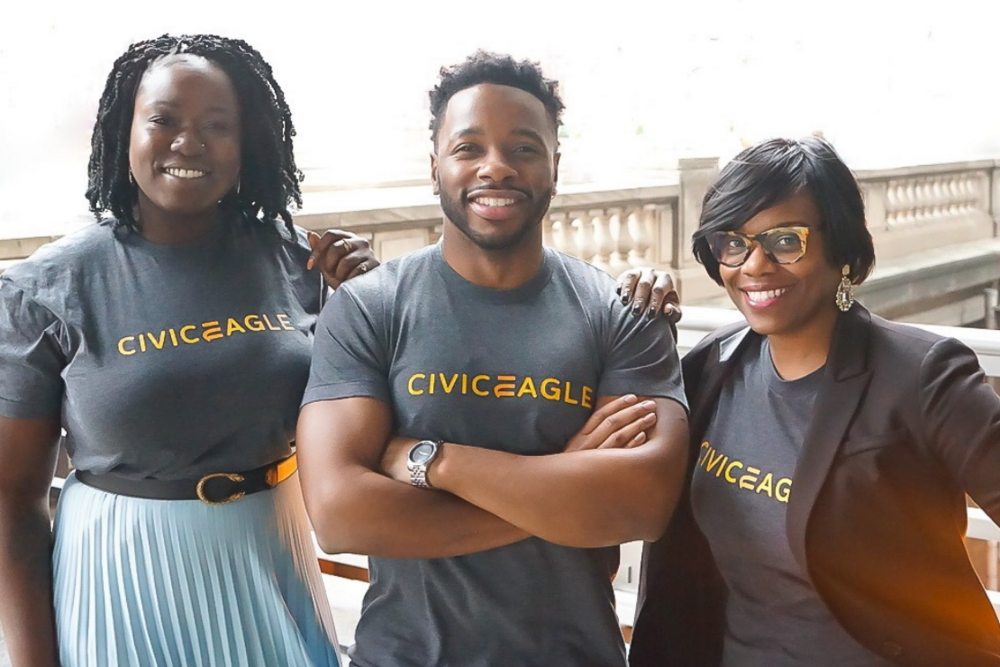 Civic Eagle Cofounders (L to R) Yemi Adewunmi, Damola Ogundipe, and Shawntera Hardy
"Growing up, you hear that you have to be ten times better than your white counterparts to succeed," Damola says. "Every single thing we do as a company is a competition for me. We always have to be ten times better than our counterparts to succeed in every aspect of the company. I bring that intensity every day."
This month, Civic Eagle marks a major milestone as one of the recipients in the Google for Startups Black Founders Fund.
"Google for Startups has been a great partner over the years. To be recognized and funded by them is incredibly humbling, but it's even more special that we're recognized as part of other Black founders," Damola says.
Guidance and Mentorship With Techstars Anywhere
Civic Eagle joined Techstars Anywhere in 2019, the largely remote program which enables founders to continue to build their businesses from anywhere without needing to relocate to join a Techstars mentorship-driven accelerator program. 
"As an early-stage company and as first-time founders, we knew we needed some guidance and mentorship," Damola says.
Since then, Civic Eagle has gone from strength to strength in raising more than $2.6M from investors like M25, ffVC, The Syndicate Fund, Incite Ventures, Backstage Capital, Comeback Capital, Purpose Built Ventures, AVG, Higher Ground Labs and WillowWorks. Moreover, the startup has closed customers including Comcast, The Chan Zuckerberg Initiative. and Fair Fight. 
Civic Eagle recently crossed more than $400,000 in annual recurring revenue and Damola says the startup aims to become a global leader in political technology. 
"That means continuing to grow our current product into new markets while keeping our head up for new product and growth opportunities," he says.
"We also want to be a global leader in remote-first workplaces. Our team has always been fully remote, so we've spent years developing our thesis on how to build a sustainable remote-first culture."
---
Check out all our Techstars Accelerators and see which ones have applications open now.