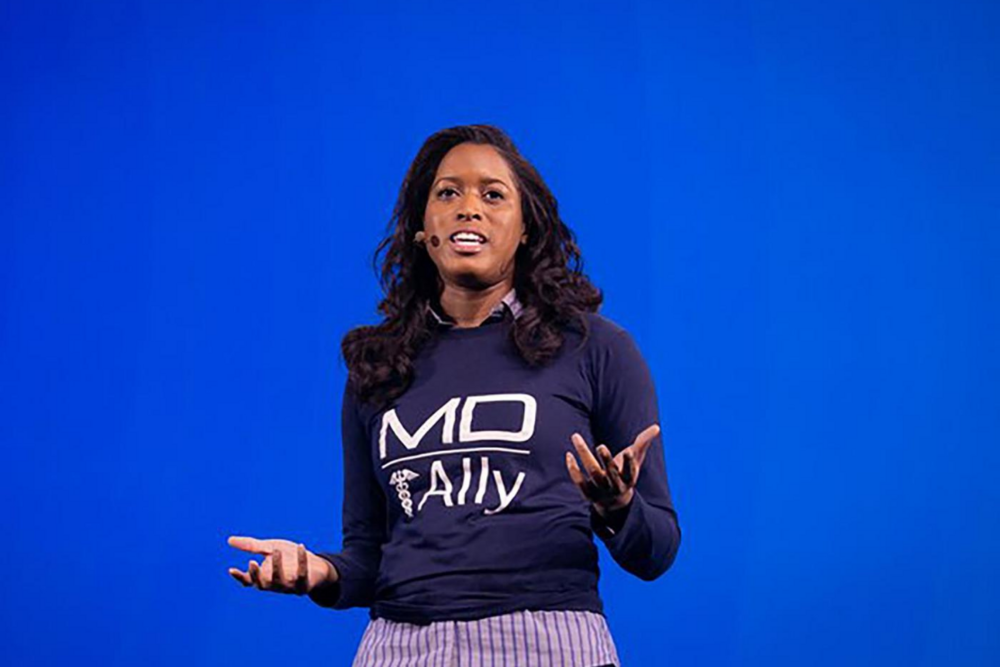 Shanel Fields is the Founder and CEO of MD Ally — a  public safety telehealth company that enables virtual patient care for emergency dispatching and response systems. Prior to getting her MBA from Wharton Business School and launching MD Ally, Shanel led enterprise inside sales and marketing teams focused on National Health Systems, Payers, and independent healthcare entities. Now, as a public safety thought leader, she's raised over $1M in funding and been featured on the front page of The New York Times Business section as well as interviewed by Good Morning America. At MD Ally, she continues to break barriers for driving innovation in public safety, championing collaborative healthcare partnerships, and enabling greater connectivity between 911 and the digital healthcare ecosystem. Shanel is the newest member of Techstars' Board of Directors. 
01. Tell us about your entrepreneurial journey, and how it brought you here, to joining the Techstars Board of Directors.
From the time I was a kid marketing my "authentic" finger-painted masterpieces at family BBQs, I knew that I wanted to start a business. While I didn't receive any life-changing acquisition offers on that small but mighty venture, I did get a taste of what it meant to be an entrepreneur. Since then, I've spent most of my career leading enterprise sales and marketing teams for mobile and healthcare technology companies. Most recently, I started a public safety telemedicine company, called MD Ally, while getting my MBA at Wharton Business School.
Our team participated in the Techstars Seattle Accelerator. We were lucky to meet and work with Techstars cofounder and CEO, David Brown, given his (and Techstars cofounder and Managing Director David Cohen's) prior experience in public safety technology. From the standpoint of a tech founder and CEO, it's been great to return the favor and provide Techstars with strategic advice about entrepreneurship, fundraising, DEI, etc. and I look forward to adding my expertise to the board.
02. Why is it important to have a founder — one who has been through a Techstars accelerator — on the board?
For any company, there's immense value in having someone on the board who has relevant experience as a "client" of the company. In Techstars' case, it means benefiting from having a founder's voice in the room that can provide insight into what the company's founder experience is like. My team has participated in Mentor Madness, attended Founder Dinners and, due to COVID-19, was part of a cohort that was half in-person and half virtual. Being a board member with a "founders first" perspective helps to enrich strategic discussions and positively impact both the company and founders we work with.
03. What impact do you hope to have on the future of Techstars?
I'm a founder and I love everything that that entails; including the mission-driven 24/7 grind. There are so many ways that Techstars already adds value for startups and my plan is to help amplify that. I look forward to working with the leadership team, employees, and founders to support initiatives that deepen the effectiveness of the network, provide entrepreneurs with actionable data and insights, and improve the outcomes of our accelerator programs. 
04. What did the Techstars Seattle Accelerator do for you and your company, MD Ally? 
During Techstars, we had the opportunity to work with a great team led by Isaac Kato and Qxhna Titcomb, who understood and fully supported our vision for driving innovation in public safety. The program accelerated our ability to execute critical projects on our roadmap, supported in progress fundraising efforts, 10x'd the size of our network, and helped us implement more structure and rigor around our internal operations. While MD Ally is still my primary focus, I look forward to advocating for founders' interests across the board, which will subsequently optimize the performance of our portfolio. 
05. What more can Techstars do to support diverse entrepreneurs? 
Invest.