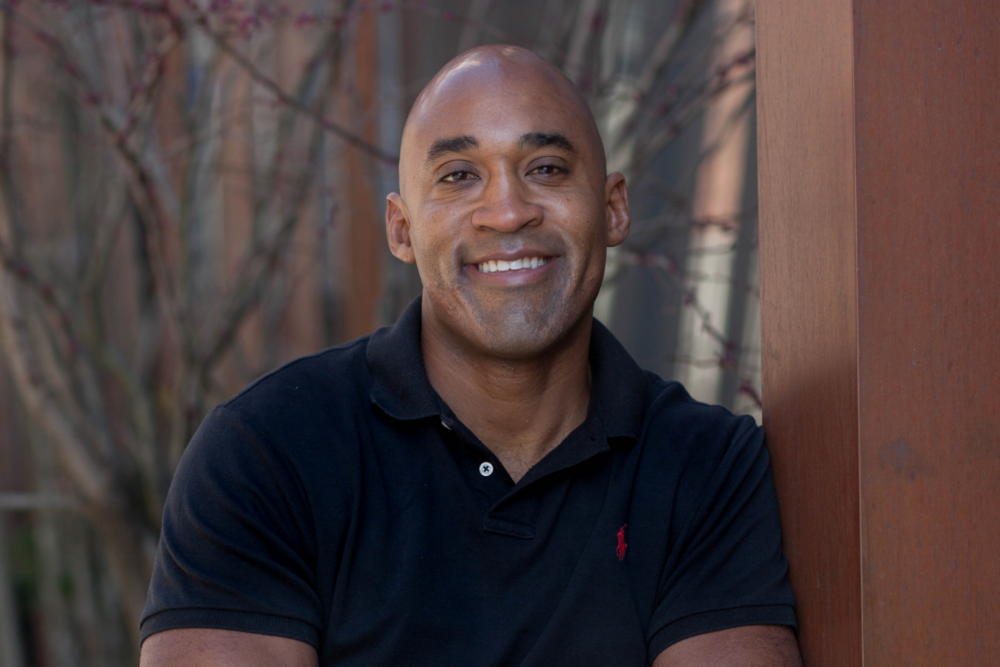 Sherman Williams is an experienced advisor and early-stage venture investor. His investment areas include healthcare technology, frontier technology, logistics, and marketplaces. Prior to becoming an early-stage investor, Sherman gathered six years of financial transaction experience as a Healthcare Technology M&A Investment Banker. Sherman started his career as a Naval Intelligence Officer. He holds an MBA from the University of Chicago and a Bachelor of Science degree from the United States Naval Academy.
---
Want to learn more about Techstars LA? Check out our AMA (Ask Me Anything) with the Techstars LA team on Clubhouse, Friday, March 12 at 4 pm PT
---
01. Why are you joining the Techstars LA Accelerator as EIR (Entrepreneur in Residence)?
Techstars enables me to be more than just an allocator of capital, it enables me to work closely with the companies as they search for product market fit. As I build my career in VC, I think it is important to be more than just an allocator of capital, so the work that I will do helping Matt Kozlov — currently Managing Director of Techstars LA, formerly MD of the Techstars Starburst Space Accelerator — source companies for the cohort and subsequently assisting these companies both when they are in the program and after is in line with my goals.
---
Read a mini-interview with Matt Kozlov, Managing Director of Techstars LA
---
I must also say that I truly believe in Techstars programming. I was fortunate enough to operate in a similar role with the rockstar duo that is Matt Kozlov and Bonnie Rosen for the Techstars Starburst Space Accelerator 2020 cohort, and came away very impressed at the work done to help the founders build their business and attract VC funding. The program was top-tier, and after the program I said to myself that I would jump at the opportunity to work with Techstars again, especially if I could work with either Matt or Bonnie.
Lastly, I am excited to get to know the companies and the startup ecosystem in Los Angeles. Los Angeles has a strong and rapidly growing VC ecosystem, tying NYC in 2020 on deal value, which makes the city tied for the number two VC ecosystem in the U.S. The LA ecosystem is very strong in some of the areas where I have traditionally advised and invested — frontier technology, healthcare tech, and logistics — and the city is also strong in other areas where I have not traditionally advised and invested, such as media and DTC ecommerce. I am excited to flex my existing muscles while also building out my knowledge base into areas where I have not traditionally invested. So, along with helping companies, I intend to learn as much as possible while operating in this role.
---
Read all about the flourishing Southern California startup ecosystem
---
02. What are some of the biggest learnings from your career that you bring to your EIR Position?
I bring the perspective of a Military Officer (leader), a founder, and also someone who has strong finance and deal transaction experience.
My military background enables me to guide founders on leadership and interpersonal small team dynamic issues. I also understand how to instill a work ethic within a team and meet deadlines. As a military officer, particularly when on deployment, I learned to bring a team together and relentlessly drive toward executing a mission. This experience in some pretty intense environments helps me guide founders as they work to grow their business.
I am also able to empathize with founders as a founder myself, considering my current role of starting a venture fund and syndicate. In 2020, I, along with my cofounder Emily McMahan, started the Academy Investor Network (AIN). AIN is an early-stage venture fund and investment syndicate that invests in i) U.S. military veteran-led startups across all sectors, and ii) non-veterans and veterans building technologies designed to make the country safer, operate more efficiently, and also have a strong commercial use case. I am dealing with launching new products (for the benefit of my syndicate), raising capital (for the fund), and evaluating companies for investment. I acknowledge that starting a company is a much higher degree of difficulty relative to starting a fund, but the activities do have similarities.
My M&A and equity underwriting experience enables me to help founders think about market sizing, business models, term sheet negotiation for funding and contract negotiations with customers. At the end of the day, founders are solving problems for customers, but they must also put the business on a strong financial path through a combination of sales and raising funding, and my experience enables me to help them with that.
03. Describe a situation with a startup founder or team where you felt like you made a difference.
In last year's 2020 Techstars Starburst Space cohort, I helped a space technology company, Infinite Composites (ICT), hire a former Naval Submarine Officer in Oklahoma. Other than the ICT team, I do not know anyone in Oklahoma, and prior to Techstars I would not have thought about a Space Technology company being based in Oklahoma. Also, without my knowledge of ICT, I would not have known how to help out a veteran seeking to work in technology back in his home state of Oklahoma. This situation speaks to how important having a strong network is. I am excited to continue to build out my network and leverage it to help founders build and grow their companies.
04. What are you and Managing Director Matt Kozlov looking for in startups for the 2021 class of Techstars LA?
We are looking for teams that sit at the intersection of having the vision to solve an acute problem in a large market, and have the ability to execute on their vision. Big problems and large markets often go hand-in-hand when dealing with venture scalable businesses, but we must ensure that both are in place. We must also assess that the founder and team has enough leadership, determination, and grit to grow the company into a venture-scalable business.
We are also looking for startups that can leverage the best attributes of the LA innovation ecosystem. From frontier technology, to healthcare and media/entertainment, LA has a lot to offer, and we think it is prudent to select a class that can best benefit from LA's strengths. I must say that means we can invest in almost any kind of startup because the LA economy is so diverse.
05. Why is diversity in VC and the accelerator world important?
Diversity in VC and the accelerator world is important because it leads to better returns, and VC-backed companies can be a part of the solution to solving economic inequality.
As investors we are judged by our ability to invest in companies that generate returns. There is strong statistical evidence that diverse teams consistently outperform non-diverse teams. I want to be clear here: when I say diversity I mean racial diversity, gender diversity, and diversity of thought. Further, there is strong correlation between racial and gender diversity and diversity of thought (please note I did not say causation). Statistically speaking, having a portfolio with little to no diversity will hurt portfolio returns. Accelerators serve as one of the pipelines into venture capital; therefore, it is imperative that accelerators intentionally seek out diversity in the companies they bring into their programs.
Despite clear evidence that diversity is important, VCs often rely on their networks to source deals and are not intentional about diversity. Therefore, we also need diversity amongst the capital allocators, VCs, because it is more likely these VCs will have diverse networks.
Lastly, VC-backed companies represent some of the greatest sources of wealth creation, job creation, and innovation in the modern day economy. Economic inequality is a major detriment to our society and these companies can be a part of the solution to solving this inequality.