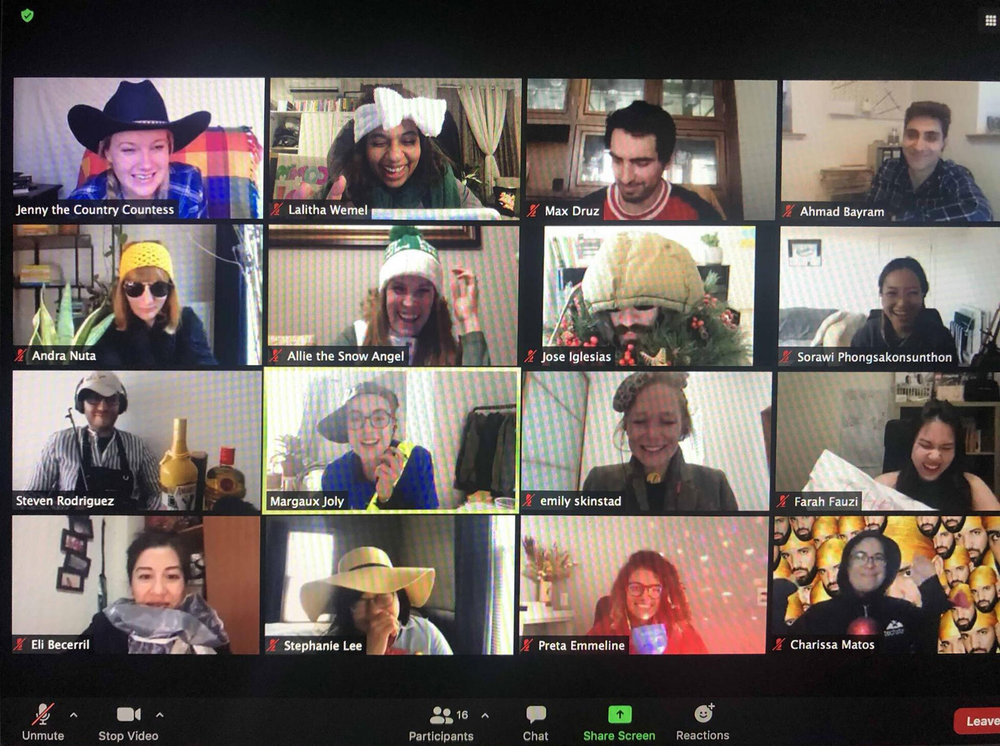 Lalitha Wemel, Regional Director of Community for Asia Pacific at Techstars, offers practical advice for how to create an inspiring, engaging team offsite — even when your remote team is located literally around the world. Read on for key steps and helpful tools.
I have been part of the incredible, diverse, and dynamic Community team within Techstars for over six years now. Together, we manage the incredibly popular Techstars Startup Weekend and Startup Week programs, which have supported literally hundreds of thousands of entrepreneurs around the world (Interested? Find a Startup Weekend near you!). 
We had a big year of working to support cities virtually, and whilst COVID-19 had an enormous impact on our global communities and the work we do, being a largely remote and distributed team is not new for us. We've always looked at being distributed as a strength and have leveraged many tools and technologies to do great work; but at the same time we've always cherished the annual time set aside to come together as a team. 
With so many moving parts during the crazy year that was 2020, it became very clear that our conventional team offsite was just not going to be possible. However, the team leads, me included, felt very strongly that we needed to find a way to bring our team together. Despite the distance, the timezones, and the brutal time the world was going through, we had such a big year as a team that coming together, even if just virtually, felt very important. 
So I asked myself the question, how might we host a virtual offsite that's actually fun, doesn't waste our time, allows us to strategically prepare for the year ahead, and accomplishes the ultimate goal of bringing our team closer together? 
How can we look beyond another set of video calls and a day filled with lengthy presentations about strategy? How do we strengthen our team, and empower greater belonging and safety during such unprecedented times? In-person offsites allow for so much more human connection, actual innovative serendipity and fluid cross-team networking between normal mundane sessions. It is a challenge to facilitate the same atmosphere online; but definitely not impossible. 
With the above in mind, I set out to build an immersive, interactive, and experiential virtual three-day offsite across seven countries and six time zones that would allow our team to feel celebrated, energised, and united — regardless of distance. 
The good news: IT WORKED!!! 
The even BETTER NEWS: I've compiled my learnings into six overarching lessons that will definitely help you build a great virtual team offsite.
01. Timing Is Everything! 
Finding the right time is the first to-do in planning your virtual offsite — and it will heavily depend on a few key things, mainly your team size, time zones, and the goal of your offsite. Offsites, in general, should be planned and executed around gaining team alignment, discussing big picture topics, having strategic input, and coming together as a team. So think about the time you'll need to get through these big ideas and activities. 
Our team is 14 people strong and spread across a really wide timezone gap, from Mexico (GMT-6) to Malaysia (GMT+8). Finding a time that worked for everyone was challenging, but not impossible. It did mean late nights or early mornings for some teammates, and we settled on three and a half hours per day, across three days, inclusive of breaks. 
Here's a sample virtual offsite day for our team of 14 based on our wide time zones gaps (all times in Eastern, EST)
Session 1: 8 am to 8.50 am 

Offline / Camera-off Break: 8.50 am to 9 am 

Session 2 (Activity): 9 am to 10 am 

Offline / Camera-off Break: 10 am to 10.10 am 

Session 3 & Wrap Up: 10.10 am to 11.30 am 
Pro Tip: Communicate early with team members affected by potential non-office hour timings and ensure their work calendars are blocked off so they have time off to recover from these unconventional timings to allow them to be their most productive selves at the offsite. 
02. What's On The Agenda? 
Firstly, Zoom fatigue is REAL! When planning your agenda you want to be sure to incorporate meaningful work, fun team bonding activities, and short offline breaks to ensure your participants stay as focused and present as possible throughout. 
Every single thing you build into the agenda has to be purposeful and fun. Team members are putting time aside (early, during the work day, and late) so every activity that is put forth should be value-adding in some way and invite them to be engaged. 
As a first step, our team leads came together to settle on a theme. We summarized the theme with a word and a feeling that we wanted our team to feel at the end of our three days together. And from there it was easy to build three days of content.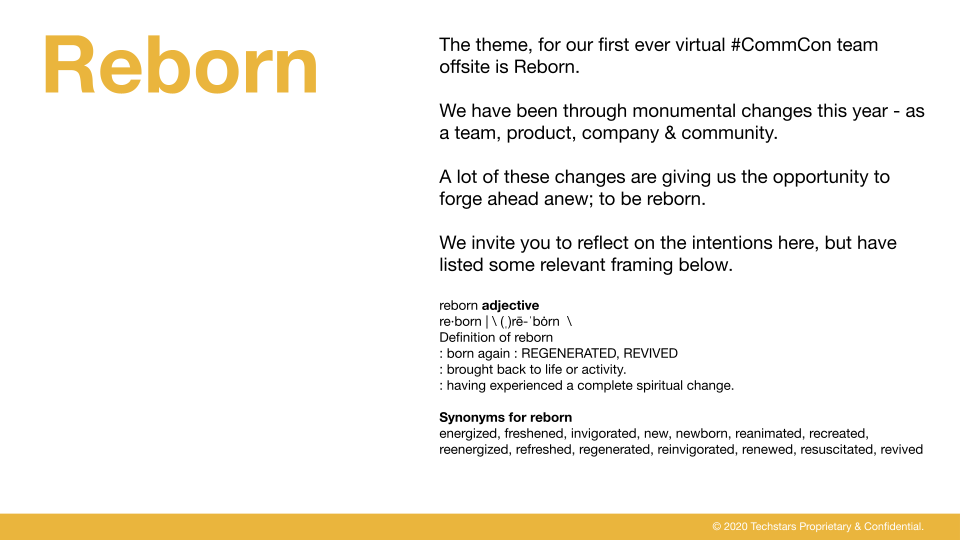 Our word, feeling, and definition support for our 2020 offsite.
Pro Tip: We broke our three days into three distinct sub-themes: 
Day 1: Reflection & Accomplishments (to understand our strengths & weaknesses) 

Day 2: Clarity, Goals & Setting Ourselves Up For Success (to define our next steps) 

Day 3: Appreciation & Gratitude (to celebrate the value & importance of every team member)
Each day had a clear outcome and it helped us keep all of our activities on track. So when building your agenda, ask yourself, what do you want your team to achieve at the end? And how will each day help you get there?  
Due to our time zone limits we did not schedule social time every day in our agenda. For teams in easier time zones, scheduling social times as part of the agenda to foster serendipity, flow and connection will greatly benefit the experience. We did, however, have an Airbnb Scavenger Hunt Experience to kick-off our offsite on Day #1. That activity helped us break the ice quickly, set a tone of fun and created a great memory very early on! 
03. Communications is KEY
Clear communication will elevate your team's experience. Make sure you:  
Set up your preferred communication channel - We created a new channel in our company Slack to streamline all comms during this offsite there, instead of in our usual team channel.

Send out emails and participant prep material - We created a Participant Experience Kit that clearly outlined our theme, detailed agenda, prep work, supporting documents, external activity links, materials needed, easy link to our full tech stack, and recap notes.

Take Notes - We made sure someone was in charge of taking notes throughout the offsite to make action steps and transparency clear for the whole team. 
Pro Tip: Put ONE person-in-charge of comms. 
04. Create A Tech Toolkit That Works for YOU! 
After a lot of research, our tech stack was made up of tools we use every day. This allowed us to jump straight in it without needing to learn, prep, or figure our new tech. 
We leveraged the tools we already use company-wide, affording us a seamless, stable, and transparent interaction with each tool. We used: 
Zoom - For all our video conferencing

Slack - For streamlined comms throughout the offsite in a newly created channel  

Google Suite - For all our prep documents, note-taking, slides, forms, and sheets. 
Other important, one-off tools we used: 
Miro -  A collaborative whiteboard platform that is designed to allow distributed teams to work effectively together (with virtual post-it notes). We leveraged a lot of Miro's templates to build interactivity into our strategic, social and learnings. Some specific templates we used include Stop Continue Start, Team Retrospective, and How Might We? 

Spotify - For uninterrupted music during team activities, to avoid an awkward silences 

Airbnb Experiences: Living Room Legends - This virtual Scavenger hunt was our social team activity and it had us all darting through our home finding odd items called out by our host which created a ton of laughter, weird screenshots and so much fun! 
05. It's All About Team Spirit 
At the end of the day, your team offsite is for the team — to support them, recognise them, celebrate them, and build with them towards bigger success. As much as we focused our first two days on strategic work, retrospective lessons, and how we can productively continue working as a dynamic remote team, we emphasised that Day Three was all about appreciating our team. Below are some activities we did that were a big hit with our team: 
Recognise all individuals: Prior to the offsite, we got all managers on our team to write out a highlight moment for each team member based on their work across the year. During our offsite, we surprised our team with these recognitions, spotlighting each of them individually, and celebrating everyone, together. 

Leverage team expertise: Create sessions that allow different team members to lead and showcase their expertise — both for work or outside it. This creates depth in your team connection and inspires new team collaboration. 

Appreciation for teammates: An exercise inspired by First Round Review, we had a silent 20 minutes with everyone on the call and we sent a Google Form out for everybody on the team to write one line about every other person on the team and what they enjoyed about working with them. Answers are anonymous. After they're all in, the meeting owner rounded up the lines for each individual and shared them in a private email.

Celebrate the team: We commissioned a local artist to draw a team portrait (below) for us as a way to celebrate all the fun parts of our team, to have a team picture that is not just another video call screenshot, and to have an unconventional, personalised takeaway from our offsite. We got our whole team to fill up some fun facts about themselves and we worked with the artist to personalize each window to each team member's personality — from their pets to their favourite manga to their favourite colour.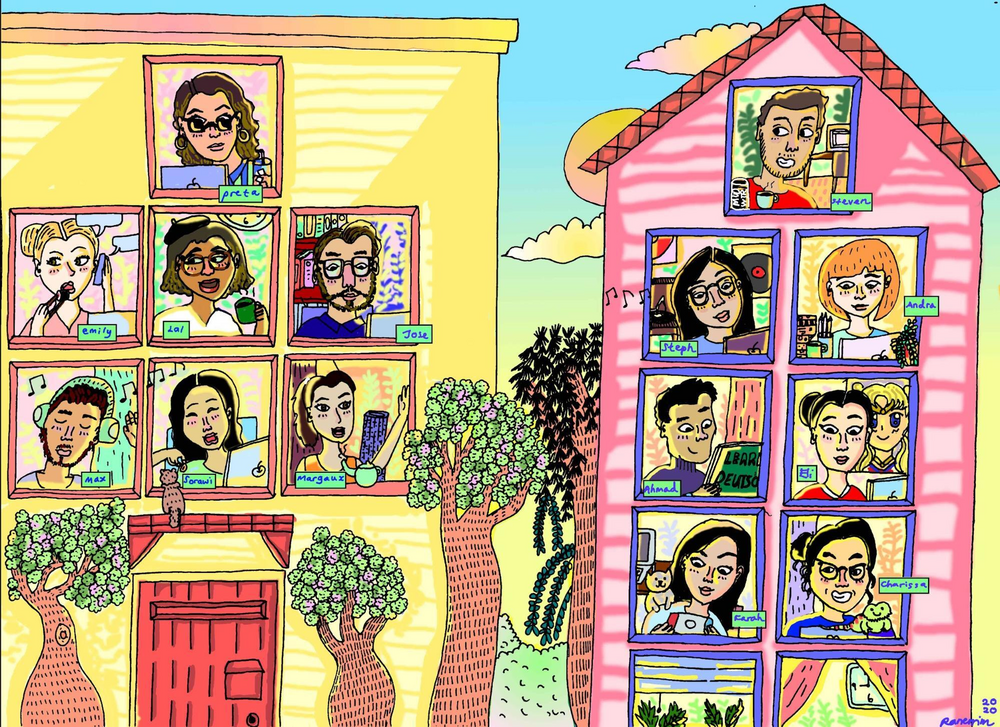 Our team's 2020 team photo, illustrated by @ranerrim.
06. Lastly, Dos & Don'ts 
DO invite external speakers — they bring fresh perspectives and inspiration, and they encourage new collaborations! 

DO ask for feedback when building your agenda — it helps you stay on track. 

DO set a clear agenda — it ensures a productive and clear use of time. 

DO add interactivity into every session — it helps enhance creativity and flow. 

DO have a facilitator — this removes the burden from the manager or organiser and ensures the flow and energy of the event is in the right hands. 

DO clear your team's calendar — team offsites should be treated the same as other real conferences or meeting days. Calendars should be blocked to preserve energy and to avoid burnout. 

DO leverage technology to increase engagement — think about the size of your team when planning activities, discussion, and breakouts to increase the impact. 

DO build an experience — Don't just make it virtual. For our next team offsite, we'll definitely try to incorporate some kind of tangible, offline swag or experience. It doesn't have to be crazy or expensive, just something that helps make the experience more personal and connected. 

DO brand things to create a cohesive look and add validity to this being "more than a normal meeting" for the team. Create a team offsite name, add some design! 
DON'T pack too much into the schedule — not everything needs to be completed at the team offsite. Prioritise the topics, themes, and outcomes to keep a focused schedule. 

DON'T forget to take notes — this helps to create clear actions after the event. 

DON'T just have keynotes — leverage your tech to have a multitude of activities including workshops, panels, whiteboard, brainstorms, and scavenger hunts. It will make for a more purposeful, meaningful, and memorable experience. 

DON'T be afraid to reach out and ask for help — your team members (inside and outside your department) may have some amazing ideas to bring to the table.

DON'T forget to set aside time to wrap up on the last day as well as sending out an email with action steps moving forward from the offsite and thanking the team for their energy, time, and contribution. 
Since our offsite, our team has restructured our roles, goals, and strategies for 2021 (and beyond) based on the incredibly helpful insight, feedback and ideas our team developed across our three days together.
As I'm writing this, the world is still uncertain. So don't hold back or hesitate, get that virtual team offsite on the calendar as soon as possible. Even though we can't get together as we normally would, that doesn't mean we skip it altogether — it just gives us an opportunity to rethink what that experience looks like and how you can enjoy together, as a team! 
Investing in your team's happiness benefits everyone! Happy planning! 
Resources 
Here are some template documents that you can use in your planning process. I hope they help you create exciting new experiences for you and your team! 
Here are some incredible articles that helped me in my planning process: