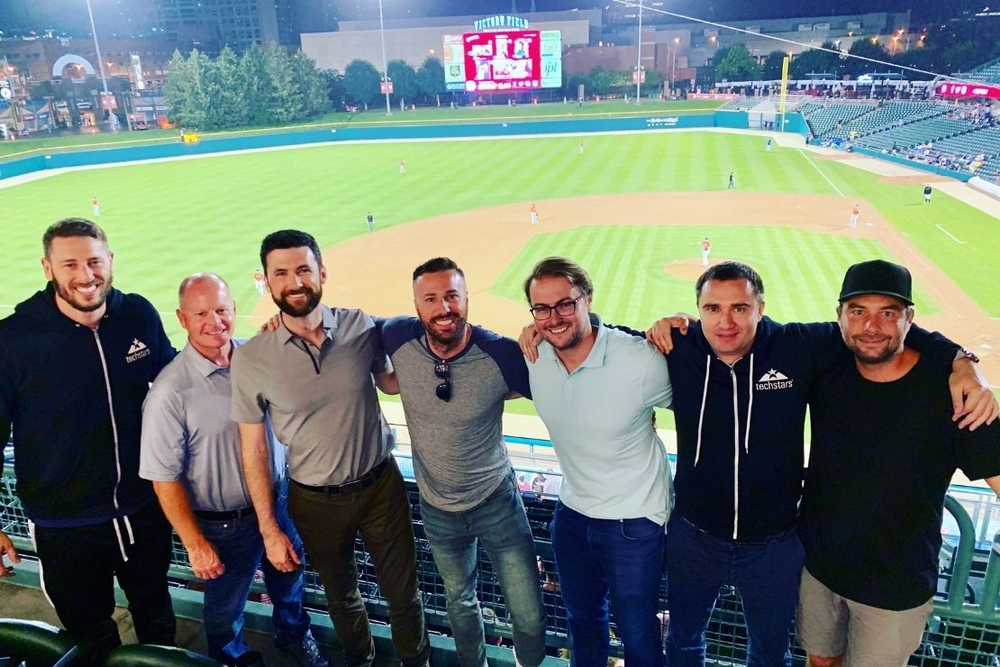 A field trip to Victory Field, home of the Indianapolis minor league baseball team.
Indianapolis is synonymous with sports. The Midwest hub is legendary for its sports teams and events, including the Indianapolis Colts, Indiana Pacers, and the Indianapolis 500, and it is also the headquarters for several prominent sports organizations, including the National Collegiate Athletic Association (NCAA) and USA Football. By coupling this rich sports history with its emerging tech hub, Indy continues to strengthen its position as the nation's premier location for sports startups. Indy's rapidly-evolving entrepreneurial ecosystem is shaping the future of sports — and the future of the region.
A Shared Ecosystem Playbook
Given Indianapolis's sporting DNA and growing tech credentials, the region is well on its way to becoming a global hub for sports tech. Today, Indy ranks fourth overall in the top startup cities in the Midwest, but it is sports-focused startups that have quickly become one of the ecosystem's defining features.
"There just aren't many cities in America as effective at leveraging sports as a true economic driver as Indianapolis is, and that doesn't happen by accident," says Rick Fuson, Pacers Sports & Entertainment President and Chief Operating Officer. "It happens because we have all the players across the industry working from the same playbook."
That playbook seeks to turn great ideas into great businesses, and to get those businesses functioning as a community and a self-sustaining ecosystem. To achieve this, it helps to have a few important pieces in place. A startup ecosystem needs some key elements in place to make it thrive: entrepreneurs, investors, talent, government, corporations, and universities. In Indy, all of these pieces have come together thanks to a consortium of heavy hitters backing the Techstars Sports Accelerator Powered By Indy.
The mentorship-driven program is designed for companies focused on the future of sports, ranging from new technologies to new business models, with support from the biggest public and private groups in Indiana. Founding partners Next Level Fund, 50 South Capital, Indiana Sports Corp, NCAA and Pacers Sports & Entertainment, and supporting partners the Indianapolis Colts, Verizon IndyCar Series and Indianapolis Motor Speedway, have all backed innovative startups aiming to combat issues in sports technology since 2019.
Entrepreneurs from the Techstars Sports Accelerator Powered by Indy visit the Indiana governor's office.
"We have quickly become the Tech Hub of the Midwest, and our city and state leaders have had the foresight to invest in making this a business climate where tech can thrive," Rick says.
Sports Startup Success Stories
Sports startups have certainly thrived in the two years since the Techstars accelerator launched. Every year, Techstars invests $120,000 per company in 10 sports startups, with a special focus on e-sports, fan engagement, fitness and nutrition, AI and robotics, sports media, athleisure, and more. In 2019, four startups raised venture rounds, and startups in the program grew so fast that one achieved a seven-figure run rate — a common startup metric that forecasts future annual earnings based on past revenue — and another an eight-figure run rate. In 2020, nine out of 10 startups hit their in-program fundraising goals, which range from $500K to $2 million, despite the pandemic.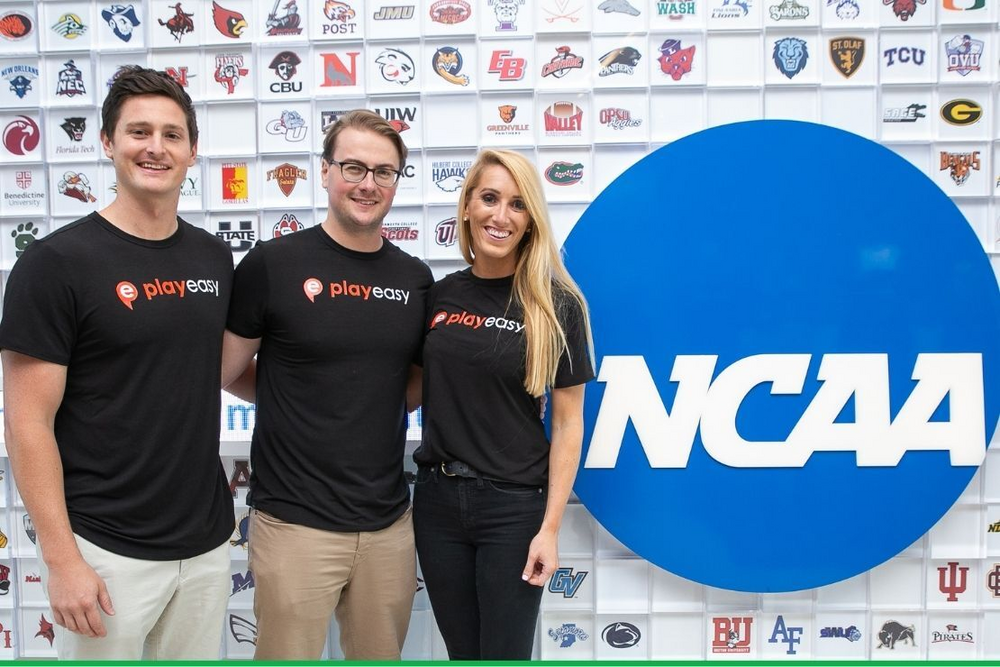 The founding team of Playeasy, from the 2019 accelerator cohort, Ryan Quigley, Sean Flaherty (founder), and Kerry Shields.
Better yet, founders aren't just coming to Indianapolis for the accelerator and leaving — some are hiring local talent and moving to the city for good. Class of 2020 graduate Rebus Technology, a Colombian-based fan engagement company, recently moved its headquarters and most of its employees to Indianapolis. "Being here gives us access to industry-specific talent and builds strong networking opportunities," says CEO Juliana Villalba. 
Similarly, Tennibot, an autonomous tennis assistant which picks up balls for players, has relocated some of its manufacturing to the city and plans to open an office. "The intersection of sports and tech is what makes the city unique, and we have found great mentors and investors who are part of the local ecosystem," says founder Haitham Eletrabi.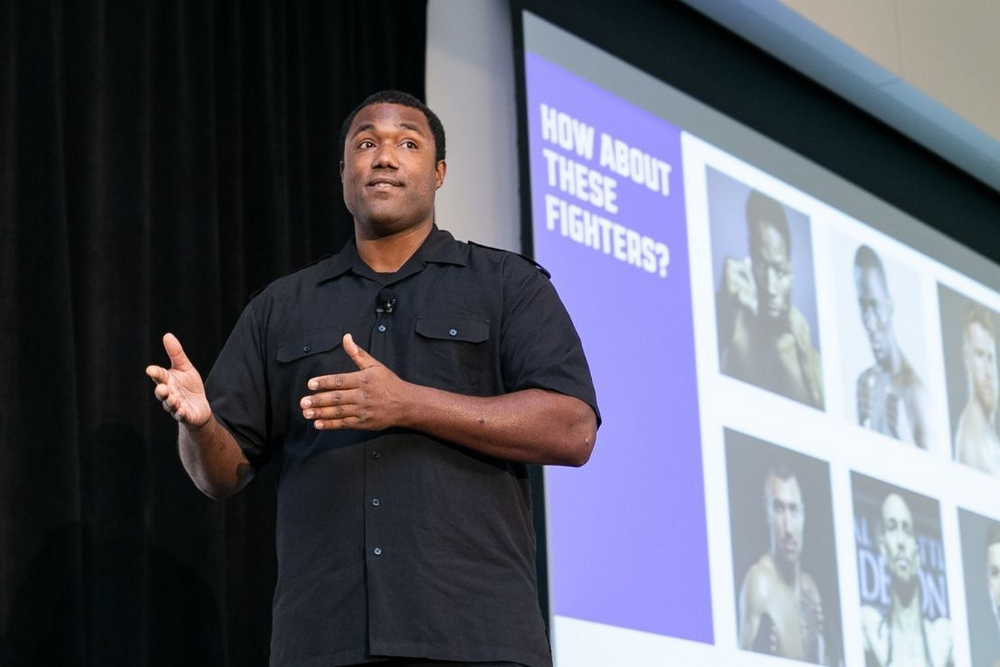 George Foreman III, founder of Fan Powered, part of the 2019 accelerator cohort.
"I'm in awe of a lot of our founders," says accelerator Managing Director Jordan Fliegel. "I could never invent an autonomous robot that retrieves tennis balls, I wouldn't know where to start! But we help founders to tell their story, and we offer them amazing connections with more than 175 mentors who work with the accelerator, from league executives to successful founders and celebrity athletes."
"We want to take advantage of everything Indy has," Jordan says. "We're not just offering money and guidance, but partners and a very interested government who can be very helpful to the startups."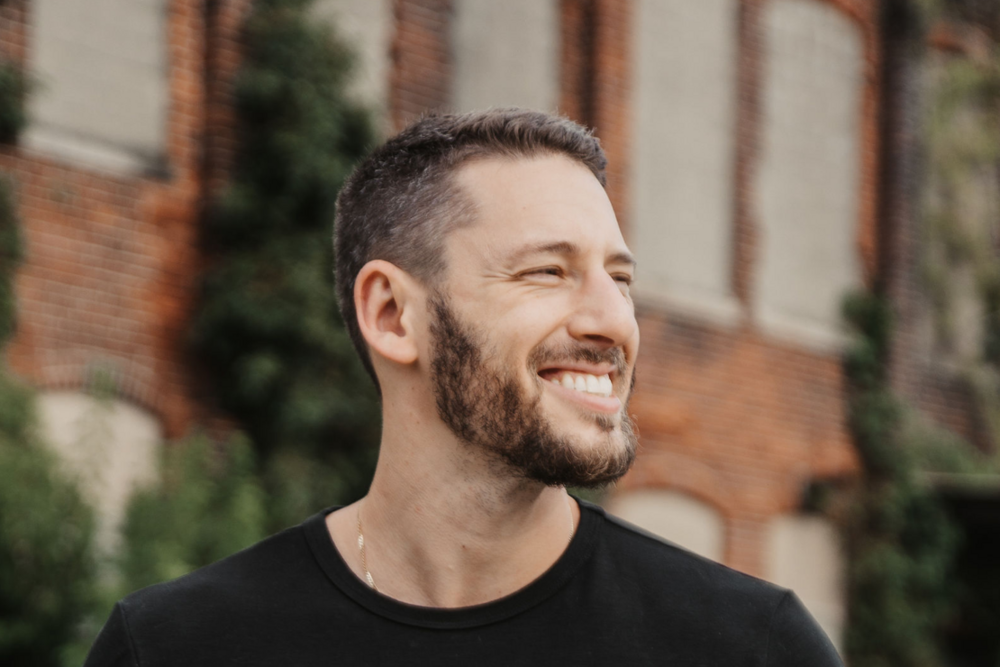 Jordan Fliegel, Managing Director of the Techstars Sports Accelerator Powered By Indy.
---
Read a mini-interview with Jordan Filegel.
---
More Business, More Jobs
This positive feedback loop between established sports groups, a supportive government and cutting-edge startups is leading to a rush of new ideas, says NCAA Chief Information Officer Judd Williams. The optimism is contagious, with attitudes evolving from "I don't know how to get that started" to "let's do it" and "why not here in Indy?"
"I see the accelerator bringing new attention to Indy," Judd says. "New VC groups are now visiting, tech talent is being drawn here, new startups are being created all the time — and the infrastructure, including government leaders, laws, and tech leaders, is in place to help build and support this ecosystem."
The economic benefit is two-fold, with the new business generating more jobs. During 2019 and 2020, 32 Indiana-based summer internship and associate roles were created by the program, with one-third evolving into full-time positions with the companies. Graduates of the excellent nearby universities — including Indiana University, Purdue, Notre Dame, Butler, and IUPUI — are seeing enough activity to stay in Indianapolis and typically fill the majority of the internship positions. The experience is invaluable as it is intense, with the young professionals paired with venture-backed startups to become acting chiefs of staff. They sit in on meetings, meet managing directors and drink through a firehose over 13 weeks. 
"If they weren't already thinking about joining or creating a startup, most leave thinking it's a great place to start," Jordan says.
Indy's Past, Present, Future
Sports are such a tremendous part of Indy's past and present, and this ecosystem's concerted effort to nurture the sector is cementing its future. There are few places in the world where sporting innovation is so deeply dissected, from fostering early identification of key trends for future technology in sports, to meaningful engagement with early-stage sports tech companies, to the embrace of technologies and business models that will impact the sports industry. 
And this focus on growing world-class sports companies is already paying off, says Indiana Economic Development Corporation Chief of Staff Luke Bosso.
"Over the past four years, the IEDC has made a concentrated effort to help attract and grow more tech companies to Indiana," Luke says. "Techstars putting multiple cohorts here is validation that we are on the right track. With the Next Level Fund and Elevate Ventures, Indiana is excited to continue growing companies in our thriving tech ecosystem."
"It takes a village to raise an athlete," Jordan adds. "And our Indy village with Techstars has come to raise sports tech companies. The collective effort is so much more valuable than any of us could achieve on our own."
---
Applications are now open for this year's Techstars Sports Accelerator Powered by Indy. Applications for the program close on February 28, 2021.