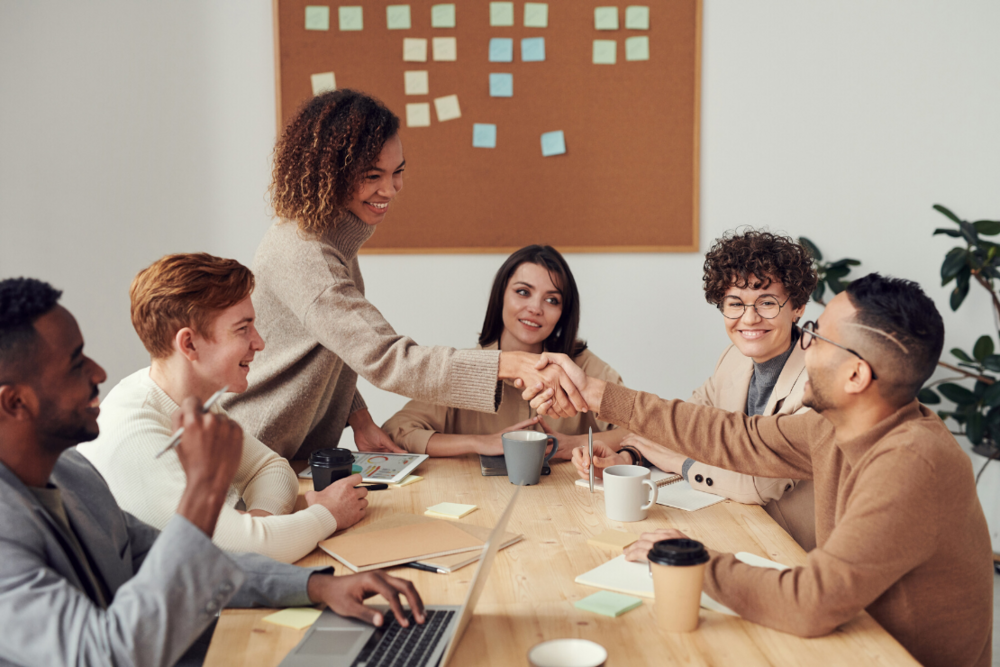 5-min read
By Claudia Reuter, Techstars General Manager Americas East 
The new decade had already brought with it the promise of automation's exponential advancement, the accompanying fourth industrial revolution, and an ever-more rapidly evolving business landscape that would punish any lumbering corporation's failure to swiftly innovate. Four months in, and the decade is considerably over-delivering on that promise.
Big businesses, even before coronavirus, were staring down a decisive moment. While nimbler startups rapidly navigated changing terrains, more bureaucratic and entrenched corporates confronted a dismal longevity forecast, with half of the large S&P 500 companies facing failure within this decade. Hard-pressed, 2020 then brought them COVID-19, plummeting global demand, and totally unforeseen obstacles to operating.
As lockdowns ease, and big firms long to bring operations back up to speed, their salvation will be ingenuity. Their fighting chance, meanwhile, may well be found through their embracing of an emergent trend towards corporate-startup partnerships.
---
Comcast NBCUniversal is partnering with startup TakeShape to innovate. Read about how they're making it happen. 
---
In seeking to navigate COVID-19's choppy seas, corporations should take their cue from corporate-startup collaboration success stories, finding guidance in past partnerships aimed at technology integration and co-creation. They should move quickly, but tread carefully, paying close attention to which aspects of these partnerships have been conducive to success, and which have impeded. 
The New New Normal
At the dawn of the new decade, lumbering corporations were struggling to understand the secrets of being adaptive. As they grappled with fundamental shifts in the nature of work, the dynamics of the workforce, and the notion of the workplace, the disruptive force of technology was killing off older companies earlier and at a faster rate than in previous decades. According to Innosight reports, the average lifespan for S&P 500 companies would likely be 20 years shorter by 2026.
Prospects in the first months of 2020 have obviously gotten grimmer. In the wake of the pandemic's outbreak, the unprecedented drawdown in demand and the totally unanticipated obstacles to operating present big businesses with even more formidable peril. 
In part, corporations' survival depends on their balance-sheets and how easily they can tap government loans, guarantees, and aid. But as lockdowns are loosened, the ability of big businesses to bounce back will also turn on their capacity to innovate flexibly and creatively. 
---
Comcast NBCUniversal is partnering with startup TakeShape to innovate. Read about how they're making it happen. 
---
If only they might borrow a bit of that ingenuity and agility from startups, whose forte has been to capitalize on disruption, to identify market gaps and move to fill them. Fortunately, an already emerging trend towards corporation-startups partnerships – realized through innovation labs, corporate accelerator programs, and venture funds – offers a testament and roadmap to such fruitful collaborations.  
Startups, for their part, are increasingly keen. Small tech businesses have been pressed to reduce operating costs even further. The invitation into the corporate fold offers them an especially coveted opportunity for mentorship and advice, joint product development, access to markets, funding, and the potential for acquisition.
The Power in Cooperation
Pairing with similarly aligned startups helps big businesses identify industry challenges and see their weak points – it offers corporations the opportunity to gain access to new tech as well as fresh perspectives on company culture. Partnerships have proven to enable old guard firms to develop next-gen operating models, quickly bring workplaces online, and reboot labor productivity.  
To become more resilient in a time of crisis, corporations would be wise to take inspiration from exemplary partnerships. In fintech, Discover's partnership with ZestFinance offers an instructive example. 
The most established banks in the financial services industry have faced mounting pressure to implement AI technologies into their operations models. And while some might assume than an economic downturn would be a reason to cut back investment in AI, history has rewarded richly those who've done the opposite amid crises – lest we forget Google and eBay's investment strategies during the 2001 dotcom bubble.
Understanding that banks who don't invest in machine learning may soon end up uncompetitive, Discover struck a partnership with ZestFinance, using the AI startup's technology to help them provide more accurate and explainable underwriting services. Integrating this tech, Discover is now creating one of the largest AI-based credit scoring solutions in the financial services industry.
Corporations struggling to quickly navigate new operating obstacles would also do well to consider how working with startups may enable big businesses to quickly absorb the new technologies necessary to master a new environment. While corporations were already pressed to find ways accommodate remote work, the urgency has been exponentially magnified in the pandemic's wake.
---
Learn about how The Nature Conservancy is using innovation to fight climate change by partnering with startups like 2NDNATURE.
---
Salesforce's collaboration with Zoom, dating back to 2015, provides a powerful example of how a corporation can work with a startup to rapidly implement systems for flexible and reliable remote working. Initially working with Zoom to integrate cloud video into Salesforce in 2015, the corporation later expanded partnership through a $100 million investment.
Despite being one of the world's biggest customer-relationship management tools, Salesforce needed to stay in front of competition by implementing video call and remote work capabilities. Through their collaboration with Zoom, the corporation fast-tracked a novel deployment of video calls for sales and service representatives, integrating its own Einstein artificial intelligence technology to transcribe Zoom video meetings for participants. 
Finally, tapping startups' expertise has also helped big firms prepare to meet evolving expectations for labor productivity. Prior to COVID-19, new technologies like cloud computing and sophisticated analytics were predicted to double annual economic growth rates by 2035. While COVID-19 has temporarily zapped demand, that demand will rebound in most industries, and the corporations that survive will be those that can ramp up productivity and efficiency in the most innovative ways.
Industry giants have found assistance from startups to help ensure they're ready to capitalize on these more efficient technologies. Through an accelerator program, the Norwegian multinational Equinor, for example, teamed up with additive manufacturer Fieldmade to 3D print specific and necessary components. By "printing" onsite only what is needed, the partnership improves efficiency, reduces emissions, and prevents production downtime. The partnership thus boosted Equinor's productivity and efficiency significantly, positioning the corporation to meet changing expectations for output. 
A Carefully Coordinated Approach
Corporate-startup partnerships thus offer an extraordinary opportunity to help big businesses ready themselves for the now more uncertain future of work. But those who look for guidance from the past partnerships at the forefront of this emerging trend should also pay close attention to what has worked and what hasn't. 
A recently released Innovation Leader Report, gathered quantitative data from more than 100 large organizations to better understand the keys to a successful collaboration. Above all, corporation heads recommended carefully planned systems for communication, pointing to the friction that's sometimes produced when free-wheeling entrepreneurs interface with the slow-moving gears of massive global enterprises. Also, participants stressed the need to agree on technical aspects of the partnership – what is to be delivered and by whom following the engagement – as well as metrics for assessing progress. 
When coordinated with care, these cutting-edge partnerships may prove an invaluable antidote to what management guru Clayton M. Christensen – who passed away in late January – described as the imminent disruptions awaiting complacent incumbents. If his visionary work, "The Innovator's Dilemma," was accurate, then it's times of uncertainty that above all oblige companies to search out ways to innovate. 
---
Interested in joining the global platform for innovation? Learn more about Techstars membership and accelerator partnership opportunities.