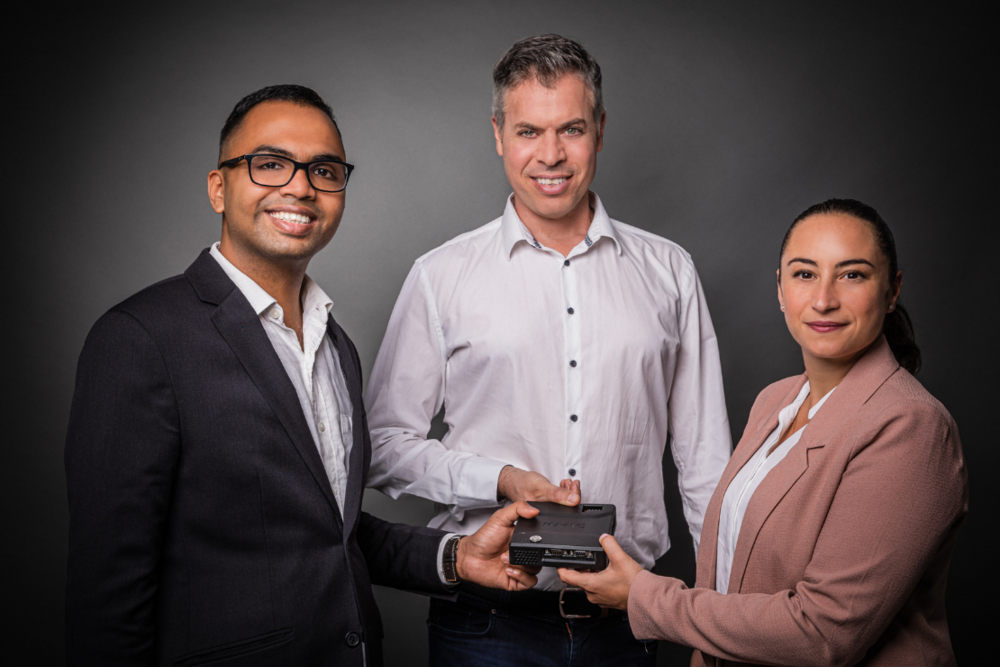 SPiN founders Saish Sridharan, Ran Qedar, and Giulia Federico
SPiN | Techstars Allied Space Accelerator 2020
Inefficient designs, long lead times, and incompatible components plague satellite manufacturers, often because designers wish to mix and match technologies, but incompatible hardware or long software integration make this difficult. Founded by Ran Qedar, Giulia Federico, and Saish Sridharan, Space Products and Innovation simplifies space manufacturing with a universal plug and play adaptor. The startup won Techstars Startup Weekend Bremen in 2015, and this year took part in the inaugural class of the Techstars Allied Space Accelerator.
Satellites are the unsung hero of our technological infrastructure. There are already more than 2000 of these orbiting objects that power many of the applications we now take for granted, like GPS navigation and IoT connectivity to the global internet.
Going forward, the number of active satellites is expected to grow by about 1000 every year, meaning there will be about 10,000 in commission by the end of the decade. With this growing number, however, come growing problems. 
Manufacturing — for both incumbent and new satellite designers — suffers from inefficient designs and long lead times, while incompatible components further frustrate the process from design outline to planetary orbit. Fortunately, German startup Space Products and Innovation (SPiN) is rethinking the way these vital devices are put together.
As the name suggests, the startup "spins" in technologies from other fields to leverage existing solutions that have yet to be integrated into the space industry. 
Cofounder and Chief Operations Officer Giulia Federico says the startup's multi-purpose adapter transforms incompatible off-the-shelf components into plug-and-play for satellite manufacturing and sub-system integration. The solution reduces costs by 50%, production costs by 30%, and integration time by a year.
"By providing a compact and low-cost solution, SPiN democratizes access to space and empowers satellite manufacturers to spend high-value time and money where it counts: pursuing new ventures," Giulia says.
A Win At Startup Weekend
SPiN launched in 2015 after taking part in Startup Weekend Space in Bremen, Germany. 
Startup Weekend is a three-day program where aspiring entrepreneurs can experience startup life and try their hands at building a company — fast. 
Giulia, who cofounded the startup with CEO Ran Qedar and CTO Saish Sridharan, says the young team started the weekend with an idea and finished with a business plan.
"It all started there at Startup Weekend," she says. "The competition was as intense as an accelerator but on a smaller scale, and the quality of the mentorship helped us to make accurate decisions — so much so that we ended up winning first prize!
One key outcome from the event was networking, with the startup soon partnering with the former CEO of HE Space Claudia Kessler. Claudia later mentored the startup and helped the team to fundraise by connecting them with grant initiatives offered by the Bremen Economic Development Agency. The successful grant application soon enabled SPiN to kick off a feasibility study that led to the prototype of their satellite adapter.
"We warmly recommend attending Startup Weekend — if you have any idea or if you are just wondering if entrepreneurship is for you, this event is the right starting point," Giulia says. "It is a mini-lab where founders can experiment without risk and learn from it."
To Infinity And Beyond With Techstars
With a win under their belt and vital funding to boot, SPiN continued to develop in this year's inaugural class of the Techstars Allied Space Accelerator. 
The virtual accelerator program, in partnership with the U.S. Air Force, the Netherlands Ministry of Defence, the Norwegian Ministry of Defence, and the Norwegian Space Agency, presented an opportunity to help companies and governments alike reduce the costs of satellite manufacturing, Giulia says.
The mentors were the best part of the program, Giulia says, with five experts focusing on a different part of the company from business to engineering. "This diversity has allowed the company to steadily expand as a whole and deliver excellent results throughout the acceleration program," she says.
"We have met investors, advisors, and even friends through Techstars. We are very determined to be future mentors and even participate actively in the next program."
Now, the founding team is working hard to bring the company to the next level by partnering with space-savvy investors and applying for government innovation grants.