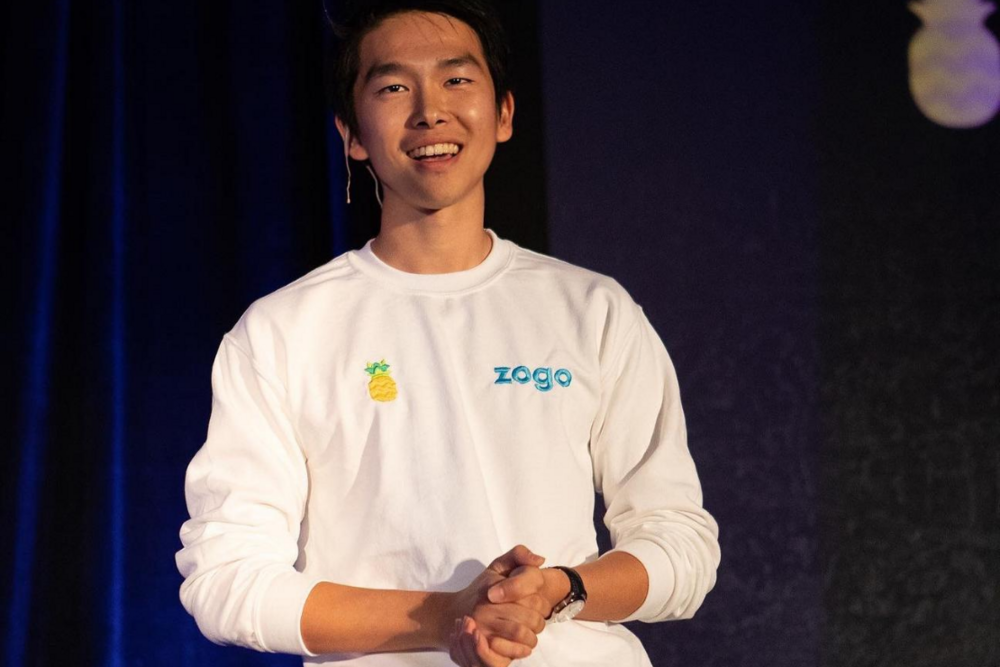 Zogo Finance founder Bolun Li
Zogo Finance | MetLife Digital Accelerator powered by Techstars
Founded by Bolun Li, Zogo Finance is gamifying the process of learning personal finance, and capturing the attention of leading credit unions, insurance companies, and banks eager to engage the end user. Zogo Finance completed the 2019 MetLife Digital Accelerator powered by Techstars.    
When he entered Duke University as a freshman, Bolun Li was astounded by other students' lack of knowledge about basic personal finance. Despite their high GPAs, Duke undergrads weren't familiar with fundamental requirements like paying taxes and buying insurance. According to a survey he conducted, 70% did not know what a deductible was. 
Teaching Teens Personal Finance
Bolun felt a sense of duty to make sure his generation had a bright economic future. He believed the key was teaching financial content in a way that motivated teenagers and 20-somethings to learn it. At the age of 19, he developed the concept for Zogo Finance, an app that gamifies the process of learning personal finance. Users can access over 300 bite-size financial education modules on their phones, racking up "pineapples" as points as they complete each one. The pineapples can be redeemed for gift cards.  A leaderboard and daily financial news feed keeps users coming back. Zogo was a simple solution the financial industry was looking to provide to customers. 
Bolun followed the recommendation of an advisor at Duke to pitch his concept to credit unions. Eager to engage a younger audience, they instantly requested demos — before Zogo even had a prototype. Today, 30 credit unions use the Zogo Finance app and several Fortune 500 financial institutions are in discussions.More than 60,000 users have completed over 1 million modules, and the company has surpassed $1M in revenue.
Bridging the Financial Divide — for All Ages
User engagement is at the heart of Zogo's market demand. When insurance leader, MetLife, ran a pilot through the MetLife Digital Accelerator powered by Techstars, the app attracted over 300 users with 30% of total users referred, and engagement per user averaged an astonishing one hour per month. Another surprise: It wasn't just teens who wanted to earn pineapples. In the end, 63% of pilot users were older adults. "MetLife convinced us that we should do this for adults," Bolun explains. "And ever since we launched, we've had more adults using the app than teenagers, which is crazy."  
---
Read about how MetLife and Zogo are innovating together.
---
The big promise of Zogo is its potential to help bridge the growing financial divide between those who know how to manage their personal finances and those who do not—a divide that grows deeper along socioeconomic lines. "There is incredible inequality in financial well-being in this country, and it's due to a lack of the right tools, education, and support," says Terry Luciani, MetLife's Vice President of Innovation. "Many of our clients are benefits managers at large employers," adds John Geyer, Chief Innovation Officer at MetLife. "They have said to us that help planning for the future is one of their employees' top demands. 'Should I get renters insurance? How do I plan for retirement?' We are going to answer those questions. We are going to improve the financial wellness of the world through things like Zogo Finance." 
From Concept to Pilot with MetLife — Thanks to a Techstars Accelerator  
To Bolun and his cofounders, going through the MetLife Digital Accelerator powered by Techstars was a necessary step to turning their concept into a viable business. "We're really young founders, and Techstars was the right partner to give us the structure for building a sustainable company," says Bolun. They entered the accelerator with mockups of Zogo on PowerPoint. Just 13 weeks later, they had a product, customers, and a pilot underway with MetLife.   
Today, Zogo Finance is profitable and expanding beyond credit unions to serve Fortune 500 financial institutions. The young team is also hiring industry veterans who know how to scale exciting startups. 
Bolun's ultimate dream is for "millions of Americans to achieve financial literacy with the help of Zogo Finance." 
---
Check out our case study: MetLife and Techstars Create Winning Formula for Bringing Startup Innovations to Insurance.