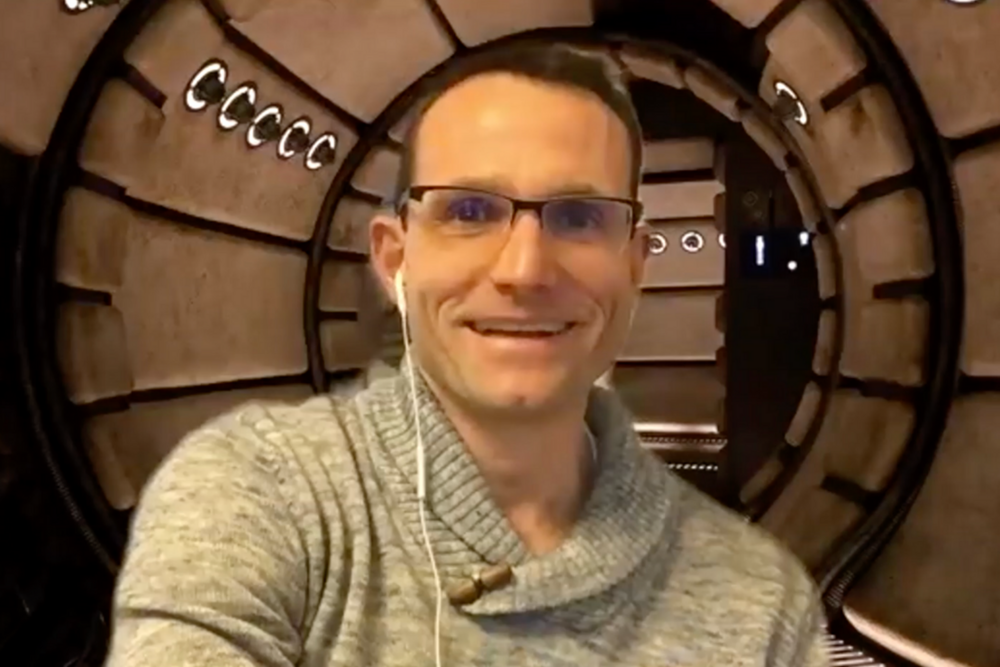 Dr. Will Roper, Assistant Secretary of the Air Force for Acquisition, Technology, and Logistics, being interviewed by Warren Katz
5-min read
By Warren Katz, Managing Director of the Air Force Accelerator Powered by Techstars
Last Thursday, May 14 at 5pm EST, the Air Force Accelerator Powered by Techstars celebrated its 2020 Demo Day, showcasing dual-use products and services from the 10 companies that have both a large commercial market and a validated defense use case. 
For three months the companies were put into a crucible and crushed, broken, re-built, and burnished into weapons of economic fertility, with a crisp, clear understanding and articulation of exactly what problem they solve, for whom, why it matters, and why they are the unique team to execute the vision.  
We were extremely fortunate to be introduced by General Stephen Wilson, Vice Chief of Staff of the US Air Force. You can see all that here.
The main event, however, came at 7pm when Dr. Will Roper, Assistant Secretary of the Air Force for Acquisition, Technology, and Logistics, was interviewed on why the Air Force was working with Techstars to reduce the barriers and friction between the most innovative hot young startups, and the historically lethargic, bureaucratic and painfully unreliable defense market.
You can watch the interview here. 
A little background:  
For the last 30 years I have been an acquisition reform zealot in the defense market. As a founder of a company that made finished commercial off the shelf products (referred to at COTS in the DoD), I was devastated to learn early-on that given the choice between purchasing a finished, working product and handing it to the warfighter in days, the acquisition system had built-in incentives for all parties to be richly rewarded for re-making things under hourly labor contracts that took years or decades longer, and finally delivered something that was 10X+ more expensive, and weaker in capability than the thing that could have been bought off the shelf a decade earlier. Those $800 toilet seats, $500 hammers, and most recently (literally a few months ago) a $1200 coffee mug, are the end results of this incentive structure.
As an entrepreneur/innovator and taxpayer, I was incensed. The constituencies that were least served by the system were the warfighter, taxpayer, and innovator. The constituencies that were best served by the system were politicians that wanted to direct funding to their districts (whether or not the vendors in their district had any competency at all), large program offices inside the Pentagon that managed large budget programs for decades, and large defense prime contractors that could guarantee their shareholders steady quarterly profits for decades, long after the thing they had not yet delivered was inarguably obsolete.
Over the course of the first 20 years I cannot tell you how many times I heard speeches by highly ranked, well-intentioned officials who were ACTUALLY IN CHARGE of the acquisition system say:
 "We must change! We cannot do things the way we used to! We're being left behind!"
Only to have nothing change.  
---
Read about how Norwegian energy giant Equinor is innovating with startup Fieldmade to reduce C02 emissions and save money.
---
The theoretical desire to change was there, but no practical implementation path was ever articulated or implemented. I finally gave up the fight, sold my company, and retired to be an angel investor in the Boston startup ecosystem, with a reputation as someone who could advise a startup how to fund their commercial product with DoD grants.
Then, in late 2016, along comes the US Air Force innovation program AFWERX, and its Four Great Captains (Joey Arora, Chris Benson, Austin DeLorme, Steve Lauver), and their fearless leader Lt. Col. Dave Harden, who came up with this disruptive idea to flip the script on how the Air Force engages with the non-DoD innovation ecosystem and pull the best and brightest innovators with the most disruptive new technologies through the acquisition system to the warfighter with unheard-of speed and ease.  
The innovative new concepts included:
Easy-to-find "front door" for a startup to get under contract with the Air Force

Extremely open-ended, non-specific requests for innovative ideas

Proposal processes no harder than writing a pitch deck a startup typically uses with investors

Contracts awarded in days not months, with contractual paperwork simpler than commercial world

Money flow faster than the commercial world

An acquisition process so simple startups don't need to learn ANYTHING about the acquisition process

Startup should not have to sell their product in a different way than they sell in the commercial world (i.e. – Not have to become a defense contractor)

Huge value placed on contribution, validation, and maturation provided by non-DoD investors including Venture Capital, Angel, and commercial strategic

Huge value placed on commercial sales traction and its contributions to company viability and amortization of R&D for future defense purchases

Mandatory participation of an end-user customer inside the DoD who attests to the value of the product for their mission and agrees to be the guinea pig

Quick path to large acquisition volumes in relevant timeframes (to make value creation curve for investors on-par with commercial tech investment world)
To begin the journey, AFWERX made two major strategic moves.  
First, they engaged with Techstars to help connect the Air Force with the 25,000 'non-traditional' startups that apply to Techstars programs each year, and who never in a million years would think of the US Air Force as their first stop.  
Second, they partnered with the Air Force's Small Business Innovation Research (SBIR) program and focused efforts on connection to the warfighter and transition, restoring SBIR to what it was originally intended to be: an acceleration mechanism to speed startup company's products to commercial viability (with the obvious side benefit of creating commercially-priced capability for the warfighter in a massively accelerated timeframe)
All this would not have been possible without the "high-cover" provided by General Wilson and Dr. Roper, who immediately seized on the absolute necessity of these changes, supported and nourished them, and began bleeding some of the concepts of vibrant, fluid, head-to-head competitive commercial markets into some of the newer large defense acquisition programs such as Kessel Run, ABMS and Agility Prime.
---
Comcast NBCUniversal is partnering with startup TakeShape to innovate. Read about how they're making it happen. 
---
While there is still plenty of work to do, and not all the above objectives have been realized, the early results are stunning with respect to warfighter engagement, accelerated timelines to delivery of capability to the warfighter, private investor participation, and a landslide of participation by startups who have never done business with the DoD before.  
With so much achieved in such a short time, the Techstars team is extremely excited about the next chapter of the Air Force Accelerator powered by Techstars, and thrilled about continued support from AFWERX, and our champions Dr. Roper and GEN Wilson. May the Schwartz be with you!