Brand Kit
Branding
It is important to maintain the branding rules and guidelines across all promotional, social, and sponsorship outreach materials.
This ties together all Techstars Startup Weekend events around the world, helps you leverage the Techstars Startup Weekend brand, and reinforce a global standard of quality on a local level. 
Techstars provides Startup Weekend organizing teams with the tools needed to run a great event. 
Your brand kit includes:
Marketing and promotional collateral as well as templates for social media page creation and posts

Templates for physical marketing assets like roll-up banners, stickers, t-shirts, and posters

A media library that you can access to customize your promotional outreach materials and sponsorship deck
Techstars co-branding guide
Techstars partners with a number of organizations. When co-branding with Techstars, partner brands must follow these guidelines, regardless of brand dominance. See co-branding guidelines here.
Name and Brand Your Event
All Techstars Startup Weekend events must follow our naming guidelines.
In-person event naming formula
Techstars Startup Weekend [VERTICAL] [GEO]
Online event naming formula
Techstars Startup Weekend [VERTICAL] [GEO] Online
Here are some possible outcomes of this formula:
Techstars Startup Weekend Biotech Austin

Techstars Startup Weekend Austin

Techstars Startup Weekend Berlin Online

Techstars Startup Weekend Sustainability Berlin Online
Logo Do's and Don'ts
Unauthorized logo modifications compromise the Techstars Startup Weekend brand. Please do not attempt to recreate or alter the Techstars Startup Weekend logo. Only use the provided Techstars Startup Weekend logo templates in Desygner. 
Reminders for Promotional Assets
Do use the illustrations and images provided in Desygner to represent your event.
Tip: Be sure to download your chosen illustration in your event's accent color. Stick to just one color from the Community color palette to tie all of your promotional assets together.
Tip: If possible, use only black or white partner logos to keep the aesthetic of your designs - mostly black and white with your event's accent color used sparingly.
Do save and download your work to your device. Your account will be deactivated 1 week after your event date.
Tip: Don't forget to save your work and upload your logo and selected illustration under Brand Assets in Desygner in order to easily swap these items out in the provided templates.
Downloadable Techstars Community Assets
Click on the links below to find the official library of Techstars Community assets, including logo templates, brand colors, illustrations and approved stock photos.   
The Graphic design tool - Desygner
Techstars provides Startup Weekend organizing teams with access to Desygner, a graphic design tool to help you create promotional assets for your event.

What you need to know:
Once your application is approved, your Community Support Contact will add the lead organizer of your event to Desygner (using the name and email of the application). There is only one login per organizing team.

You will have access to the platform from the moment your application is approved until 1 week after your event.

You will only be able to see the designs you have created and the assets you have uploaded. You won't be able to see what other teams have created, and other teams won't be able to view your assets or designs.
Login/Access
1. Receive welcome email with an invite to create your account
From: team@go.desygner.com

Subject line: You are invited to become a member of Techstars
2. Click Join now to create your account and password 
3. Have access to the templates
Click on Templates 

Click on Collections on the left hand side of the page

Click Community for all the Startup Weekend templates
4. Save this link https://techstars.desygner.com/login
Brand Guidelines and Desygner How-To Videos
Name and Brand Your Event
1. Name your event
Each Startup Weekend will have a unique event name with three or four elements total. To find yours, use our naming formula:
What's your vertical?
If you have a specific industry focus — like Fashion, Education, Health, or Sustainability — that will go here. If not, skip ahead to Geo.
Where is your event located?
Enter your city name here if your event is location-specific. If it's virtual, then you may want to use the word "Online" as your final element as shown.
Here are some possible outcomes of this formula:
Techstars Startup Weekend Biotech Austin

Techstars Startup Weekend Austin

Techstars Startup Weekend Biotech Online

Techstars Startup Weekend Austin Online
Recap: Your name is comprised of three to four elements, in this order:
Required elements:
Variable elements:
2. Choose a brand color
Our palette of colors for Community is shown below. Choose one color to use as an accent in all your designed materials.

Strawberry
#BD2738
RGB 189, 39, 56

Marigold
#EAB53D
RGB 234, 181, 61

Cosmos
#4C19AF
RGB 76, 25, 175

Grass
#439642
RGB 67, 150, 66

Pool
#27A8E0
RGB 39, 168, 224
Recap: Choose an accent color from our Community palette.
3. Choose an illustration
We have a library of illustrations by Toronto-based artist, illustrator, and designer, LeeAndra Cianci. Some are intended to convey a specific vertical, so your choice might be fairly self-explanatory. Others are more general, portraying teams working together, kids, and even an epic Zoom call. 
The full library is shown below; your final illustration will also include a pop of your brand color. Once you select an illustration, click through to Brandfolder to see versions in each color in SVG format. Download the file that matches the color you chose in step 2.
Recap: Choose the illustration that best describes your event. Download it in your brand color.
4. Create your logo
We're using Desygner to give community leaders the ability to produce print and digital promotional assets. 
Log into your Desygner account where you will see all your available design templates. The filter at the top next to "See All" allows you to sort by asset type and size.

Choose "Logo" from the filter options.

Hover over the template that fits your event name, i.e. "Startup Weekend - Four Lines," and click the green "Use" button.

Desygner will create a design for you based on the Logo template you chose. All you need to do is replace the text "Vertical" and "Geo" with the elements of your event name. Keep the elements on separate lines if you are using both. 

Change the color of those lines from black to your brand color.

Download your file as a .png with a transparent background.

Repeat with page 2 of the template to create a light (vs. dark) version.

Save and exit the design.

You can also use the Auto-create feature to create your logo. See here for more details.
Recap: In Desygner, create a light and dark version of your logo, using your unique name and brand color.
5. Upload your assets to your Desygner account
Now that you have your logos as .png files and your illustration as an .svg file, you'll need to upload all three under Brand Assets. 
Upload your logo files to Brand Assets > Logos.

Upload your illustration file to Brand Assets > Elements.
Recap: Navigate to Brand Assets, where you'll upload both versions of your logo ("Logos") and your illustration ("Elements").
Build Awareness Around Your Event
Create promotional assets
Now that your design elements are stored in Brand Assets, you can use them to customize templates to promote your event. 
Under "Templates," some designs have a photo background, while others feature illustration, and some are text-only. Most of the time, we use photography and text-only templates when building awareness before your event. Photos help people who aren't familiar with the startup world imagine what to expect. Later, for assets used during your event, we will use illustration to unify participants around your event's brand and help them to imagine future possibilities. 
Open the Awareness - Social Announcement template in the Instagram size.

Here you'll have the ability to replace the logo, replace and reposition the background image, and edit the text.

To replace the logo, select the existing logo, navigate to "Logos," "My Assets," and tap the replace icon. 

To change the background image, 

Select it by clicking onto the design or clicking "Select" next to "Background Image" in the left hand toolbar 

Click into the Verticals folder to choose an image that best represents your event. You can click the replace icon to see what it looks like in layout as you make your decision 

Zoom out and use the corners of the image to resize it. You can also reposition it 

If the image loads in color, use Filters to set it to Grayscale 

You can also adjust the opacity to make your text more legible, if necessary. Use the graphic below as a reference for laying our Community colors over grayscale images.

You can also use the Auto-create feature to create your logo. See here for more details.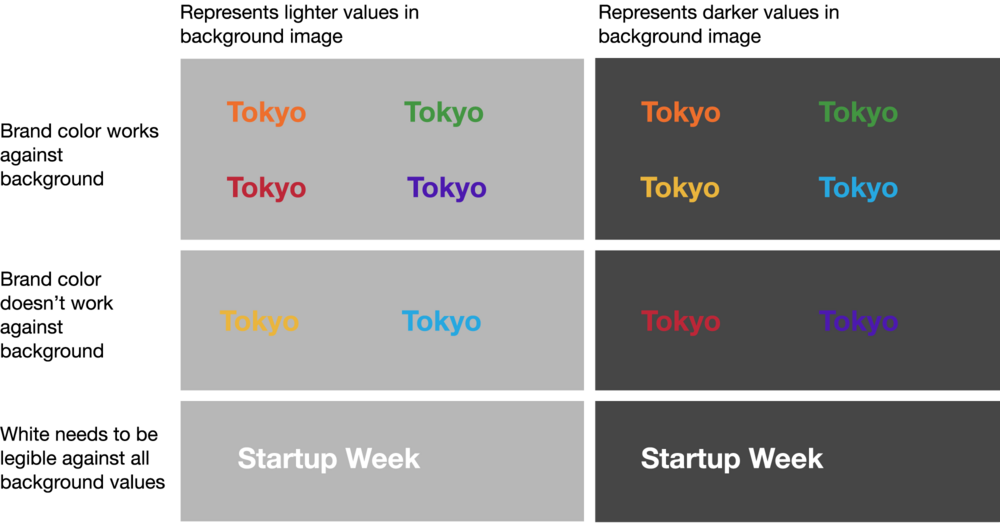 Update the text to reflect your event details.

Change the colored line to your brand color.

Save your design. When you're ready to use it, you can access it under "My Designs" and download as a .png (recommended) or .jpeg.
Create Assets To Use During Your Event
During your event, you may need to create printable assets for signage, swag, and other purposes. To demonstrate the differences in Desygner between a print and a digital asset, we'll focus on print here.
From Templates, navigate to Banner, hover over the template Experience - Community Banner, and click Use.

Use the same steps for replacing the logo, changing the date and text, and changing the color of the bottom line as you followed in the previous step.

To replace the illustration, select it on the design, click to Icons > My Assets, and tap the button to replace icon.

Save and download your asset as a high-resolution print PDF.
Note: Some assets also require co-branding, where we can change the partner logos as well. Because logos come in all different shapes and sizes, you'll be able to upload and add your own to the design, then resize and position them. Please use our template as a general visual guide to adding partner logos. If possible, use only black or white partner logos. We also have a co-branding section in the core Techstars brand guide.
Wrap Up Your Event
In Templates under the Instagram size, find the post-event photo carousel template. Use the color line to create a unifying look and feel to show off your post-event photos. 
You already know how to replace your image and change the color of the line.

You can download files and repeat, overwriting each design in Desygner. Or, to save multiple assets in Desygner, save and exit, then start from the beginning back in Templates.
After your event, your Desygner account will be deactivated. If you'd like to save your work, be sure to download it to your device before your account is removed. If you apply to host another event in the future, you'll be invited to use Desygner again.
Auto-Create feature Guides
A new Auto-create feature has been introduced in Desynger to help you create your designs more easily.
Auto-create your Logo
Auto-create your Social Media Printable Assets
Auto-create your Event Attendee Material
Media Library
You can find a folder of carefully curated images within specific Desygner templates.
Please feel free to use these images in your promotional efforts. You can also access success stories to include in your outreach and promotional materials in our Success Stories Deck. 
We ask that you be respectful of the images and the people in them, and use them only for Techstars Startup Weekend content.
If you would like to submit your own images from a past Startup Weekend, please fill out this form or email your Techstars community support contact.