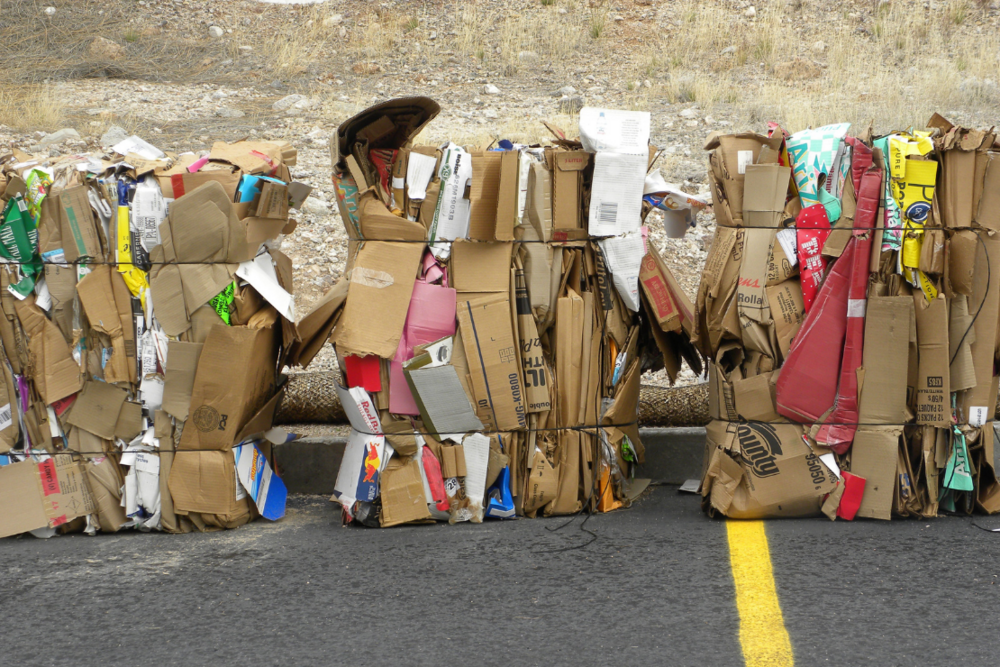 The U.S. Environmental Protection Agency (EPA) reports that the country recycles only a third of the more than 290 million tons of waste Americans generate in a year. The rest of the discarded paper, plastic, glass, metal and other materials ends up in landfills or polluting the environment. These statistics are emblematic of a global crisis that is only growing worse. The World Bank predicts waste production will increase 70% worldwide by 2050. We all — individuals, organizations, and nations — must take action now.
This is just one reason why it's so encouraging to see many of the applications we receive daily for the equity-free Techstars Sustainability Challenge propose innovative new ways to reduce materials waste, extend product life spans, and educate manufacturers and consumers on how to join the circular economy. 
---
Read about how Techstars Chicago grad Rheaply is scaling the circular economy.
---
Virtually all products manufactured today move along global supply chains that resemble straight lines. Manufacturers and their supply chain partners source raw materials like oil, lumber, rubber, and metals for their products and packaging and ship them to the component part manufacturers, assembly plants, packagers, distributors, and retailers who deliver them along the "last mile" to consumers or customers, who in turn dispose of the product and the product's packaging once done with them. We need to turn those straight lines into circles.
Consumers have become better at sending packaging materials — all those boxes, sheets of bubble wrap and plastic cases — to recycling centers. However, recycled plastic becomes weakened and discolored, which significantly reduces its reuse ability in anything other than clothing or carpets. And large companies are becoming more aware of — and are starting to track — the waste streams in their own business-to-business use cases as well. We are in the first inning of innovation here. 
Transforming the global economy to greater circularity requires all of us to adopt more sustainable habits. Consumers shouldn't take all of the blame. Think of the amount of waste that occurs within corporate footprints — industrial manufacturing, commercial real estate, and the global distribution of goods and services.. Adopting 'circular' approaches to how our global economy operates by implementing product design, manufacturing and shipping processes will enable all of us collectively to use less material and recover and repurpose resources to extract their maximum value.
The world faces a Herculean task, but a growing community of startups, including several companies in the Techstars network, have accepted the challenge. They're developing new solutions that enable companies to reduce their product and packaging's environmental impact through new materials innovations, either natural or synthetic.
For example, companies focusing on improving materials sourcing and lifespans include Mobius (Techstars Sustainability Accelerator in Partnership with The Nature Conservancy 2019), which is creating biodegradable plastics, and Boxologic (STANLEY + Techstars Accelerator 2019), which offers a range of solutions that increase the efficacy or efficient use of packaging, including robotic-made boxes that reduce wasted space and wasted materials.
In addition, Graphenest (Techstars Autonomous Technology Accelerator with the U.S. Air Force 2018) invented an eco-friendly and cost-effective method for producing graphene — a single layer of graphite — that can replace plastics for use in a wide range of products from low energy LCD screens and more durable textiles. Vartega (Techstars Mobility Accelerator 2017) provides manufacturers with systems and tools for end-of-life management, including enabling them to reclaim and recycle carbon fiber.
---
All Sustainability Challenge finalists will have this one thing in common. Learn more, and then apply.
---
Beyond the Techstars network, Paptic has created a green packaging material that combines the renewable and environmentally friendly nature of paper packaging with many of the qualities of plastic packaging. And RePack produces a line of reusable mailers that consumers can drop off at any post office box for recycling and reuse. 
Techstars and our partners launched this challenge to identify the innovative entrepreneurs poised to help manufacturers and consumers embrace the circular economy. In addition to reviewing applications for solutions that address the various product and packaging materials and end-of-life challenges, we're also eager to meet innovators developing products to help organizations measure, trace, and track the impact of their supply chains.
The Techstars Sustainability Challenge is a stage-agnostic program open to all entrepreneurs and startups committed to solving sustainability challenges in supply chains across all industries. We'll connect the most promising applicants with industry-leading companies to build out real-world solutions. 
The deadline to submit your application is March 1, 2021. We will showcase all winners at the first Techstars Sustainability Summit in April. 
To learn more and apply, please visit https://challenge.techstars.com/sustainability.