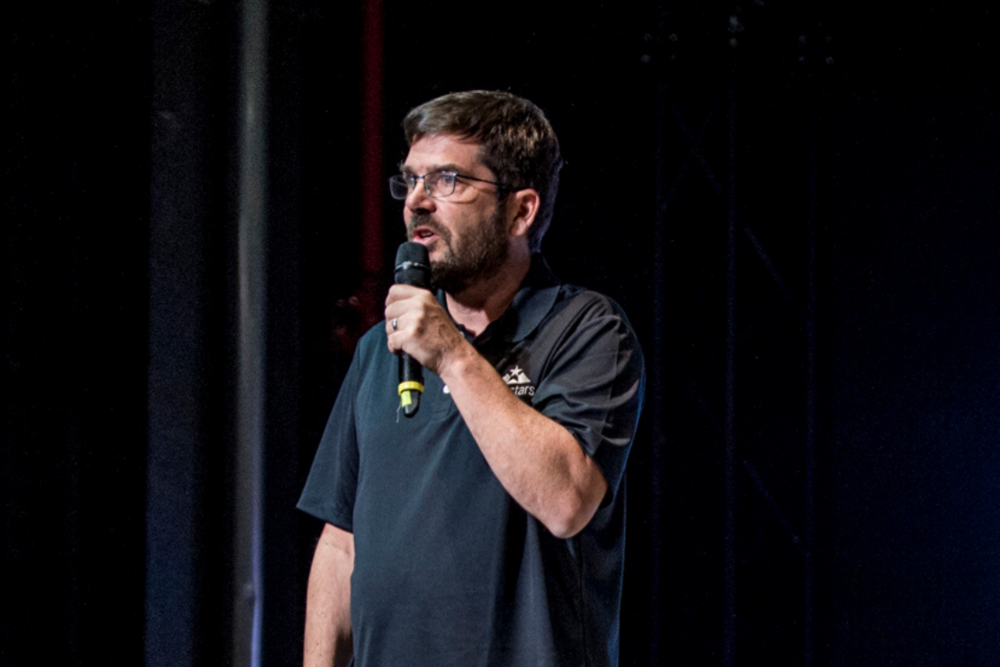 4-min read
By David Brown, Founder and CEO of Techstars
I'm a lifelong entrepreneur. I've been through all of the downturns, going back to Black Monday in 1987, when I was at my first startup. While downturns are hard and I don't want to minimize the health and human impact of the current pandemic, there is one thing I know for sure: downturns equal BIG opportunities.
I think that's true for both entrepreneurs AND corporations. 
Why? Because in a downturn, the world shifts quickly and this creates opportunities for innovation. As an entrepreneur, I get excited because I know that startups can move fast and change course quickly. As a CEO who's worked with some of the world's smartest corporate companies, I get excited because I see an unprecedented opportunity to make the positive changes that are difficult to enact in so-called "normal" times. 
In a downturn, major corporations can either adapt and thrive or get caught up in bureaucracy and miss opportunities, or even fail. For business leaders and innovation teams, this is not a time for deep cuts, hunkering down, and waiting for things to return to normal. Quite simply, normal in the future will be different than the normal of the past. 
My prediction: the corporations that play it safe will not be the ones that emerge from this situation in market-leading shape. They may not emerge at all — or at least not with the influence or reach they once had. It's the ones that embrace change that are going to make it through, and be stronger than ever. 
Nestle grew from a coffee glut in The Great Depression. During the Dot-com bubble, Google and eBay innovated as much of their competition folded. Airbnb and Uber earned the dollars of financially stretched customers on the heels of 2008's Great Recession. These are just a few examples of how corporations have made the best of a bad situation and come out stronger than before. 
---
Read about how Norwegian energy giant Equinor is innovating with startup Fieldmade to reduce C02 emissions and save money.
---
The question now is what we do with all this change. I say we embrace it, work with it, find ways to give people what they need in this dramatically new and rapidly shifting situation. 
This is why I say it's a great time to be an innovator. This is a once in a lifetime opportunity to show that you are resilient and great at what you do.
---
Comcast NBCUniversal is partnering with startup TakeShape to innovate. Read about how they're making it happen. 
---
Nonetheless, no matter how great you are at leading corporate innovation efforts, this is not a solo task. You need to work with other innovators, people who are agile thinkers and doers, who are making solutions for the now. In other words, you need entrepreneurs. 
For corporations and startups to partner and innovate together isn't a new strategy, though it is a consistently winning one. We've already seen corporate-startup partnerships, innovation labs, accelerator programs, venture funds and more take off in recent years, as corporations try to harness startup energy for their own innovation purposes. Startups have benefitted as well. 
What's different now is that the timeline has sped up. Before, you might have had a few years, maybe even five, to really be innovating. Now, there's zero time to waste. The world is changing too quickly. I am confident that five years from now, we will look back and see huge companies that got created as a result of this time.
Now, you can't afford not to partner with startups. 
---
Interested in joining the global platform for innovation? Learn more about Techstars membership and accelerator partnership opportunities. 
---
Entrepreneurs see something the world lacks and we figure out a way to provide it — and that's how great businesses are built. It's also how great corporations stay great, especially in times when what the world lacks is changing in such extreme ways. 
Your corporation has thousands, if not hundreds of thousands, of employees who are already doing what you do best. What you need now are a few new people who are doing wildly different things. Maybe they will help you speed your processes. Maybe they will get you in front of a new market. Maybe together you will create a new product, or a new category of products. 
And — I know this will sound a little self-serving but I say this with great conviction — Techstars has the best entrepreneurs. We select startups for our accelerator programs based on how well the founders can learn, grow, innovate and, yes, collaborate. You will be pleasantly astonished at their depth of industry knowledge and their ability to make something amazing out of virtually nothing. They take ideas and make them real. This is what they do: they're entrepreneurs. 
So I suppose my advice isn't just to embrace change. It's to embrace the change that startups and corporates can bring together. Innovation is about opportunity. And this time of profound change is also one of profound opportunity. 
Thanks for reading. 
Best,
David