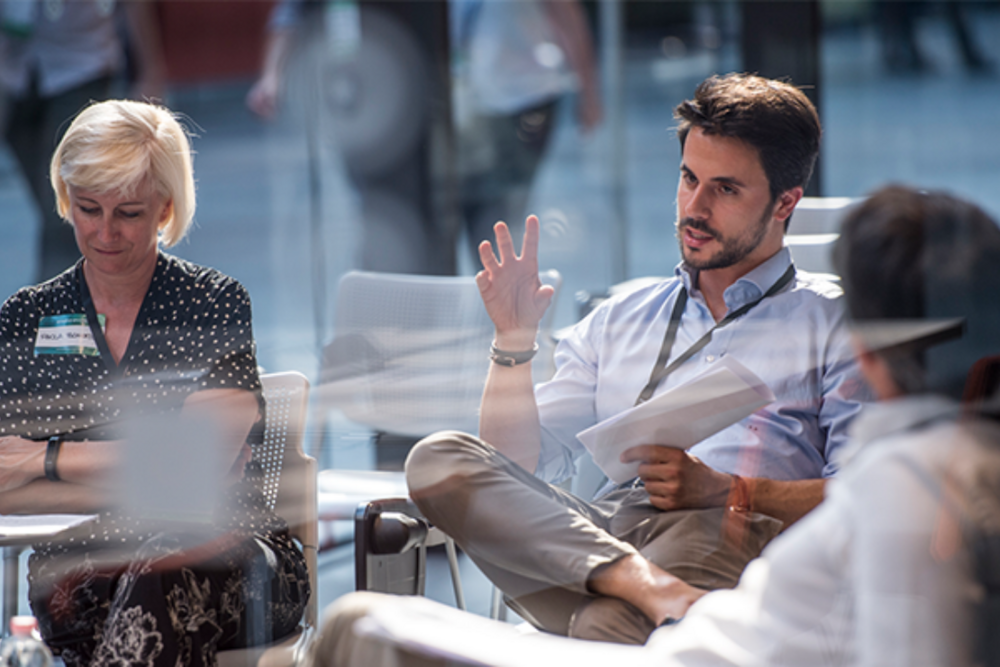 3-min read
By Ted Stuckey, Managing Director of QBE Ventures for QBE Insurance Group
My goal is to make QBE a partner of choice for startups. It's hard work, sometimes, finding the right startups that will grow or expand QBE into new markets or drive operational and process efficiencies, and then working with so many parts of QBE internally to bring the partnership to fruition. But the results—like QBE's new partnership with Nimbla—are worth all the effort.
Balancing Both Sides of a Tricky Equation
Our Network Engagement partnership with Techstars has been extremely helpful, as they are able to support me on both sides of this tricky equation. When I'm looking for startups across the insurance value chain, Techstars enables me to identify and quickly vet an ongoing flow of potential partners. Then, because so many Techstars employees—my Techstars Network Engagement Program manager included—are founders themselves, they help me see the places where QBE needs to change in order to be responsive to startup needs. Having a third party push us to become a better partner to startups, as well as sharing best practices, was essential for making change happen.
---
Comcast NBCUniversal is partnering with startup TakeShape to innovate. Read about how they're making it happen. 
---
Most recently, Techstars helped us secure a partnership that I'm really proud of, bringing QBE and Nimbla together. We've just announced that QBE is partnering with Nimbla to give small businesses the peace of mind and confidence that they need to reach their full potential. 
The Future is Now
I knew right from the start that Nimbla was something special. They went through the 2018 Barclays Accelerator Powered by Techstars London, and though they were very early stage, the accelerator helped them grow in a way that made them enterprise-ready.  
Nimbla is an invoice insurance startup that enables businesses to check the risk of non-payment on invoices and protect the ones they're worried about. For QBE, this is huge. This was something we were looking at, but we all thought it was a few years out. 
---
Read case studies about both QBE & Nimbla, featuring their success with corporate-startup innovation.
---
This kind of thing is exactly the reason why corporations like QBE have to be watching and partnering with startups. If we hadn't, we would still be watching this opportunity and waiting. There's no way around it, corporations just move and innovate at a different speed from startups. But with Nimbla, we expect to power QBE's go-to-market strategy for a whole new target market—today, rather than in five years. I'm expecting to see a great impact, for both QBE and Nimbla.
Big Impacts to the Big Picture
I like to think that, along with driving Nimbla's business goals, we've helped them see the big picture in a new way. We've pushed them to do something new in the market and to run their business differently. They've seen a vision of who they can be as a business five, 10, 15 years down the road. 
---
Read about how Norwegian energy giant Equinor is innovating with startup Fieldmade to reduce C02 emissions and save money.
---
Working with startups like Nimbla has definitely had an impact on QBE, way beyond the bottom line. Nimbla came before a group of people who have made a career in the insurance industry, and inspired them to recognize alternative ways of doing things, alternative ways of using data, and alternative ways of providing benefits to our customers. That's a shift toward entrepreneurial culture that we couldn't have done on our own. We needed Techstars, and we needed to get in deep with startups in order to really see and feel that difference. 
We are working hard for QBE to be the partner of choice for startups, so that we can make more great deals like this happen. 
---
Interested in joining the global platform for innovation? Learn more about Techstars membership and accelerator partnership opportunities.