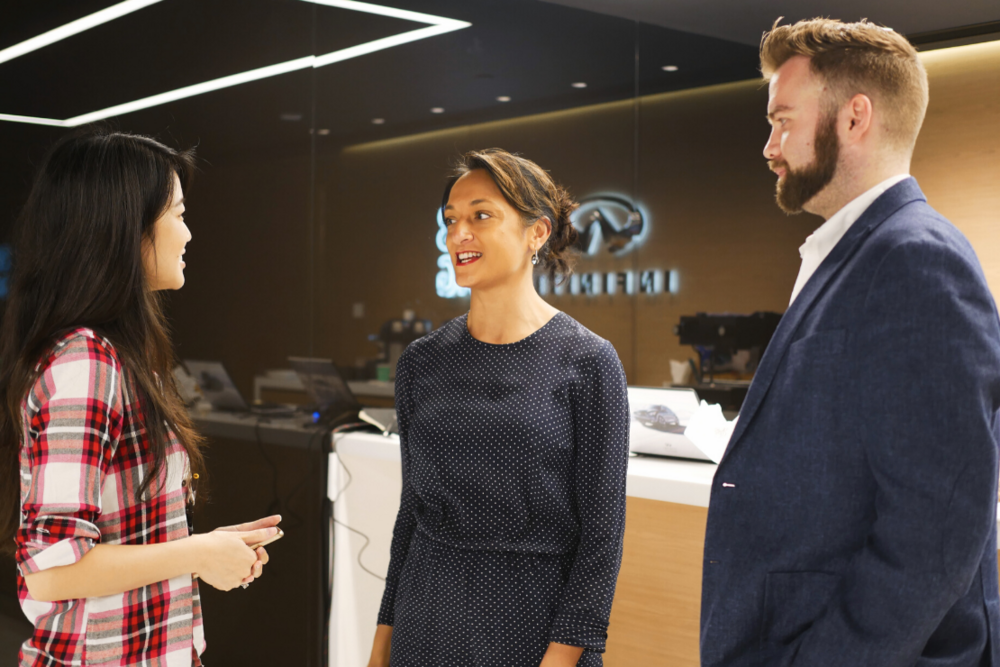 7-min read
By Jenny Lawton, Chief Innovation Officer of Techstars
Partnering with startups is a great way to accelerate the entire corporate innovation journey. In fact, Techstars and Innovation Leader recently partnered to reveal best practices for leveraging startups to drive corporate innovation.
A well-run corporate accelerator can be directed to align with your specific needs and goals to:
Help startups and their technology evolve in ways that meet your corporate needs, so the company builds the perfect product for you;

See the future of your industry through the lens of entrepreneurs who are trying to disrupt it;

Shift company culture to move faster and reduce inefficiencies and costs.
In order to meet these goals you will want to check that what you're looking at is truly an accelerator. The Techstars mentorship-driven accelerator is not a field trip, hackathon, or "innovation theater." It is a comprehensive solution to accelerate innovation. The best corporate accelerators include:
Program leadership with a demonstrated history of growing their own companies and helping other startups succeed;

Early-stage startups that can partner to meet your corporate needs or accelerate industry disruption.

Curriculum for founders that both helps their startups succeed and de-risks investments for the corporations.

Strong mentorship, providing founders and executives with the opportunity to learn from each other and build strong networks;

Commitment, and the understanding that your accelerator will grow in value and returns over time, through a stronger investment strategy and internal corporate capability.
Five Ways To Get The Most Out of Your Corporate Accelerator
At Techstars, we have seven years of experience running corporate accelerators. To date, we have run 83 corporate accelerators in 12 different countries. Through our experience we've distilled five key principles that we share with our corporate partners—before the accelerator begins.
01. You'll get as much out of the accelerator as you put into it.
This is truly the number one piece of advice for corporations going into their first year of an accelerator program. In fact, it's the number one piece of advice for the founders as well.
The inaugural Comcast NBCUniversal LIFT Labs Accelerator, Powered by Techstars, successfully launched in 2018, and is welcoming a second class in Philadelphia in July 2019. With a corporate accelerator, "You'll get as much out of it as you put into it," said Danielle Cohn,  Executive Director of Entrepreneurial Engagement and the Head of LIFT Labs for Comcast NBCUniversal. "You need to have a dedicated team to work with your partner. It takes a lot of time, energy, and effort to educate your internal stakeholders, but without this, you won't have buy-in from the company. You won't meet your goals."
---
Comcast NBCUniversal is partnering with startup TakeShape to innovate. Read about how they're making it happen. 
---
Matt Kozlov, Managing Director at Techstars, who has managed three classes of the Cedars-Sinai Accelerator, Powered by Techstars and is now preparing for the first year of the Techstars Starburst Space Accelerator, agreed: "The program is only as valuable as the amount of time and attention the executives and the organization pay to it."
Cohn explained, "We hired Techstars to run our program, but you can't just do that and walk away. The benefit of having an outside partner is that you're learning from them and they're learning from you, and you're each accessing the other's subject matter expertise." Involvement and outright enthusiasm from your corporate leadership will ensure that everyone knows that the accelerator is a priority. Get executives involved as mentors, and they will both help the startups in the program succeed and bring back profound lessons on startup speed and flexibility to their regular jobs.
One great way to ensure that the accelerator gets the support it needs from the corporation is to build engagement with the accelerator into goals or KPIs for everyone involved. Offer incentives—bonuses or other rewards—for outstanding work on the accelerator. Most of all, make it clear to the entire corporation that work on the accelerator is now part of the job, not something tacked on. If you don't do this, the accelerator can too easily become an afterthought, rather than a launchpad for successful corporate innovation.
02. With startups, the team is exponentially more important than the product. Choose founders who are flexible and take feedback well.
One error that corporations consistently make when choosing startups for their corporate accelerator is getting excited about a company's product or tech, and ignoring the team.
The startups that benefit most from an accelerator are early stage. Their product is likely still evolving—in fact, this can be a benefit to your corporation, because you can work directly with the startup to develop a product that meets your needs.
"A great founding team can take feedback from every level of the corporation, and then incorporate that feedback into a product. They can adapt to what the corporation is looking for," Kozlov said. "When you create the right environment, where startups can interface across the entire corporation, then the corporation and the startup can collaborate over three months, and the result is incredible companies and partnerships."
Kozlov recalled one startup that pivoted early on, and ended up going through at least fifty different product ideas with a corporation before they found one "big enough and important enough to execute on." A couple of years later, this company is the most valuable one to come through that program.
---
Read about how Norwegian energy giant Equinor is innovating with startup Fieldmade to reduce C02 emissions and save money.
---
When selecting companies for the program, over-emphasize finding the best teams, and the products will develop organically.
03. Startups move very, very fast. Be prepared to work with this—and learn from it.
"Founders move very, very fast. They have a different cadence from a large organization," said Yossi Hasson, currently Managing Director of the Alchemist Blockchain Techstars Accelerator and formerly MD of the Barclays Accelerator, Powered by Techstars in Cape Town.
This difference in pace poses both challenges and opportunities. Jens Festervoll, corporate liaison for the Techstars Energy Accelerator in Partnership with Equinor, experienced this firsthand during Equinor's first accelerator. He reported that nearly 80% of the mentors who worked regularly with startups in the program said that they would work differently in the future, with more agility. This taste of startup speed became the seeds of cultural change, as executives started to see ways to be faster and more flexible in their working lives, making them more efficient and more engaged.
Techstars Network Engagement partner QBE strives to be a "Partner of Choice" for startups, and finding ways to work at startup speed is one part of their plan. Ted Stuckey, Managing Director of QBE Ventures, explained: "Our belief isn't that startups should be held to a lower standard of security/risk, but rather that we have to be able to address those risk and security concerns faster than we do with companies that have the capacity and teams dedicated to dealing with a large corporations' processes."
Learning how to work at a different pace, and the impact that has on process and procedure, can be challenging. In the end, the biggest opportunity is learning how to add sprints into your marathon training.
04. Streamline your procurement process before the program begins.
"A startup in a 13 week accelerator expects things to happen really quickly," Hasson said. "Do everything you can—before the program starts—to shorten the amount of time it takes for your corporation to work with these startups."
Both Hasson and Kozlov agree that doing as much as you can in advance to help startups navigate your procurement processes is best. The standard legal review process, for example, can be a huge hurdle for startups. "Legal fees can kill a startup," said Kozlov.
"Take some time to really understand what the procurement process is before the program starts," Kozlov said. "Turn as many pieces as possible into short, simple templates that startups can easily use." Kozlov also suggests setting aside some R&D budget in advance, so there's money available to support companies in their commercial pursuits with the corporation.
Meeting startups halfway—by streamlining forms and processes or taking meetings quickly—is essential to making the progress you're hoping for from the program. An accelerator program goes by very quickly, and you won't want to waste any time.
05. The program isn't over when it's over.
Founders often tell us that they accomplish more in the three months of a Techstars mentorship-driven accelerator than they would in a year and a half without it. But even at this highly accelerated pace, there's plenty to do afterward.
---
Learn about how The Nature Conservancy is using innovation to fight climate change by partnering with startups like 2NDNATURE.
---
Your involvement with the startups in the program doesn't end with Demo Day. If all has gone well, during the program these startups have learned a great deal about your needs, and together you're starting to run pilots or develop products.
Cohn is proud to report that eight of the 10 startups from the 2018 Comcast NBCUniversal LIFT Labs Accelerator, Powered by Techstars are now working with Comcast NBCUniversal brands including Comcast Cable, NBCUniversal, and Universal Brand Studios.
"It took a lot of hard work from the companies themselves, from our team, our business leaders and mentors, and from the procurement team," Cohn said. "We all wanted to help these companies grow and try new things, and that effort from across the corporation led to this exceptional success rate."
Looking Toward Year Two…
All of these learnings hold true for subsequent years of your accelerator as well. The big opportunity after year one is to do all of them even better and to streamline the processes even further.
Follow this advice, and your corporation will almost certainly meet its innovation goals. That's a predictable result. The surprise you may find as you start to engage with the accelerator is how much the mentors from your corporation will learn from the process—and enjoy it.
"Our mentors learned as much from the companies as they gave," said Cohn. "They're all eagerly awaiting the next class. They can't wait to mentor again!"
Not Ready for a Corporate Accelerator? That's OK.
A corporate accelerator is one of the best ways to stimulate true innovation, but if your corporation isn't ready for the commitment of a corporate accelerator, there are other great, quick ways to engage in valuable and meaningful ways with startups. You can boost intrapreneurship within your corporation by running an Innovation Bootcamp—a three-day event that empowers your internal innovators to solve real problems. You can build lasting relationships with entrepreneurs through sponsorships. You can engage directly with targeted startups in your industry that are solving your problems right now.
When you're ready to accelerate innovation in your corporation, Techstars is ready to help.
---
Interested in joining the global platform for innovation? Learn more about Techstars membership and accelerator partnership opportunities.