At Techstars, we believe entrepreneurs can change the world. They see opportunities, take risks, and find solutions to the greatest challenges of our time. 
But while great ideas can come from anywhere, access to the resources, knowledge, and mentorship that entrepreneurs need to build world-changing companies is not equally distributed. Black founders receive less than 1% of venture capital funding — and lack of funding is a huge barrier to building companies that scale fast and make a big impact. 
As an industry, tech and entrepreneurship need to do so much more to enhance diversity, equity, and inclusion. That's why Techstars announced seven commitments focused on improving diversity, equity, and inclusion across the Techstars organization and network — including a goal to have at least 1,000 diverse CEOs go through our accelerators by 2026. And we applaud other organizations that are doing real work to support diverse entrepreneurs, like the Google for Startups Black Founders Fund. 
The $5 million Google for Startups Black Founders Fund provides non-dilutive cash awards to Black-led startups, and selected founders receive between $50,000 and $100,000 in capital, along with hands-on support, to help their startups grow.
We are so proud that Google for Startups chose 10 Techstars founders to be recognized and receive funding from the Google for Startups Black Founders Fund. These are 10 Black entrepreneurs who we at Techstars had already selected, through our rigorous application process, to go through our accelerator programs. We believe in each of them and in their startups, and we're delighted that Google for Startups feels the same. This funding is a vote of confidence as well as an infusion of capital. 
Ablorde Ashigbi, Founder of 4Degrees
Completed the Techstars Chicago Accelerator in 2017. 
Read our profile of Ablorde and 4Degrees >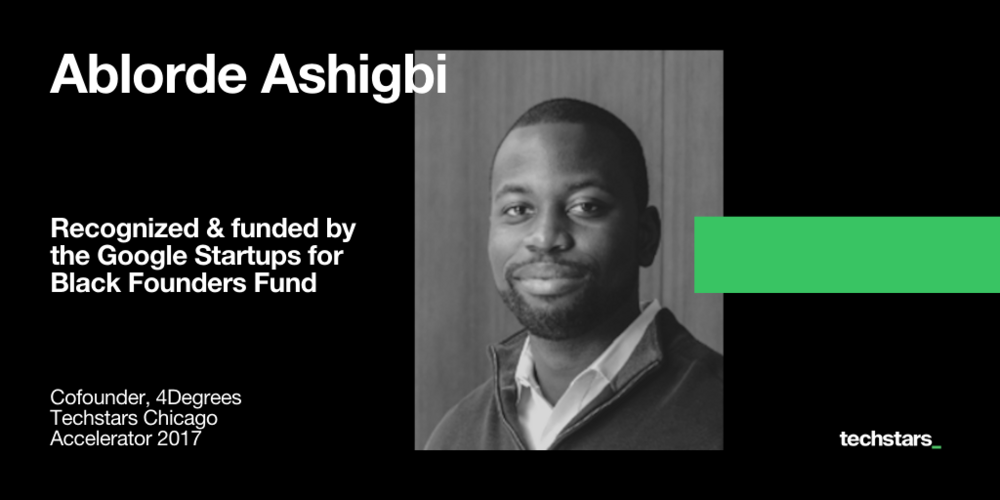 "The customer introductions that we've received, the investments that we've made, the hires that we've been able to make all as a result of the Techstars network are really powerful and, I think, speak back to the 'Give First' ethos," Ablorde Ashigbi says.
On receiving recognition from the Google for Startups Black Founders Fund: "I think one of the hardest parts of being a Black founder is that, in general, Black entrepreneurs are undercapitalized and under-resourced relative to their peers. Oftentimes they don't get as much of a benefit of the doubt if things go sideways, and I think that leads to people being a little bit more calculating in the bets that they take because the consequences of missing are different. So having a little bit more capital behind you that allows you to take that risk that a month ago would have felt less prudent, hopefully, leads to big upside in outcomes."
Marcus Blackwell, Founder of Make Music Count
Completed the Cox Enterprises Social Impact Accelerator Powered by Techstars in 2020. 
Read our profile of Marcus and Make Music Count >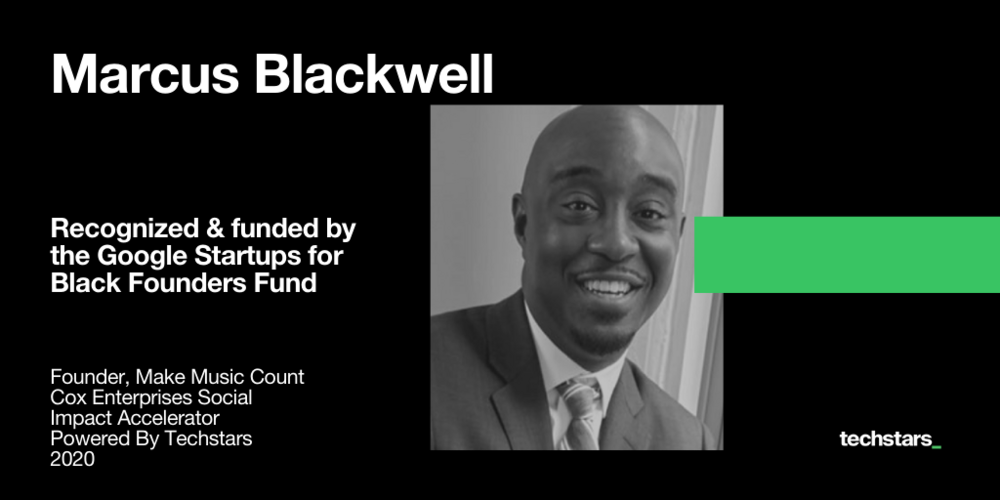 "Techstars made some incredible connections! I've never seen anything like it. I expected to have help but I was really pleasantly surprised by how open everyone was to making connections. Techstars truly lives by a "Give First" mentality. Anyone I was interested in speaking to, all I had to do was ask. It was amazing." says Marcus Blackwell.
"I'm so excited and grateful for the funding I received from Google for Startups. It's incredible to see that they see value in the platform I've built. Enough to provide funding and support so we can provide impact globally. I'm so excited for what's next. Thank you Google for Startups!"
Darren Buckner, Founder of Workfrom
Completed the Techstars Anywhere Accelerator in 2020.
Read our profile of Darren and Workfrom >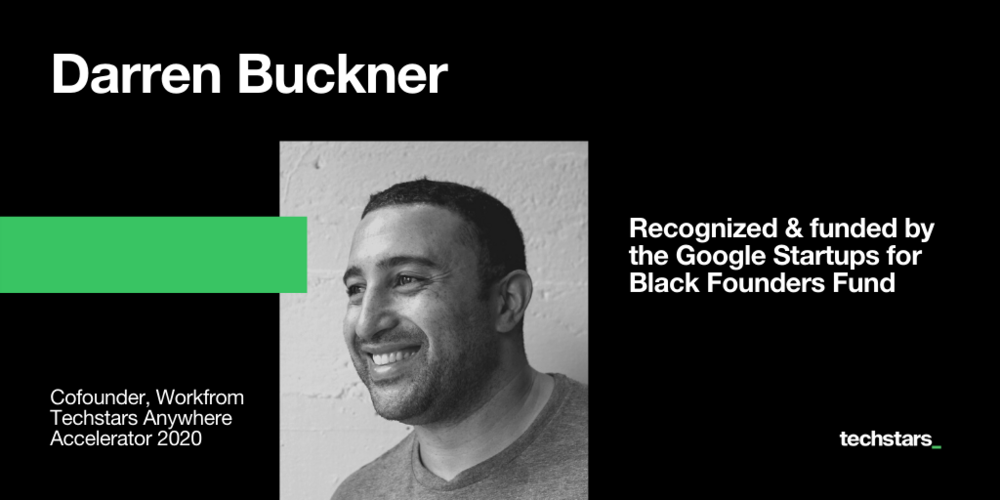 "Techstars helped us level up as entrepreneurs and connected us to a wealth of network opportunities," Darren Buckner says. "During the program, we tackled several challenges our business was facing and found a strong path forward. The mentorship and networking continue to accelerate us, and of course, we've gained an extended family of wonderful people."
"When an organization with the influence and resources of Google backs underrepresented entrepreneurs like us, the impact is immediate and the positive ripple effects are far-reaching. The funding and recognition will help us keep driving towards our mission and our vision. Ultimately, it puts us in a better position to help others do the same, and this is the way to achieving the more equitable and just world that we all deserve."
Jasmine Crowe, Founder of Goodr
Completed the Techstars Anywhere Accelerator in 2018. 
Read our interview with Jasmine Crowe >
Patrice Darby, Founder of GoLogic
Completed the Techstars Chicago Accelerator in 2020. 
Learn about GoLogic >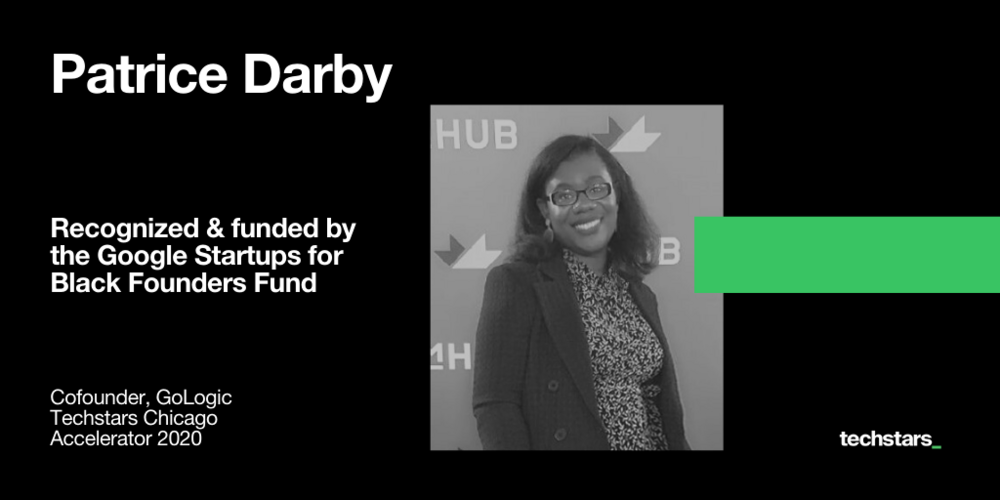 DuMarkus Davis, Founder of Musicbuk
Completed the Techstars Kansas City Accelerator in 2020.
Read our profile of DuMarkus and Musicbuk >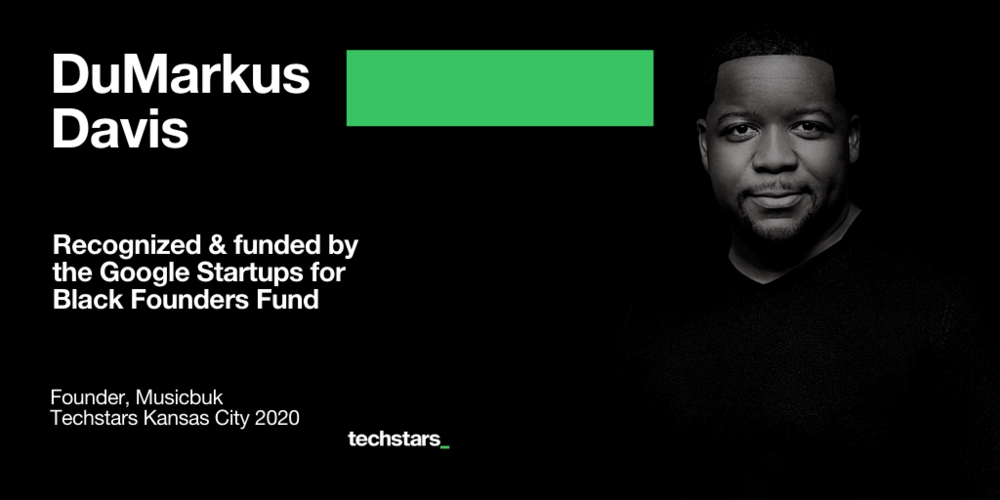 "Lesa [Mitchell, Managing Director of Techstars Kansas City] was all about becoming a champion for us in our business, and that for me was the signal that I liked wherever Lesa was going," DuMarkus Davis says. "I left the program with a new framework of how to operate and that was what was extremely valuable."
"I am so grateful because getting funding as a Black founder is already hard. Black founders face so many hurdles when it comes to funding and getting any company off the ground. So, now being able to say that we have funding from an organization like Google is really beneficial and opens up so many doors."
Sonja Ebron, Founder of Courtroom5
Completed the Techstars Kansas City Accelerator in 2020.
Read our profile of Sonja and Courtroom5 >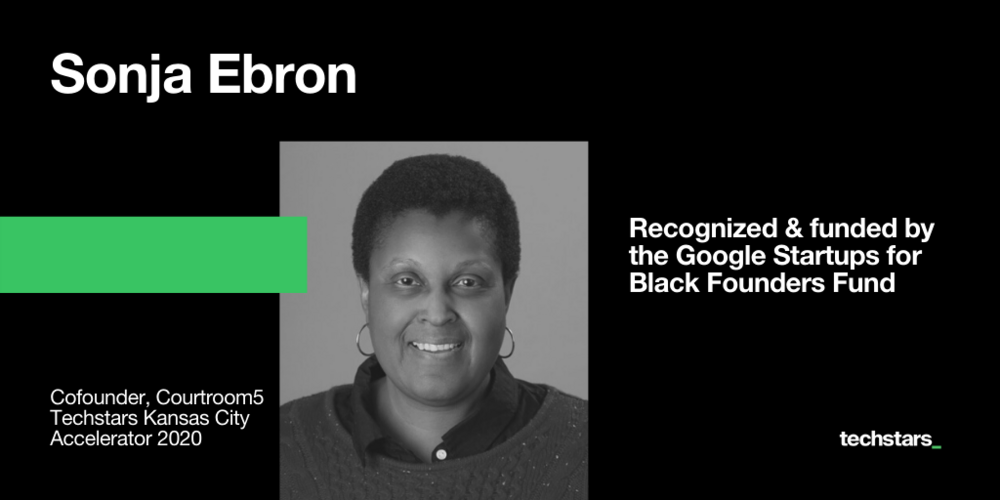 "Techstars provided us with powerful mentors, intensive startup training, and critical funding. This combination helped us focus on and leverage the key drivers of the business," Sonja Ebron says. 
"We are so happy to be recognized by Google with this funding and support. This initiative is an important signal to other industry leaders to follow suit, because when we #FundBlackFounders, we fund Black communities."
Rudy J. Ellis, Founder of Switchboard Live
Completed the Techstars Cloud Accelerator in 2016.
Read our profile of Rudy and Switchboard Live.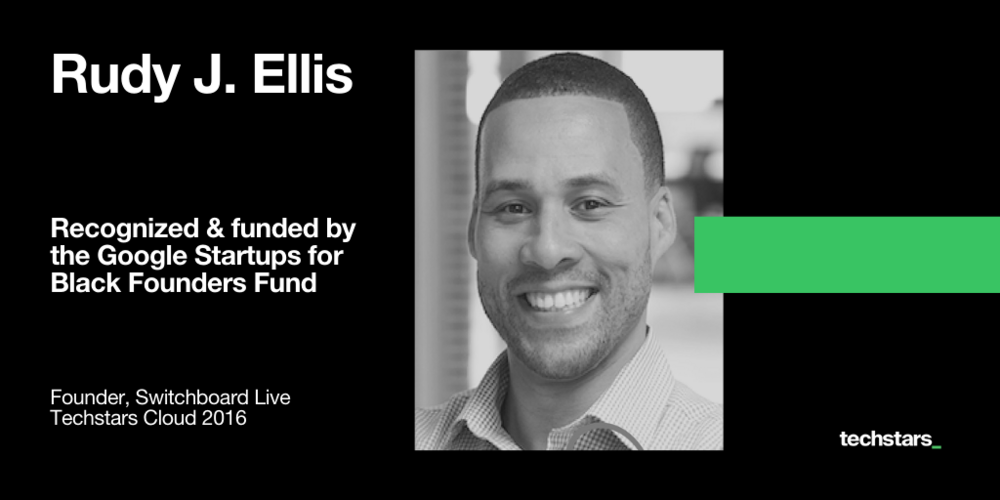 "Techstars was instrumental in forcing us to take a few steps back to assess the problem that we were truly solving and the impact that we provided to the customers that were using our product," Rudy Ellis says.
"Being a Google for Startups company, specifically the Black Founders Exchange program, has exposed me to a network of intangible resources as well as a community of fellow CEOs that not only look like me but support me."
Damola Ogundipe, Founder of Civic Eagle
Completed the Techstars Anywhere Accelerator in 2020. 
Read our profile of Damola and Civic Eagle >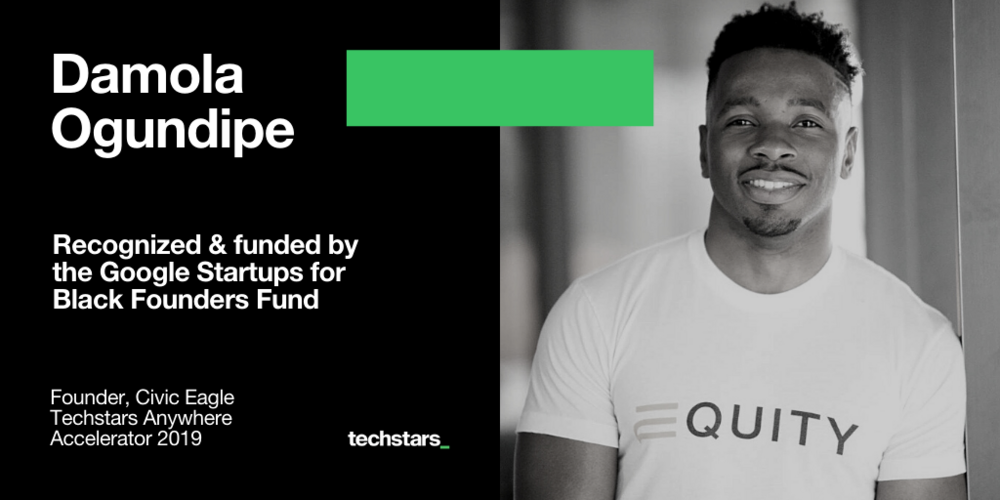 On why Civic Eagle joined Techstars Anywhere: "As an early-stage company and as first-time founders, we knew we needed some guidance and mentorship," Damola Ogundipe says.
"Google for Startups has been a great partner over the years. To be recognized and funded by them is incredibly humbling, but it's even more special that we're recognized as part of other Black founders."
Roy Scott, Cofounder of Healthy Hip Hop
Completed the Cox Enterprises Social Impact Accelerator Powered by Techstars in 2020.
Read our profile of Roy and Healthy Hip Hop >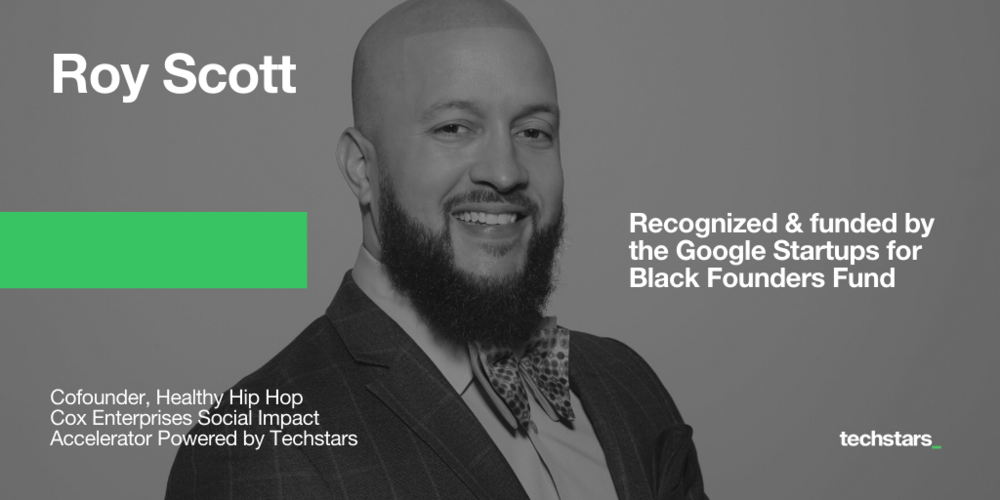 "Techstars validated us as an upcoming tech company, provided important programming, and connected us with incredible mentors, advisors, and investors," Roy Scott says. 
"To know that Google supports your work is a game-changer, we are honored to be recognized by the Google for Startups Black Founder Fund. This confirms that we are on the right track and inspires us to work harder than ever before."